2020 President's Scholar Awards: Five receive UTHealth Houston's most distinguished honor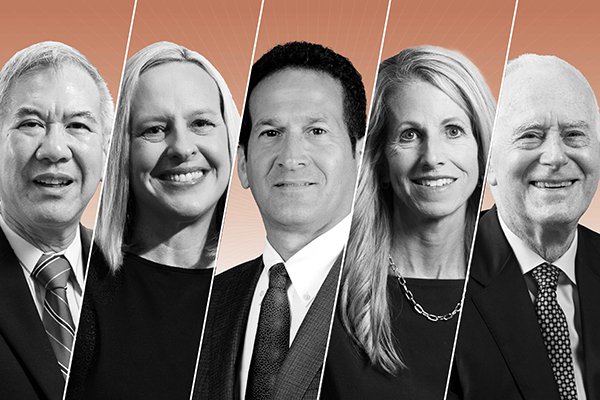 Five distinguished individuals who have demonstrated excellence in the areas of teaching, research, clinical care, dedication, and service, have received the top honors awarded by President Giuseppe N. Colasurdo, MD, Alkek-Williams Distinguished Chair at The University of Texas Health Science Center at Houston (UTHealth Houston).
Recipients of the 2020 President's Scholar Awards include Alanna C. Morrison, PhD, and Joy M. Schmitz, PhD, for research; Eugene C. Toy, MD, for teaching; and Ian J. Butler, MD, for clinical service. Andrew Casas, chief operating officer of UT Physicians, received The President's Recognition of Excellence.
Casas, who is a senior vice president of UTHealth Houston, is only the third recipient of the President's Recognition of Excellence Award.
Historically, recipients have been honored during a luncheon to recognize outstanding achievements, but the ongoing COVID-19 pandemic necessitated the cancellation of the event.
"These distinguished individuals have contributed greatly to the university's mission to advance research, provide the very best in-patient care, and educate the health care leaders of tomorrow," Colasurdo said. "As we have navigated the challenges of the COVID-19 pandemic, our community continues to innovate, emphasizing excellence at every turn. We congratulate them on being named President's Scholars, and we thank them for their service, leadership, and commitment."
Kevin A. Morano, PhD, associate vice president for Faculty Affairs and Development, the Roger J. Bulger, MD, Distinguished Professor at UTHealth Houston, and Distinguished Teaching Professor of The University of Texas System (UT System), congratulated the recipients.
"The selection criteria for the awards are rigorous, requiring evidence of innovation, recognition, and exemplary service to faculty, students, and patients, while working to elevate the stature of UTHealth Houston among our peers in Texas, the nation, and across the world," Morano said.
2020 President's Scholar Award for Excellence in Research
Alanna C. Morrison, PhD
Professor and Chair, Department of Epidemiology, Human Genetics and Environmental Sciences
Director, Human Genetics Center
UTHealth Houston School of Public Health
"Dr. Morrison is a testament to the quality of education and opportunities available at UTHealth Houston," Morano said. "We are fortunate she stayed with us, utilizing her talents to build a world-class cardiovascular and genetic epidemiology research program, and placing the university at the forefront of translational research."
Morrison was honored for her work identifying genetic mutations underlying cardiovascular disease outcomes and risk factors. She is the author of more than 200 scientific papers and thrives in a collaborative environment, creating longstanding partnerships within UTHealth Houston, the Texas Medical Center, and with other universities across the country.
"My primary research in cardiovascular genetics has allowed me to experience the thrill of genomic discovery," Morrison said. "We've made substantial progress in understanding the genetic architecture of cardiovascular disease and for related risk factors, such as high lipid levels and elevated blood pressure. Just as exciting is the opportunity to use my research as a platform to train and mentor students and early-stage investigators, and to learn from them and watch them flourish.
"In my own career, I've had amazing mentors. What is so special to me about this award is that I am walking in the footsteps of many of them, such as William J. "Jack" Schull, PhD, (founder of the Human Genetics Center where I now serve as the third director, and the very first President's Scholar Award for Excellence in Research, 1993); Eric Boerwinkle, PhD, (second director of the Human Genetics Center, President's Scholar Award for Excellence in Research, 2003); and Craig Hanis, PhD, (Human Genetic Center faculty, President's Scholar Award for Excellence in Research, 2011)."
2020 President's Scholar Award for Excellence in Research
Joy M. Schmitz, PhD
Professor, Louis A. Faillace, MD, Department of Psychiatry and Behavioral Sciences
Louis A. Faillace, MD, Chair in the Department of Psychiatry and Behavioral Sciences
Director, Center for Neurobehavioral Research on Addiction
McGovern Medical School at UTHealth Houston
"The Center for Neurobehavioral Research on Addiction has been continuously grant-funded since its inception in 1995, and it's easy to see why," Morano said. "Dr. Schmitz is tireless in her efforts to help people recover from drug addiction disorders, and explore evidence-based treatment options. She is a national leader in addiction research, and her translational approach is making a difference worldwide."
Schmitz was honored for her long career improving outcomes for those with addictions. Her work is focused on studying behavioral and pharmacological interventions to treat substance use disorders, and to develop targeted treatments aimed at biological factors underlying drug addiction.
"My thanks to Dr. (Jair) Soares for nominating me for this award, and for his commitment to making addiction research a center of excellence in the Faillace Department of Psychiatry," Schmitz said. "I am very grateful to work with so many brilliant collaborators and a dedicated research staff who share my passion for improving treatment for individuals suffering from drug addiction. Working with such wonderful people over the last 30 years has been — and continues to be — an amazing opportunity."
2020 President's Scholar Award for Excellence in Teaching
Eugene C. Toy, MD
Professor and Vice Chair of Medical Education, Department of Obstetrics, Gynecology and Reproductive Sciences
Assistant Dean, Office of Educational Programs
McGovern Medical School at UTHealth Houston
The University of Texas Distinguished Teaching Professor
"Dr. Toy literally wrote the book on how to utilize real-world, critical thinking-based methodologies with first-year medical students," Morano said. "He cares deeply about the success of his students, and spends a considerable amount of time mentoring. In addition to teaching students, he also shares his methods with other professors, elevating the quality of teaching in medical schools across the United States."
Toy was acknowledged for his innovative teaching methods, and for his work in helping McGovern Medical School transition to a new integrated curriculum, creating the Doctoring course modules from scratch. The courses are among the highest rated by students, with Dr. Toy's teaching methods regularly rated in the top percentile.
"Each day teaching our students and residents is effortless, because the educational environment at McGovern is so team-oriented," Toy said. "This award belongs to our entire educational team. Our students are a joy to teach — I feel extraordinarily blessed to be surrounded by such an amazing faculty and support staff.
"I have had the fortune of having received numerous recognitions and awards over the years. Yet, none of them compares to the UTHealth Houston Presidential Scholar Award, because this one has its roots from those with whom I work each day. I am especially so touched to have been supported by so many of the medical students who enrich my life."
2020 President's Scholar Award for Excellence in Clinical Service
Ian J. Butler, MD
Professor, Department of Pediatrics
Jacobo Geissler Distinguished Chair in West Syndrome Research
McGovern Medical School at UTHealth Houston
"Without a doubt, Dr. Butler is a President's Scholar. The challenge was whether to honor him for his work in the clinical setting, the classroom, or the research lab," Morano said. "He truly qualifies in each area, and is a pillar of the university community with his bright and caring manner. He has a sterling reputation as a clinician, with the ability to diagnose some of the most complicated cases and put apprehensive families to rest with his calm demeanor."
Butler is respected globally for his contributions in the field of pediatric neurology, receiving accolades for his clinical and research work in movement disorders, neuromuscular disorders, and dysautonomia.
He has also made deep contributions to Houston. In 1976, he established what is now called the Division of Child and Adolescent Neurology in the Department of Pediatrics at McGovern Medical School. His work there led to the creation of the Children's Learning Institute. He has also broadened the capacity for care in the region by founding community clinics, and was also integral to the establishment of a neuromuscular clinic at Shriners Hospitals for Children – Houston.
"Being awarded the President's Scholar Award for Excellence in Clinical Service represents the capstone of my long tenure at UTHealth Houston," Butler said. "The Texas Medical Center environment fostered collaborations with colleagues who became lifelong friends. I have enjoyed a rich academic career as an educator, clinician and translational researcher. How fortunate is that?"
President's Recognition of Excellence Award
Andrew Casas
Senior Vice President, UTHealth Houston
Chief Operating Officer, UT Physicians
This special award was created by Colasurdo to recognize overall exemplary dedication and service to UTHealth Houston, while demonstrating longstanding excellence in a chosen profession.
"Andrew Casas has been indispensable in the fight against COVID-19," Colasurdo said. "Thanks to his team, UTHealth Houston and UT Physicians have administered more than 125,000 vaccine doses - serving as vital partners for our community's health and well-being."
Casas' firm commitment to quality patient care and employee safety has permeated his 21-year career leading clinic operations for UT Physicians, one of the largest networks of clinics in the Greater Houston area. Never was that more evident than when the COVID-19 pandemic was declared in March 2020. Casas and his team worked collaboratively – and quickly – to establish protocols to keep both patients and health care teams safe while providing essential care.
As COVID-19 vaccines were nearing authorization for emergency use, Casas' staff led efforts to ensure vaccine doses would be available to UTHealth's faculty, trainees, students, and staff on the front lines of our response to the deadly coronavirus.
In the midst of the pandemic, Casas' team also implemented the training, and use of the new electronic health record system Epic. The undertaking was one of the most comprehensive in UTHealth's history.
"Epic is a significant investment by the university - and will allow us to improve patient care and enrich our clinical research," Colasurdo said. "Our employees have learned and adapted to this new system quickly and efficiently, all while maintaining the highest standards in quality care."
In receiving the award, Casas thanked his team.
"I am humbled by this recognition and share it with the entire UTHealth Houston team, staff, and physicians who devoted countless hours of their time and talents during the pandemic," Casas said. "When challenges arose, your innovation, perseverance, and sacrifice helped guide the university during one of the most challenging health crises of our time. It is truly a privilege to be part of the many faces of UTHealth Houston. This award represents the very best of what we all do."
Michael Blackburn, PhD, executive vice president and chief academic officer at UTHealth Houston, praised the awardees for their commitment to students, co-workers, and the community they serve.
"I am proud to be your colleague and we thank you for your service to the university," Blackburn said. "This year's awardees have shown immense dedication to our students, faculty, and patients in an ever-changing landscape. Their hard work demonstrates how UTHealth Houston rises to current challenges and turns them into remarkable opportunities."