Alumni Feature: Ann Barnes, MD, MPH named President & CEO of Episcopal Health Foundation
SPH Alumni Spotlight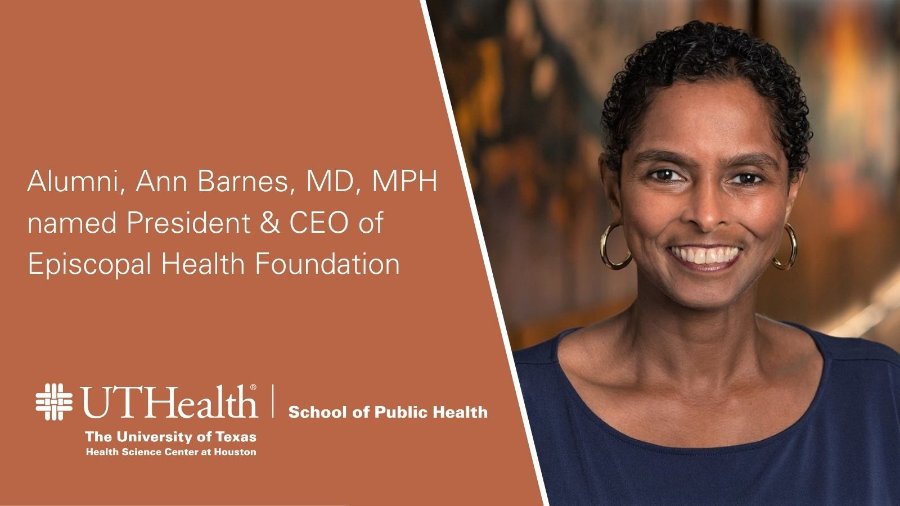 Ann Barnes, MD, MPH has been named president and CEO of Episcopal Health Foundation (EHF). She earned her Masters of Public Health in health promotion and education and obesity management and prevention from the UTHealth School of Public Health in 2009. Throughout her career, she has focused on addressing health inequities for communities in Houston.
We asked Barnes a few questions to learn more about her work, motivation, and achieving success.
Tell us more about your role at EHF:
I am the incoming President and CEO of Episcopal Health Foundation (EHF). EHF is a philanthropic organization committed to addressing "health, not just healthcare," within the geographic footprint of the Episcopal Diocese of Texas and beyond. We focus on catalyzing healthcare and community health transformation through strategic grant-making, research, and community engagement. Day to day, I will work with my leadership team to understand communities' health needs and co-create strategies to address those needs. In addition, the team and I will look for opportunities to inform decision-makers about the health and financial impact of addressing upstream drivers of health when individuals access health care. I am excited to lead a team of innovators who will explore new approaches to healthcare, population health, and public health.
I look forward to casting a vision of becoming the healthiest region of the state and nation with my colleagues and the diocese. Our guiding star is: to support and create health in all communities.
What was the biggest transitional issue you faced when you began your career? How did you overcome this?
Public health and population health encompass the health and well-being of millions of individuals. This can feel like a daunting task. Being a physician helped me to understand that work can happen for each individual. The next step for me was to recognize patterns of illness in multiple individuals from the same communities and think about how system changes might improve health outcomes for everyone, not just one person at a time. It was important to join with other individuals through coalitions to tackle needed system-level change.
What is the most rewarding aspect of working in your field? The most challenging?
Seeing community energy to address social determinants of health has been inspiring. Health is not just a physician issue, it is an everybody issue. The work in Houston around food insecurity is an example of multiple community sectors recognizing a problem and committing to address it together. It was a 10-year effort, but the resulting collaboration and inroads to solutions is reassuring. The most challenging aspects of this work are the consistent and disproportionate focus on funding responses to sickness. If health is the goal, preventing illness is the priority, which happens long before a patient presents to a hospital. It involves all sectors in creating the condition for health in all communities
What advice do you have for someone new, or students, in your field?
Find the aspect of health you are most passionate about and connect with others who share your passion. Public health is not an individual sport. It absolutely requires the work of a team and should always involve the individuals affected by the health concern.
What are you most proud of in your public health career?
I am most proud of two opportunities I have had to introduce non-medical care into healthcare settings. Approximately ten years ago, I initiated a pilot program at a large, local safety net healthcare system to bring produce markets into clinics located in food deserts. The pilot ultimately came to a close, but the organization's openness to addressing food insecurity and creating access to healthy eating was established and primed them for the successful launch of on-site Food Farmacies that serve food insecure patients and patients with poorly controlled diabetes. The other effort I championed five years ago at a local Federally Qualified Healthcare Center. Screening for social determinants of health is critical to a patient's health profile. I introduced the Health Leads framework of routine screening for social determinants of health and linking patients to resources that originated in Boston. Extraordinary leaders in the social work department embraced the opportunity for proactive screening and implemented the first Health Leads program in Texas.
What do you think influenced your career most?
Serving as a primary care physician for the uninsured profoundly impacted my career. I loved the one-on-one relationships with patients and was honored to care for them and to hear their life stories. It didn't take long for me to recognize patterns of chronic diseases and patterns of social, behavioral, and economic factors that made them vulnerable to those conditions. My desire to help all of my patients and to be a part of creating communities that promote health and well-being compelled me to get my MPH and work outside the clinic's walls to make a change.
Learn more about Dr. Barnes and her new role at EHF: Episcopal Health Foundation names Dr. Ann Barnes as its next President and CEO.