Alumni Feature: Kymberle Sterling, DrPH, MPH, first Black Woman at School of Public Health Awarded Tenure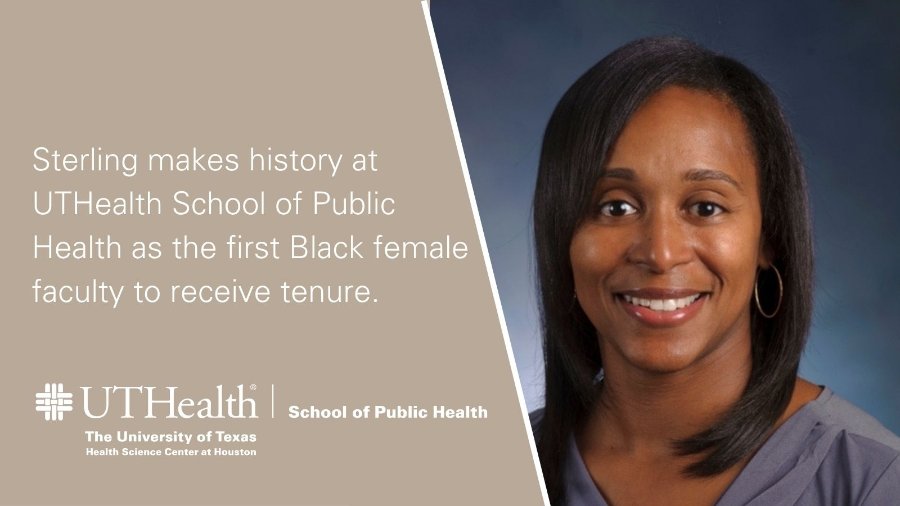 Congratulations to Kymberle L. Sterling, DrPH, MPH, who is the first Black woman awarded tenure at UTHealth School of Public Health. Sterling is an associate professor of health promotion and behavioral sciences (HBPS) at the UTHealth School of Public Health, Dallas Campus. She earned a doctorate in Health Promotion & Behavioral Sciences from the UTHealth School of Public Health in 2005.
Currently, Sterling is leading the Inclusion, Diversity, Equity, and Advocacy (IDEA) committee at the UTHealth School of Public Health. She is a tobacco control behavioral scientist specializing in youth and young adult cigar product use, tobacco-related health disparities, and tobacco regulatory sciences. Additionally, she teaches several HPBS courses and mentors students. Sterling can be reached at Kymberle.L.Sterling@uth.tmc.edu, or you can connect with her on LinkedIn.
We asked Sterling questions to learn more about her work, success, and overcoming adversity.
As someone who has made history at UTHealth School of Public Health, what is one piece of advice you have for minority students or early career professionals?
As was said to Judge Ketanji Brown Jackson: persevere. Throughout your career, you will experience high moments and challenges. Although they are often uncomfortable, you'll find that the most personal and professional growth comes through challenges. When they occur, persevere and learn from the circumstances.
What challenges have you faced as a Black woman in academia, and how have you overcome them?
I've struggled with imposter syndrome and the fear of being successful in my career. Both of these can be debilitating in their unique ways. To address imposter syndrome, I had to become my own cheerleader, reminding myself that my education, experiences, and accomplishments are just as important and worthy as any of my peers. While it seems like an unusual challenge, the fear of being successful can be a real struggle. For me, this fear is closely related to my imposter syndrome challenge. When I feel this fear emerge, I recite Matthew 5:15-16. After meditating on this scripture, I'm reminded that I have a responsibility to be the best version of myself that I can be so that others around me can shine accordingly.
What is the most rewarding aspect of working in your field? Most challenging?
The most rewarding aspect of my job is mentoring! There is nothing more fulfilling than guiding a student or early-career professional as others have guided me. The most challenging is having enough time to complete tasks! Sometimes it feels like there aren't enough hours in the day to accomplish all that I would like to achieve.
Can you tell us why you decided to continue your career with UTHealth following your academic journey?
Honestly, the decision to return to UTHealth and Texas was personal. My extended family lives in Louisiana, and I wanted to live closer to them. Accepting the UTHealth position and living in the Dallas area allows me to see my family more frequently
What do you think influenced your career most? (Practical experience, a specific course, mentorship, etc.)
A host of "sheroes has influenced my career in public health research." I owe a debt of thanks to those women who guided me throughout my career.
Please share any recent publications/features/media exposure/spotlights/awards/etc:
I was a member of the National Academies of Sciences, Engineering, and Medicine's ad hoc committee on Health Effects and Patterns of Use of Premium Cigars. Our report, "Premium Cigars: Patterns of Use, Marketing and Health Effects," was released in March 2022. A copy of the report can be downloaded here: https://www.nationalacademies.org/our-work/health-effects-and-patterns-of-use-of-premium-cigars