Professor passionate about helping women wins prestigious teaching honor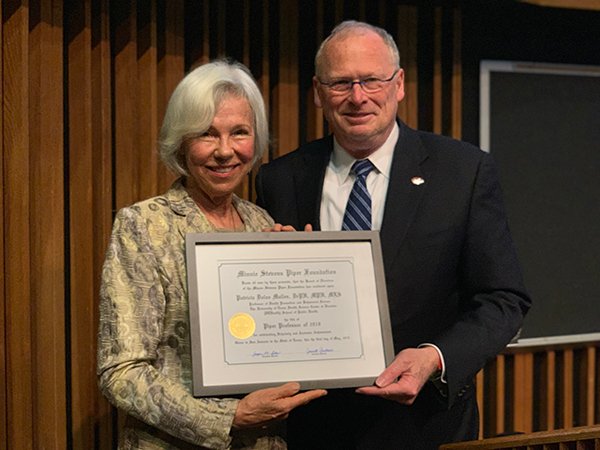 From advocating for preconception counseling to trying to improve the futures of women released from jail to training the next generation of public health leaders, Patricia Dolan Mullen, DrPH, MPH, MLS, has made an impact on the Houston community and beyond.
In recognition of that work, Mullen, a professor at The University of Texas Health Science Center at Houston (UTHealth) School of Public Health, has been named a prestigious Piper Professor for 2019 by the Minnie Stevens Piper Foundation. Mullen is the ninth faculty member at UTHealth, and third at its School of Public Health, to receive the accolade.
"Dr. Mullen is an exemplary educator, researcher, and mentor, who has played, and continues to play, a critical role in the success of the School of Public Health," said Eric Boerwinkle, PhD, dean, M. David Low Chair in Public Health, and Kozmetsky Family Chair in Human Genetics at UTHealth School of Public Health.
"Her tireless efforts and vast expertise have made a tremendous impact on our students and fellows, as well as the wider community. I am delighted that her dedication has been recognized with this award, which is so richly deserved and will serve as an inspiration to others," Boerwinkle said.
Mullen's advocacy work from 1997 to 2004 working with women released from the Harris County Jail left its mark on her as she recalled the women being released at midnight without a way to make a phone call or arrange for transportation.
"The jail was a good place to learn about life. Everyone who works in public health needs to learn from all groups of people what it's like to live without privileges and types of support. It's a privilege to get close to people, understand something about them, and figure out things," said Mullen, professor of health promotion and behavioral sciences and senior investigator at the Center for Health Promotion and Prevention Research at UTHealth School of Public Health.
"It was a raw situation and the women were vulnerable to prostitution and drug abuse. But through our program, we were able to make improvements and women safer. Little things can make a big difference, like providing them with change for the phone and the option of wearing donated scrubs," Mullen said. "Our efforts at release planning were innovative and it was very satisfying."
Mullen's teaching career spans more than four decades, including 37 years' service at the School of Public Health.
Her passion for public health grew from time spent with Peace Corps in Ethiopia, where she observed great need for family planning, maternal care, and maternal nutrition.
Much of Mullen's research has focused on women during pregnancy and childbearing years, covering issues such as tobacco and alcohol exposure, which led to her selection for national panels, including the National Institutes of Health (NIH) and Centers for Disease Control and Prevention.
"Almost 30 years ago, I can remember being on a panel for the content of prenatal care. One of our recommendations was to offer preconception counseling, which was almost laughed at back then," Mullen said.
This spurred her development of a program that provided women at risk of unplanned pregnancy with advice and support to change unhealthy behaviors, including the use of reliable forms of contraception. Women in drug and alcohol treatment programs or leaving jail were among those offered the counseling, which led to Mullen's work with women being released from jail. Equally determined to prepare students for the outside world, Mullen's signature public health program evaluation course, the first of its kind for UTHealth School of Public Health, has taught more than 750 students over the past 25 years.
"I arrived as an associate professor wanting to build skepticism – a cornerstone of public health. It's not enough to think we are doing good; we can do harm. So having the skills to sort out which programs are effective, and which are not, is crucial," Mullen said. "The program has evolved, adding systematic review which allows more global conclusions to be drawn. Students regard it as one of the toughest courses, but also rate it very highly, which is immensely rewarding."
The program proved so well-regarded, Mullen was selected as a founding member of the U.S. Community Preventive Services Taskforce, an independent panel that systematically reviews the evidence of effectiveness and develops recommendations for community preventive services.
Mullen's unyielding commitment to develop other people and resources is also illustrated by her track record in supporting training grants not only at the School of Public Health, but across the entire university. She currently co-directs NIH and Cancer Prevention and Research Institute of Texas training grants for UTHealth.
"Training grants are hard to write, hard to administer, and little noticed. Yet they are vitally important for the support of students and postdocs, so I've been supporting faculty to make it easier to bring more of these resources to UTHealth," Mullen said. "It's important because this really pushes students to take advantage of their academic programs, helps launch their careers, and ultimately makes research accessible to a broader audience."
Mullen received a $5,000 honorarium and a gold commemorative pin at a presentation by Boerwinkle on Friday, May 17.
"It was a surprise as the competition is very heavy. I don't think about it as my achievements, but the kinds of things I've been doing to help others succeed," Mullen said.
Ten Piper Professors are selected annually from nominations by colleges and universities across Texas. Mullen's previous accolades include receiving the UTHealth President's Scholar Award for Teaching, the University of Texas Regents' Outstanding Teaching Award, and being inducted to The University of Texas Kenneth I. Shine, MD, Academy of Health Science Education.
"Dr. Mullen has played an instrumental role in developing our students, and improving public health at a state and national level. I extend my wholehearted congratulations for this special award, which bears testimony to her immense talent and commitment, and continues the impressive legacy of Piper Professor award recipients at UTHealth," said Kevin Morano, PhD, associate vice president for Faculty Affairs and Development and the Roger J. Bulger, MD Distinguished Professor at UTHealth.
The Minnie Stevens Piper Foundation, based in San Antonio, was organized in 1950 and is a nonprofit charitable corporation. The late Randall Gordon Piper and his wife, Minnie Stevens Piper, were the principal donors.
Media inquiries: 713-500-3030