UTHealth School of Public Health in El Paso addresses COVID-19 water concerns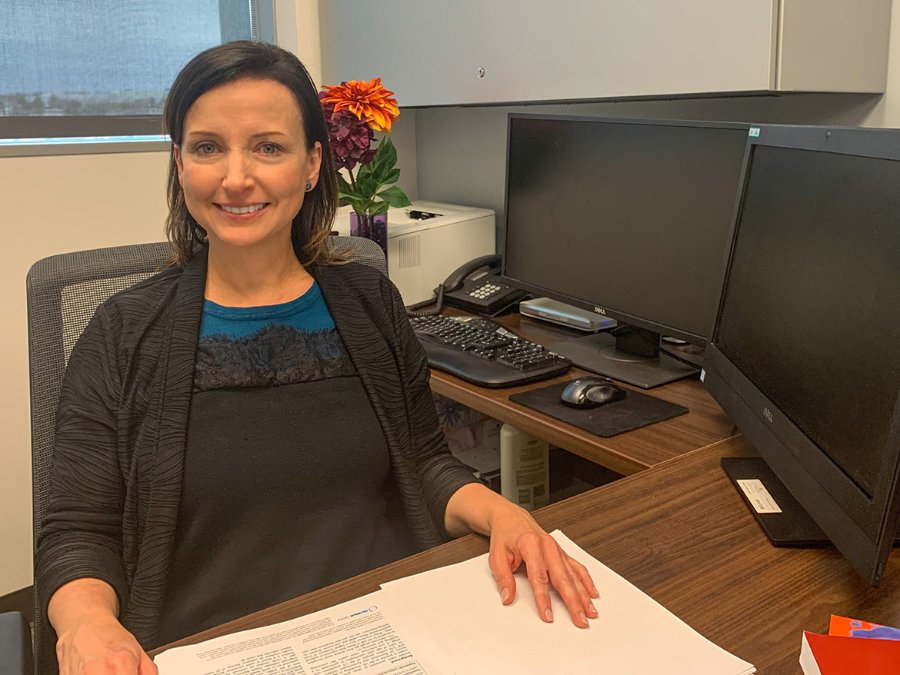 Trust your tap.
That's the message Kristina Mena, PhD, dean of The University of Texas Health Science Center at Houston (UTHealth) School of Public Health in El Paso, has been stressing to El Pasoans worried about whether their water is safe to drink during the COVID-19 outbreak.
Concerns about the SARS-CoV-2 virus impacting El Paso's water supply emerged early in the outbreak, stoked by companies capitalizing on virus fears to sell special water filtration systems, and worry over whether the water utility could maintain a healthy workforce to keep up operations. As alarm spread through the community, bottled water disappeared from store shelves.
Seeing the stream of misinformation growing into a flood, Mena worked quickly to set the record straight.
On behalf of the El Paso Public Service Board (PSB), of which she is vice chair, Mena recorded public service announcements and went on local television and radio news programs to reassure residents that through standard methods of disinfection, the utility's water and wastewater treatment plants were more than capable of dealing with any type of virus, including the coronavirus.
"It is important to combat myths during a public health crisis, such as inaccurate information about a community water supply, because those may lead to poor decisions that have health and financial consequences," Mena said.
Appointed dean of the El Paso campus in 2019, Mena is a water microbiologist who oversees the environmental and occupational health sciences degree programs throughout the School of Public Health's six campuses. Her research specifically addresses disease transmission through water and food, most notably among athletes competing in the 2016 Olympics in Rio de Janeiro.
But Mena's expertise has been especially welcome closer to home. Since joining the PSB in 2016, she has participated in many outreach efforts, informing residents about water quality at community events across the region. Locally, she's been a member of committees within the Medical Center of the Americas Foundation and the Borderplex Alliance, and a recipient of the 2017 Cutting Edge Award from the El Paso Hispanic Chamber of Commerce. Mena recently completed second terms on both the U.S. Environmental Protection Agency Chartered Science Advisory Board and Drinking Water Committee, serving under the past two presidential administrations.
As a 19-year resident of El Paso, Mena has worked hard to forge close community connections and to be a trusted source of health and safety information for the city.
"We are very lucky to have Dr. Mena as a member of our Public Service Board because her credentials in the water sector are world-renowned," said John E. Balliew, president and CEO of El Paso Water. "Her advice, based in science and decades of experience, truly lends a voice of calm to our community at a time when it's needed."
Mena also has been leveraging her public health expertise and network in El Paso, and through the UTHealth system and Texas Medical Center, to help El Paso Water test each of its 980 employees for the novel coronavirus. She's helping finalize arrangements with the Human Genome Sequencing Center at Baylor College of Medicine, co-directed by Eric Boerwinkle, PhD, dean of UTHealth School of Public Health, to conduct the testing that will also inform a national study. Also, in the works is an effort, in collaboration with The University of Texas at El Paso, to monitor coronavirus in the city's wastewater, as an early warning tool for identifying coronavirus infections circulating within the community.
In addition to her water safety efforts, Mena is responding to the business community looking for advice on how to safely reopen. She has collaborated with the Southwest Center for Occupational and Environmental Health to produce webinars on workplace safeguards and the proper use of personal protective equipment for the construction industry and other business sectors. Mena also serves on local and state task forces on reopening the Texas economy, and advises associations representing a wide variety of business sectors, including shopping centers and hotels, on how to incorporate precautions and environmental changes specific to their workplace.
Mena says helping El Paso navigate the uncertainties of the COVID-19 pandemic will continue to be a top priority for her and UTHealth School of Public Health in El Paso, as the situation unfolds.
"Our main focus is to help communities move forward together in a way that protects public health," she said.