UTHealth's homeless health care delivery solution among top 100 proposals for MacArthur $100 million grant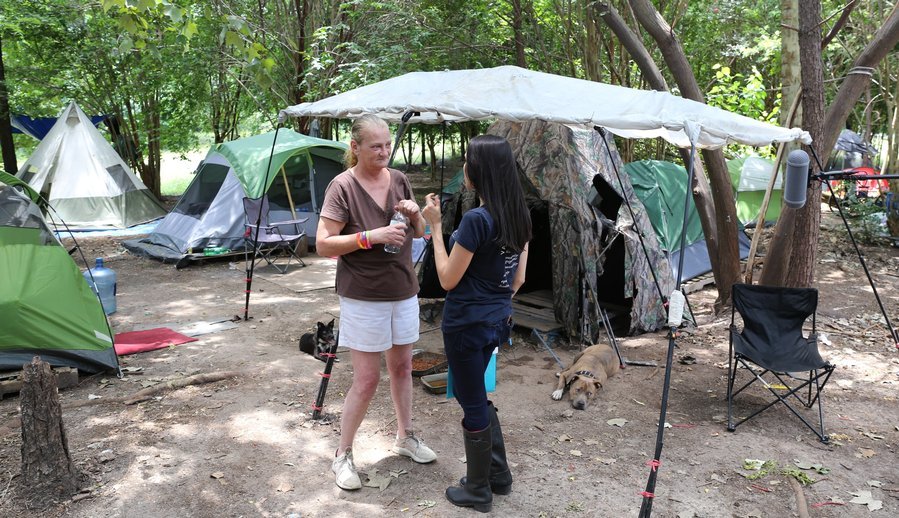 HOUSTON – (Feb. 19, 2020) – The John D. and Catherine T. MacArthur Foundation today announced that a proposal by The University of Texas Health Science Center at Houston (UTHealth) to create a sustainable health care delivery solution for individuals experiencing homelessness is in the Top 100 for the foundation's 100&Change competition. As a semifinalist, UTHealth is vying for a single $100 million grant to help solve one of the world's most critical social challenges.
In partnership with National Health Care for the Homeless Council, The Salvation Army, and U.S. Department of Veterans Affairs (VA) National Center on Homelessness Among Veterans, UTHealth is proposing Stand Up to Homelessness: A Person-Centered Coordinated Care Solution.
Together, the organizations would scale the VA's evidence-based coordinated care solution for veterans experiencing homelessness (Homeless Patient Aligned Care Teams, or H-PACT) to all individuals experiencing homelessness. The solution would be launched in one carefully selected city before being implemented in six other U.S. cities.
The Top 100 represents the top 21% of competition submissions. The proposals were rigorously vetted, undergoing MacArthur's initial administrative review, a Peer-to-Peer review, an evaluation by an external panel of judges, and a technical review by specialists whose expertise was matched to the project.
Each proposal was evaluated using four criteria: impactful, evidence-based, feasible, and durable. MacArthur's Board of Directors will select up to 10 finalists from these high-scoring proposals this spring.
"We want to thank the MacArthur Foundation for challenging us to deliver a scalable, sustainable, evidence-based solution addressing the individual and societal costs of homelessness," said Vanessa Schick, PhD, the project's principal investigator and associate professor in the Department of Management, Policy, and Community Health at UTHealth School of Public Health. "Many individuals experiencing homelessness suffer from co-occurring health conditions, while communities often struggle to offer integrated systems that address their complex needs with low barriers to access and entry. In our proposed solution, we will work with local communities to integrate existing services into a one-stop shop that 'meets people where they are at,' transcending barriers to simultaneously address the diverse needs of this vulnerable population."
Diane Santa Maria, DrPH, MSN, RN, dean ad interim of Cizik School of Nursing at UTHealth, added, "Even by conservative estimates, over 500,000 people in the U.S. experience homelessness each night, including 1 in 10 young adults ages 18 to 25. Our solution will improve the health and housing of individuals experiencing homelessness by re-envisioning the delivery of care to those in greatest need thereby increasing quality of life and reducing the financial burden of homelessness on our communities."
Cecilia Conrad, CEO of Lever for Change and MacArthur managing director, said, "MacArthur seeks to generate increased recognition, exposure, and support for the high-impact ideas designated as the Top 100. Based on our experience in the first round of 100&Change, we know the competition will produce multiple compelling and fundable ideas. We are committed to matching philanthropists with powerful solutions and problem solvers to accelerate social change."
Since the inaugural competition, other funders and philanthropists have committed an additional $419 million to support bold solutions by 100&Change applicants. Building on the success of 100&Change, MacArthur created Lever for Change to unlock significant philanthropic capital by helping donors find and fund vetted, high-impact opportunities through the design and management of customized competitions. In addition to 100&Change, Lever for Change in managing the Chicago Prize, the Economic Opportunity Challenge, and the Larsen Lam ICONIQ Impact Award.
Bold Solutions Network launches
The Bold Solutions Network launched today, featuring UTHealth as one of the Top 100 from 100&Change. The searchable online collection of submissions contains a project overview, 90-second video, and two-page factsheet for each proposal. Visitors can sort by subject, location, sustainable development goal, or beneficiary population to view proposals based on interest.
The Bold Solutions Network will showcase the highest-rated proposals that emerge from the competitions Lever for Change manages. Proposals in the Bold Solutions Network were designed to provide an innovative approach to identifying the most effective, enduring solutions aligned with donors' philanthropic goals and to help top applicants gain visibility and funding from a wide array of funders. Organizations that are part of the network will have continued access to a variety of technical support and learning opportunities focused on strengthening their proposals and increasing the impact of their work.
More about 100&Change
A distinctive competition, 100&Change is open to organizations and collaborations working in any field, anywhere in the world. Proposals must identify a problem and offer a solution that promises significant and durable change.
Close to 3,700 competition registrants submitted 755 proposals in the second round of the competition. Of those, 475 passed an initial administrative review. The competition was designed to be fair, open, and transparent. The identity of the judges and the methodology used to assess initial proposals are public. Applicants received comments and feedback from the peers, judges, and technical reviewers. Key issues in the competition are discussed in a blog on MacArthur's website.
In the inaugural round of 100&Change, Sesame Workshop and International Rescue Committee were awarded $100 million to educate young children displaced by conflict and persecution in the Syrian response region and to challenge the global system of humanitarian aid to focus more on building a foundation for future success for millions of young children.
For more information about 100&Change, visit https://www.100andchange.org/. To learn more about how UTHealth is solving the greatest health challenges of our time and educating the next generation of health care professionals, visit https://www.uth.edu/giving/.
Media inquiries: 713-500-3030