UTHealth students fuel children's appetite to learn about nutrition and reform their diet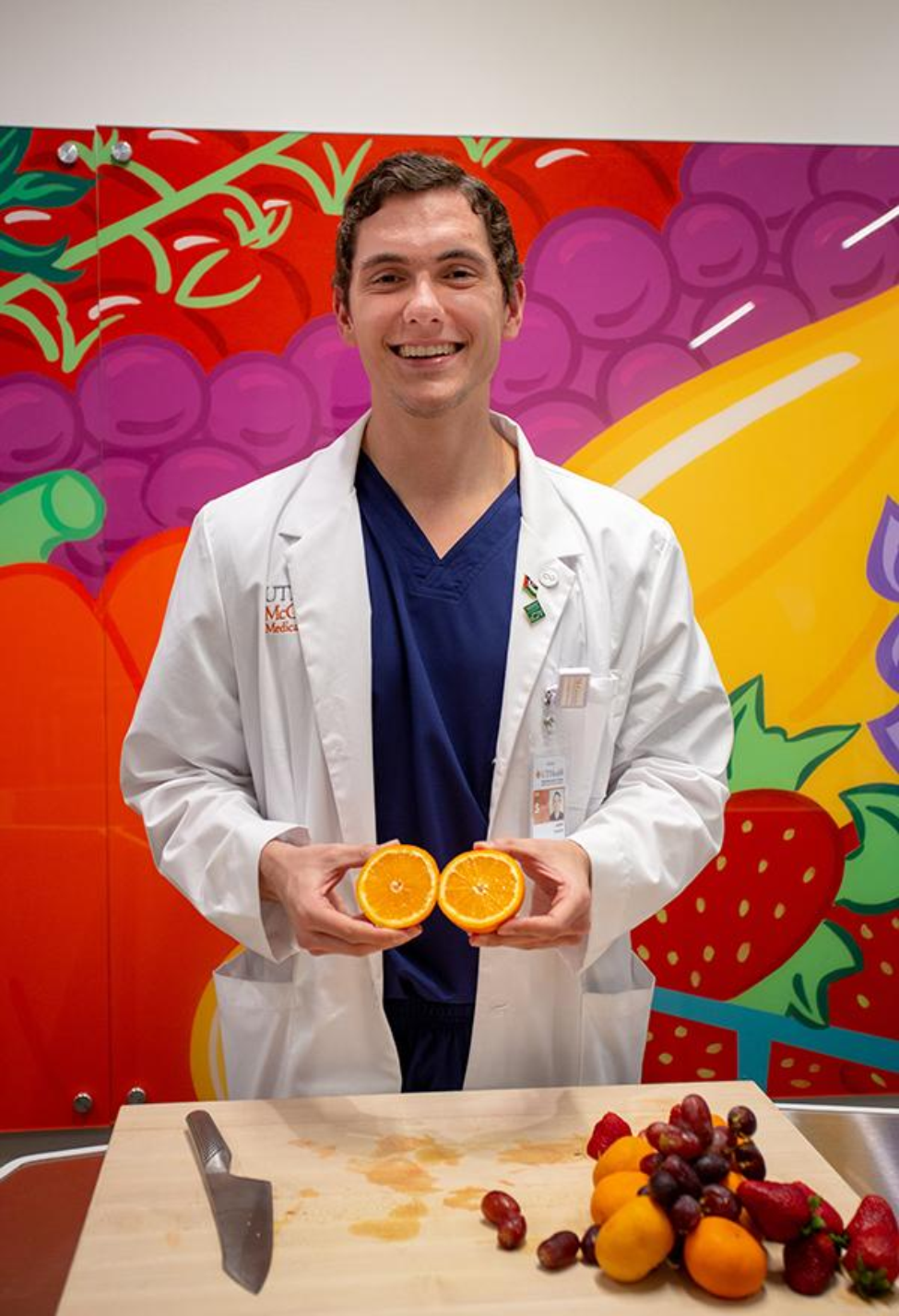 Cereal for breakfast, a peanut butter sandwich for lunch, and cereal again for dinner. That's how a child described what he ate to first-year medical student Madeline Drake.
Drake is among 50 medical, public health, dental, and nursing students at The University of Texas Health Science Center at Houston (UTHealth) who have volunteered to help Houston middle school children understand more about nutrition and improve their diets.
"It has been such an incredibly eye-opening experience. Some of the children don't even have enough to eat and they have to cook for themselves," Drake said.
Since last fall the students, from McGovern Medical School, School of Public Health, School of Dentistry, and Cizik School of Nursing at UTHealth, have been visiting a middle school in an underserved area of Houston to run a nutrition education program on Wednesday mornings. Led by students and supported by the UTHealth Center for Interprofessional Collaboration, the initiative unites students from different academic disciplines.
It's the brainchild of first-year medical and master's in public health student Amier Haidar, who set up the UTHealth Association for Nutrition in the Health Professions to develop and share his passion and experience in this field. As a college student, Haidar completed an undergraduate research fellowship at the UTHealth School of Public Health in Austin, which led to volunteer work helping conduct research using CATCH (Coordinated Approach To Child Health) middle school project data.
"I wrote my undergraduate honors thesis on dietary behaviors in middle school adolescents and love putting nutrition into practice. I wasn't expecting the association to be so popular, but students recognize the importance of nutrition and really want to promote healthy diets in the community," Haidar said. "We chose a school in an underserved area where there is a real need for nutrition education and the response has been overwhelming. The children have such a great appetite to learn and try new foods."
Each lesson focuses on a specific food-related topic and healthy snacks are provided. The association meets monthly, and invites faculty to speak on nutrition-related topics.
"We used cheese and crackers and Greek yogurt parfaits to talk about calcium. Sugar is another important topic, so we try to take lots of colorful fresh fruit and vegetables," Haidar said. "The students are smart and really receptive to the ideas and options."
The sugar content in soda and other beverages children bring to class has proved the biggest surprise so far.
"We spent a lot of time focusing on teaching the kids how to properly read and interpret nutrition labels so that they know how much sugar they are actually consuming," said Haidar.
"When we show them physically how much sugar is in a regular soda or fruit-flavored drink, they think it's pretty gross and can't believe how many grams it contains," said Sam Erickson, a first-year medical student. "We also teach them the difference between pure orange juice and orange-flavored drinks, which is basically just sugar water."
The club has built up a regular following and students plan to return in fall. They're already driving important messages home.
"Many children told me they told their parents about the lesson they had learned. One even told me her breakfast routine had changed completely and she felt great. Her mom was trying it, too," said Kelly Masterson, a first-year medical student. "It's comments like that which really make your day and show what a difference relatively small changes can make."
Shreela Sharma, PhD, RD, associate professor in the Division of Epidemiology, Human Genetics, and Environmental Sciences at UTHealth School of Public Health, and Tiffany Champagne-Langabeer, PhD, MBA, RD, assistant professor of biomedical informatics at UTHealth School of Biomedical Informatics, are among the faculty who have supported the group.
"Amier's tremendous energy and commitment to establish this association and make it such a success is truly inspirational. I'm so proud of all the students who have given their time and expertise with such enthusiasm to children in real need," Sharma said. "This is an opportunity for public health in action, and an important learning experience for students across health disciplines to interact with the community outside the clinic or hospital setting. The community also gets to see health professionals in a different capacity."
"It has been wonderful watching this association blossom in such a short space of time. The unique nature of UTHealth with our six schools lends itself perfectly to interprofessional collaboration, and I hope the exemplary work of these students will encourage others to get involved," said Champagne-Langabeer, who serves as an interprofessional education liaison.
Media inquiries: 713-500-3030