Studying public health during a pandemic, part two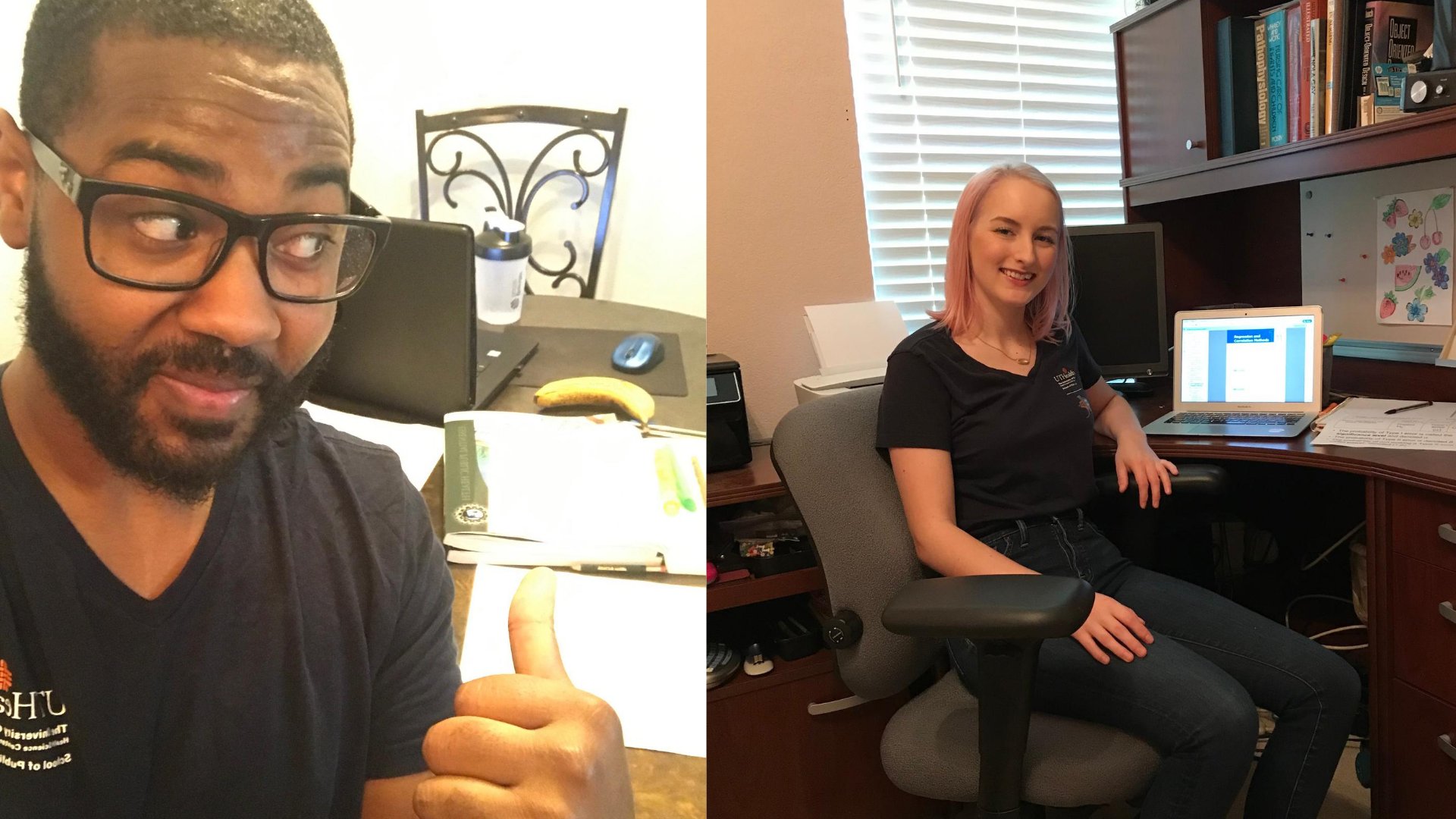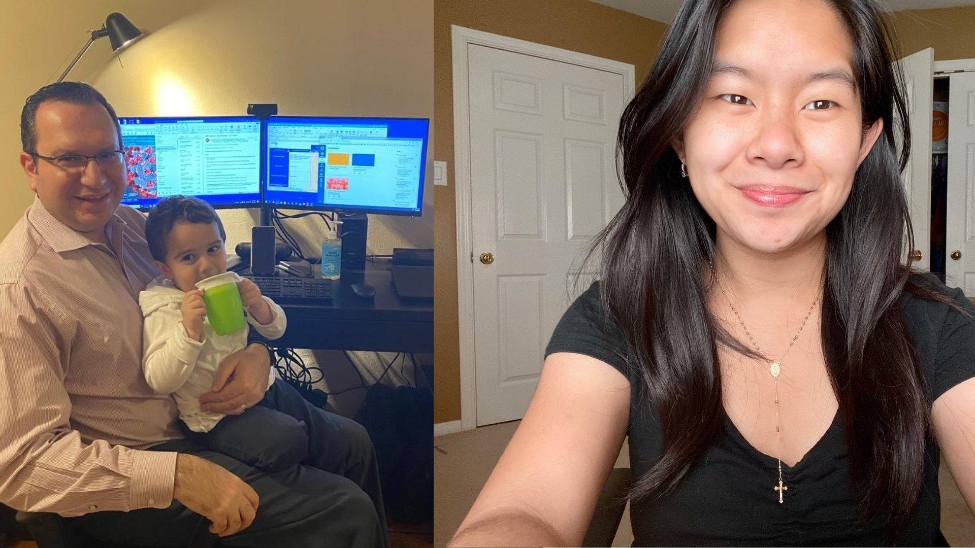 See how our summer semester students are learning to tackle the public health problems of today and tomorrow from their home classrooms. See how our summer semester students are learning to tackle the public health problems of today and tomorrow from their home classrooms. This the second part of a two-part series.
Derek Anderson, MPH
DrPH, Community Health Practice, San Antonio
Top challenge of class-from home
Even though we have WebEx communication, and it is not much different than when we are in class using interactive television (ITV), it is a lot more engaging and there are fewer technical difficulties when I'm actually on campus. I know a few of us have also had issues with internet connectivity, power outages and that kind of thing. Now that so many of us are working from home, power outages are to be expected because we're using more power. I have found that to be a little bit challenging, for me personally, accessing the internet at times.
Best benefit of class-from home
I get to save on gas (laughs). Even though campus isn't too far away I definitely have been able to save a bit more from the gas perspective. Also, I am able to study from the comfort of my own home. I dress comfortably, like in PJs, when I'm not going anywhere. I wouldn't be able to that in class. So, it is nice being comfortable and safe in my home and being able to handle my classwork as well.!
How has COVID-19 has impacted the way you think about public health work?
What's on my mind is tied into the first part of the question about public health. I administer a professional group – a network of Black men, called Black Men in Public Health. I am the founder. And what we have been finding is that when it comes to who has been affected by COVID-19 – it's minority populations, Black and brown populations. My evenings are about working with people all over the country involving these networks, providing education and resources. We also partner with Black Ladies in Public Health, another group doing the same thing.
And we work with different organizations that have been trying to recruit Black and brown individuals who are underrepresented in public health to become contract tracers for COVID-19. I have actually had quite a few men in my network take an online course for that and go on to be hired for epidemiology positions or other positions related to COVID-19, along with other professional opportunities. We're glad that we can provide the expertise of Black men who work in public health and related fields to help address Black and diversity representation regarding COVID-19. It's a grassroots effort, and it can be challenging to keep it going, because we are all graduate students, working professionals, or both. But it's growing. We have almost 1,000 members. I'm excited with what we're doing.
Grace Goulet
MPH, Epidemiology, Dallas
Top challenge of class-from home
The top challenge of class from home is keeping up a daily routine and finding a good school and life balance. Sometimes it can be difficult to find a quiet space to study with most of my family working and doing school at home, so it's a little bit different than the average school environment.
Best benefit of class-from home
The benefit of class from home for me has been a reduced commute time and more time with my family. I live a good distance away and with no commute, I am able to spend a lot more time at home with my family trying out new fun recipes and working on expanding our garden.
How COVID-19 has impacted the way you think about public health work?
COVID-19 has changed the way I view public health work by showing me how an interdisciplinary team of scientists, public health practitioners, and government officials must think creatively and collaboratively in order to respond to and control a pandemic of this magnitude. Public health is truly a team effort.
Salwan Ibrahim, MD
MPH, Healthcare Management, Houston
Top challenge of class-from home
I think the challenge is mainly psychological, to be honest with you. Just to adapt the brain to learn new skills of working remotely without meeting the person face-to-face, and to still engage that person, still network with that person, still push forth your objective. And there are distractions. At the end of every call, for example when I talk to Mark (Mark Biscone, Ibrahim's practicum preceptor at the American College of Healthcare Executives), after we've finished for an hour of mutual discussions over Zoom, sometimes we stop momentarily because we have to take care of children or anything else at home. But then at the end of that, we achieve what we want to do.
I value the opportunity to train at the American College of Healthcare Executives (ACHE) tremendously, and feel that this is the best organization for graduate MPH healthcare management students to join and network in. ACHE has great educational opportunities and being able to network with local healthcare professionals and leaders is unparalleled. Certainly, I appreciate UTHealth School of Public Health for this opportunity.
Studying remotely wasn't easy in the beginning. Now, as we enter the fifth month of the pandemic, it's no longer something new. We're taking notes, we're sharing slides, we're sharing documents, we're having lectures at the university. We're even doing practicums, which by definition, should have been more on the ground practical training. We're learning more and coping with the changes.
Best benefit of class-from home
Rather than having an appointment to visit somebody, you're a bit more relaxed, you're flexible with your time. You're sitting at home conducting all these calls and the opposite person is having the same kind of experience. They're also relaxed, you can feel that. You see them wearing their t-shirts rather than their skirts and ties. Sometimes their kids come into the picture et cetera, so it makes the discussion much easier.
How has COVID-19 impacted the way you think about public health work?
Unfortunately, the local community here where I live, which can be a sample of the larger community in Houston is not fully compliant with the guidelines that are set by the healthcare professionals. For an assignment that I did for my qualitative research class, I went to the parking lot of a nearby grocery store. I parked there for 45 minutes and my task was just to sit there and watch what was happening and write my observation. I noticed that only about 10% of people wore at least one piece of personal protective equipment (this was prior to the statewide mask mandate in Texas). I think what faces any public healthcare professional here in the management of a similar kind of crisis is, what is the action that can incentivize people to be compliant and practice a healthy behavior? Because its critical in order to have success over the whole pandemic.
Courtney Nguyen
B.S. in biology and minor in ethics at the University of Dallas. One of 34 summer interns—13 at the SPH—sponsored by the Cancer Prevention Research Institute of Texas. Interning with Eric Jones, PhD, at the El Paso Regional Campus.
What are you doing in your internship?
I am working with Dr. Eric Jones to study the social networks and social support of cancer patients and caregivers. The question that I'm interested in is how networks and support influence each other to affect the patients' and caregivers' mental health. I have also been learning about the field of social network analysis and the kind of thinking that goes into conducting research and data analysis.
Top challenge of class-from home
One of the challenges for me has been separating work from rest at home. As someone who is pretty introverted, I'm used to having home as purely the space for rest. The lack of a physical separation between solitude, work, school, and social life has been disorienting to manage my energy levels, but I still do my best to show up and make the most of it!
Best benefit of class-from home
The benefit is definitely getting to participate in the internship in the first place, especially during this time of COVID-19. Not many people are getting the same opportunities as me to learn and get challenged in the way that I am, so I'm deeply grateful for this unique experience.
How has COVID-19 has impacted the way you think about public health work?
COVID-19 has shown me the complex tapestry of life that public health work grapples with, from human psychology, social norms, lived experience, biology, politics, medicine, to technology.