Building multidisciplinary, interprofessional health care training for the next generation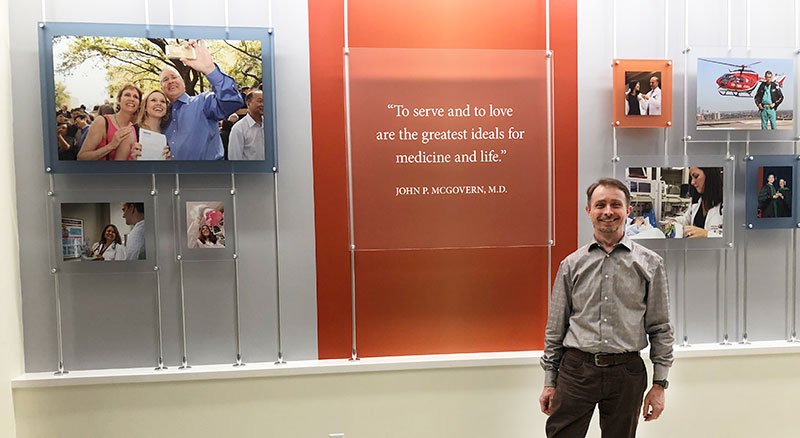 On the fourth floor of McGovern Medical School at UTHealth, along a corridor of laboratories and faculty offices, the complex undertaking of coordinating multidisciplinary clinical training for students is being spearheaded by Stephen Jones, program manager of interprofessional education (IPE) at UTHealth.
The goal is to bring together students across a range of disciplines to work together in complex health care situations. This is done through patient care simulations to sharpen their communication skills, develop effective collaboration across specialties, help to reduce the overall risk for medical mistakes, and improve treatment. The program is overseen by directors Lee Revere, PhD, and Jennifer Swails, MD, who were appointed in early 2018 by Michael R. Blackburn, PhD, UTHealth executive vice president and chief academic officer.
Jones, who most recently worked in the Office of Student Affairs and Admissions at McGovern Medical School for 15 years, is applying the skills he has learned throughout his career to broaden the scope and depth of IPE and collaboration across campus.
"With my time at UTHealth, I've learned the importance of research and how integral curriculum management is to our current and future students. Working closely with our medical school students allows us to better understand the challenges they face in this new era of providing excellent patient care," said Jones. "The community we have here at UTHealth is primed with resources and opportunities for our students. It's my job to serve our students to promote IPE and help them become collaborative health care providers of the 21st century."
This year, Jones states the program is focusing on preparing students to work together as a team in a health care environment, in addition to actively bringing together organizers of community service events, both within the university and in collaboration with surrounding area institutions.
"Teaching students the skills needed to be an effective and collaborative team member, as well as providing experiences to practice these skills, is an essential part of their academic learning," said Revere, director of the George McMillan Fleming Center for Healthcare Management at UTHealth School of Public Health and associate professor in the school's Department of Management, Policy and Community Health. "The TeamSTEPPS program, an evidence-based, nationwide effort led by the Agency for Healthcare Research and Quality, focuses on creating a teamwork system for health care professionals to improve patient safety. The program is now being taught through the IPE trainings at McGovern Medical School, Cizik School of Nursing, and UTHealth School of Dentistry to raise awareness of different communication styles and provide tools to effectively communicate across disciplines."
"Our students receive outstanding preparation for their future careers, and practicing team collaboration skills will allow them to implement their knowledge to produce optimal outcomes and avoid medical errors," said Swails, assistant professor of internal medicine and program director of the internal medicine residency program at McGovern Medical School. "Preventing medical errors is now a core skill for health care professionals and it is as important as knowledge-based outcomes for our students' future success."
Another training opportunity the IPE program offers is live patient simulations in the Surgical and Clinical Skills Center at the McGovern Medical School. These simulations, held during the spring and fall semesters, provide students an opportunity to interact with a standardized patient, to work with electronic medical records for their patients, and to collaborate with future physicians, nurses, public health professionals, biomedical informatics specialists, dentists, and other providers to expand their core communication skills.
For more information on the trainings available, please contact Stephen Jones, program manager of interprofessional education, at 713-500-5199 or UTCIPC@uth.tmc.edu