Truck stops, underpasses, and beyond: public health leader reaches out to the homeless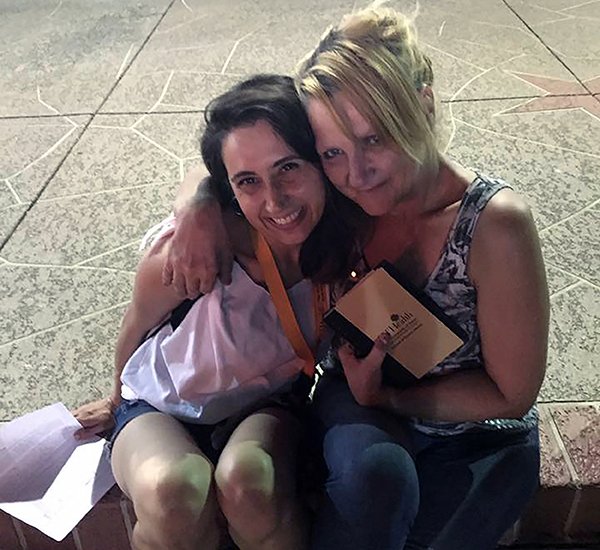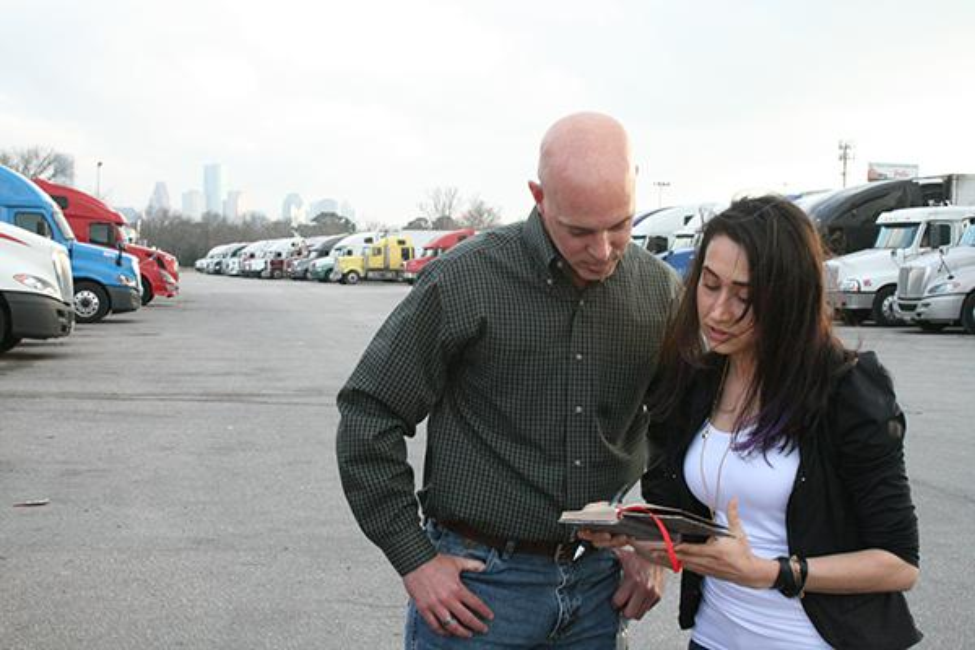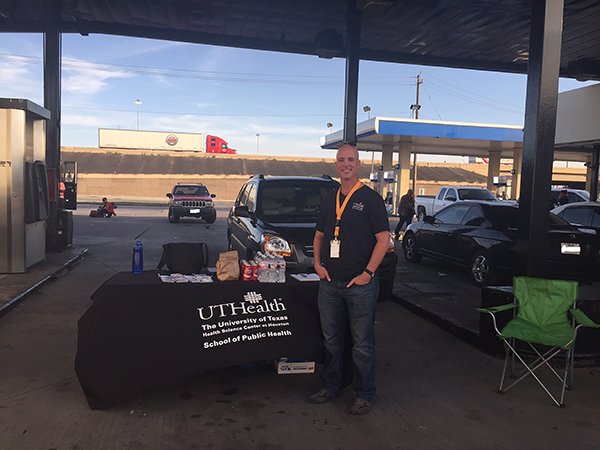 Pursuing a career in research might conjure up images of labs and test tubes. But for Vanessa Schick, PhD, it's meant truck stops, underpasses, and other places where she can engage with those living with chronic homelessness.
Schick, an associate professor at The University of Texas Health Science Center at Houston (UTHealth) School of Public Health, is working to bring her knowledge of public health resources, often referred to as her toolbox, directly to those who need them most.
While her career started out more traditionally research-oriented, "meeting people where they are" quickly evolved into the heart of her work. It started as a plan to promote sexually transmitted infection (STI) screenings for people engaged in sex work at truck stops across Texas with research partner J. Michael Wilkerson, PhD, MPH, an assistant professor at UTHealth School of Public Health. It transformed after engaging with the people they were interviewing. Schick quickly realized that if basic needs weren't met, how could anything else matter?
"I remember interviewing a woman that first day and asking her if she was interested in getting tested for an STI, and she told me that would be great, but what she really needed was a sandwich," Schick said. "We had to stop and really learn how to be a support to those in these spaces without an agenda in ways that they defined for themselves."
She decided to focus her efforts and programming on the needs of the communities where she was conducting research. That spun into a multipopulation focus and includes individuals with various experiences that often intersect – homelessness, justice system involvement, and sex work.
Schick tells people she likes to work backward compared to traditional academic models. Academics typically begin the research process by reviewing literature or data, then connecting with outside organizations to implement programs within populations. Schick conducts a needs assessment within the population first, and then develops the programs and partnerships with organizations to implement it.
"It's important to remember that support systems are almost always designed by well-intentioned individuals, but they are often based on a single perspective or goal – often driven by finances. As a result, there's too frequently a misalignment between what's offered and what's needed," Schick said.
Schick works to bridge that gap by building trust within the communities where she works and creating programs based on input from the individuals who have lived the experiences. When approaching every opportunity to create solutions for people, she has the mindset that there's "no good or bad guys," only people trying to get by.
Schick's research background spans topics such as sexual health, sexual identification, and safe sex practices, so pivoting her focus to individuals experiencing homelessness was something she considered very carefully. She didn't want to appear as if she intrinsically knew the struggles that community was facing or what kind of public health programs they needed.
"When looking at these populations and possible solutions for them, I always make every effort to be mindful of the ways in which my privilege may impact my perspective," Schick said.
Last fall, Schick was awarded $1.2 million from the Cancer Prevention and Research Institute of Texas (CPRIT) to help prevent and treat liver cancer in those who are currently or were formerly homeless.
Liver cancer is most commonly caused by viral hepatitis, which individuals experiencing homelessness are at a greater risk of contracting. The grant provides funds to help educate, test, vaccinate, and treat individuals through partnerships with New Hope Housing, the largest provider of permanent supportive housing in Texas, and Healthcare for the Homeless.
By providing housing and addressing it as the primary need of at-risk individuals, the screening and treatment services are brought directly to them where they are.
Schick understands the value of making these screening events more welcoming. Stepping into her office, it's hard to miss the stack of games, hot dog machines, and condiments in the corner.
"I like to create a fun festival environment. Bingo is always a big hit and so are the hot dogs," she said.
"It is always easy to be critical of programming offered through academics or in the community. But we all want to do better. The challenge is that we're all driven by mission-specific outcomes that sometimes constrain the work that can be offered in problematic ways. In a school of public health, we can be neutral – listening to the voices of the community – and convening the necessary partners," Schick said. "We can work together to make people's lives safer and better, and bring together services to support them."
Right now, her research is focused on areas addressing individuals who have been involved in the justice system, with the goal of investigating criminal justice debt, and those who engage in sex work.
Schick's goal extends beyond reducing recidivism to creating a public health solution that addresses the complex needs of the community and supports them in their most vulnerable moments.
"How do we get upstream from here? One of the unique things about public health is we do not wait for people to fall. We figure out what the problem is and we try to address that issue," Schick said. "For me, it's all about not waiting until people get stuck in a system they can't get out of."