State and local officials emphasize vaccine's critical role in crushing COVID-19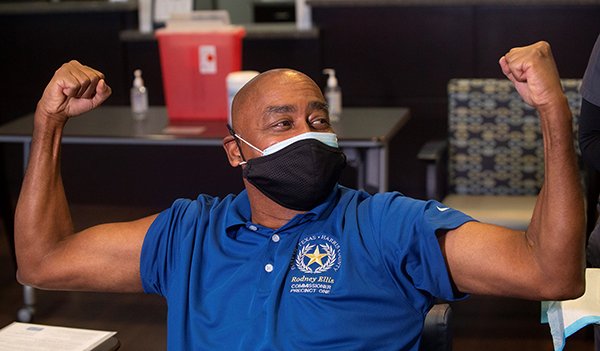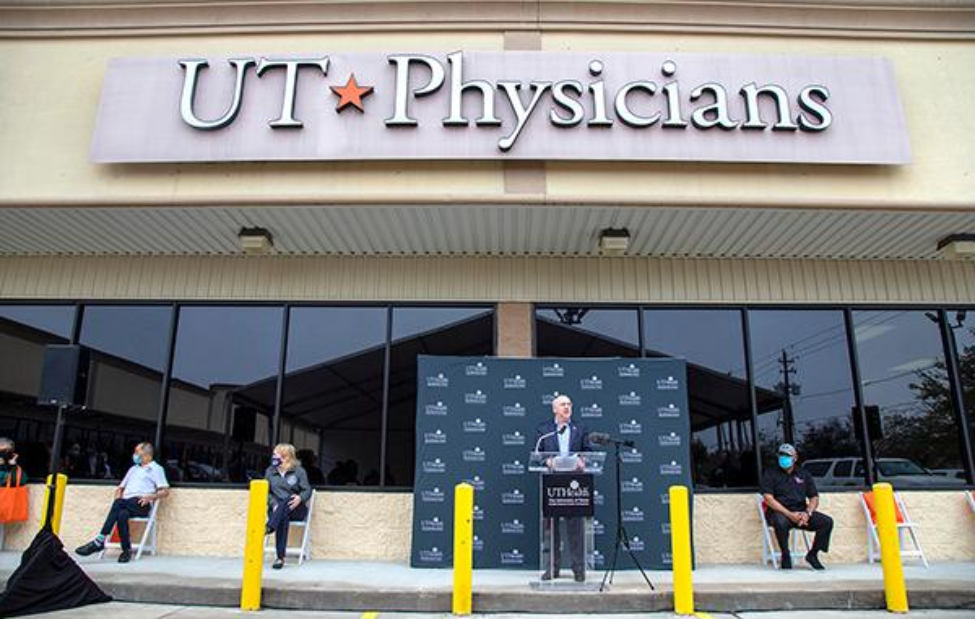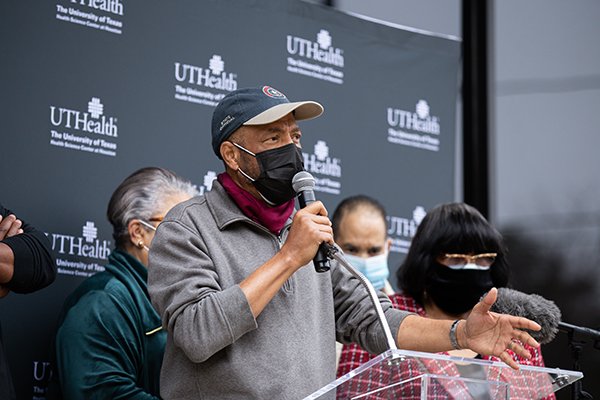 In one of the Houston neighborhoods hit hardest by the coronavirus, state and local public officials, together with leaders from The University of Texas Health Science Center at Houston (UTHealth) and The University of Texas System, gathered at UT Physicians Multispecialty-Jensen on Saturday, Jan. 23, to encourage everyone to roll up their sleeves and receive the COVID-19 vaccine.
During the news event, which was livestreamed on Facebook, the community leaders emphasized that the vaccine, paired with the continued wearing of masks, social distancing, and handwashing, is essential to ending the pandemic. It is especially essential in minority communities disproportionately affected by the virus.
Serving as an example to their constituents, Texas Sen. Borris Miles, state representatives Senfronia Thompson, Harold Dutton, Garnet Coleman, and Alma Allen, and Harris County Precinct One Commissioner Rodney Ellis received their second dose of the vaccine while journalists documented the proactive measure to prevent the spread of COVID-19.
U.S. Congresswoman Sylvia Garcia, TX-29, who represents the Jensen community, shared her personal experience receiving her first and second dose and expressed the need to build the community's trust in the vaccine.
According to a recent survey by the Kaiser Family Foundation, 27% of the public remain hesitant to receive the COVID-19 vaccine, and 35% of Black adults, a group that has disproportionately borne the burden of the disease, reported they definitely or probably would not get vaccinated. Among the reasons cited were worries about possible side effects, a general mistrust in vaccines, and concerns they would get sick from the vaccine.
Garcia said she didn't even feel the needle when she received the first dose. With the second dose, she experienced a slight headache and body aches – a brief inconvenience, she said, for lifesaving immunity against the deadly coronavirus.
"We need to make sure that people understand the vaccine is critical in crushing this virus," Garcia said. "If we don't do that, as well as continue with testing, masking, social distancing, we will never win that fight."
Thompson thanked UTHealth for its role in providing accurate, reassuring information about the vaccine and its safety, as well as doing its part to ensure that every single dose that is available is injected into the arms of those who need it most.
Like Garcia, Thompson said she didn't feel the needlestick during the first dose of the vaccine, and the only side effect she experienced was minimal soreness in her arm. Thirty minutes after receiving her second dose, she reported she was feeling fine and was grateful to have boosted immunity.
"If COVID comes to bother me, my body is going to give it a knockout punch," Thompson said, adding that those who are eligible should join her in receiving the vaccine.
Miles said that in order to end the pandemic, 75% of the population eligible to receive the vaccine must take it.
"It's real simple," Miles said. "It's kind of like the lottery. You have got to play to win. You've got to take this vaccine to live."
Ellis said people of color, particularly African Americans, may have lingering doubts about the vaccine's safety. By receiving his first and second dose of the vaccine on camera for his constituents to see, he hopes to inject a reassuring message. "I want to let people know it's safe. It's important," Ellis said following the news conference.
Giuseppe N. Colasurdo, MD, UTHealth president and Alkek-Williams Distinguished Chair, said access to health care – delivered in community clinics like UT Physicians Multispecialty-Jensen – as well as access to the vaccine are crucial to saving lives.
"If you want to save lives by the millions, the medical literature has proven that over and over again, there is only one tool to fight deadly viruses, and that tool is called a vaccine," said Colasurdo, who is also chief executive officer of UT Physicians.
John Zerwas, MD, executive vice chancellor for health affairs at UT System and chief medical advisor to Gov. Greg Abbott on all COVID-19-related matters, acknowledged that limited vaccine supply is currently the single greatest challenge in Texas' fight against COVID-19.
"We anticipate these supplies will increase over the next several weeks, and frankly it can't get here fast enough," Zerwas said. "But as soon as we get our opportunity to get our hands on (the vaccine), we're going to get it out to places like this UTHealth clinic on Jensen Drive so we can get it into the arms of individuals who need it most."
UTHealth – recently established as one of the state's COVID-19 vaccine hubs – and its clinical practice UT Physicians have begun vaccinating patients, including those in higher-risk, underserved communities, by invitation as vaccine doses become available. The university's effort to vaccinate its students and employees also is ongoing.
Other guests participating in Saturday's event were State Rep. Armando Walle, and members of the Community Advisory Board for the Jensen clinic, including David Smith, pastor of New Bethlehem Missionary Baptist Church; Chara Bowie, director of health and social services at Harris County Precinct Two; and Coco Martinez.
University representatives included LaTanya Love, MD, executive vice president of Student Affairs and Diversity at UTHealth and dean of education ad interim at McGovern Medical School at UTHealth; Eric Boerwinkle, PhD, dean of UTHealth School of Public Health; Luis Ostrosky, MD, professor in the Division of Infectious Diseases; George Delclos, MD, MPH, PhD, professor and Marcus M. Key, MD, Shell Occupational and Environmental Health Endowed Chair at UTHealth School of Public Health; Andrew Casas, senior vice president at UTHealth and chief operating officer for UT Physicians; and Marlon Stewart, community practice manager at the Jensen clinic.
Walle, who represents the Jensen area, thanked UTHealth and UT Physicians for opening a clinic that connects the community to health care. He said that when he is eligible to receive the vaccine, he will get in line with everyone else to do his part in the fight against COVID-19.
"At the end of the day, it's important – especially for our communities of color that may be distrustful of these types of vaccines – that they take the vaccine, because the science proves its efficacy," Walle said. "It's going to save lives."
Media Inquiries – 713-500-3030