Use More Herbs, Less Salt in Your Recipes
Published: August 30, 2017
Using salt in recipes can be second nature to some. A little salt, a little pepper, and you're favorite protein is seasoned and ready. But for those of you who are looking to step away from using high-sodium salt, you might want to look into some healthy herb alternatives that work just as well as salt.
Mastering herbs and spices is your next step to cooking tasty meals that are much healthier than using salt for flavor.
The American Heart Association recommends no more than 2,300 milligrams (mgs) of salt a day and an ideal limit of no more than 1,500 mgs per day for most adults.
There are also many health benefits to a low sodium diet or cutting salt altogether. Reducing your intake of sodium, or salt, helps to reduce hypertension or high blood pressure and helps to prevent swelling of the extremities, such as your hands or legs. Reducing your salt intake may also lower your risk of heart disease.
So if you're looking to better your health, try these salt alternatives and salt-free recipes that will have you saying, "Salt Schmalt!"
Garlic
Rosemary
Bay Leaves
Basil
Sage
Allspice
Thyme
Parsley
Paprika
Onion Powder
One Pan Lemon Parmesan Chicken and Asparagus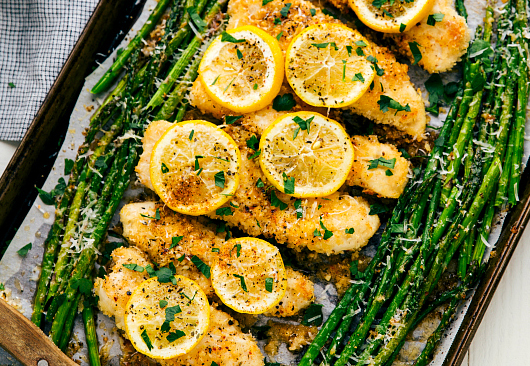 Ingredients
1 and 1/2 pounds boneless skinless chicken breasts or tenders
1/3 cup flour
1 cup panko or breadcrumbs
1 cup parmesan cheese separated
1 teaspoon dried parsley
1/2 teaspoon garlic powder
3-4 lemons
1 tablespoon minced garlic
8 tablespoons melted butter separated, I use unsalted
1 tablespoon lemon pepper seasoning
1 pound asparagus
3 tablespoons olive oil
3 tablespoons honey
Optional: fresh parsley, 1 lemon for topping
Directions
Preheat the oven to 400 degrees F. Line a large sheet pan with parchment paper and set aside.
Grab three bowls. Add the flour to one bowl.
Combine panko, 1/2 cup freshly grated parmesan cheese, dried parsley, and garlic powder. Stir.
In the final bowl, add 1-2 teaspoons lemon zest, 4-5 tablespoons lemon juice (depending on lemon flavor intensity desired), minced garlic, and 5 tablespoons melted butter. Stir. Remove 4 tablespoons of this mixture and set aside.
Slice chicken breasts to the size of tenders (about 1 and 1/4th inch strips) or use chicken tenders.
Coat in flour, heavily dredge in garlic lemon mixture, and then coat in the Parmesan panko mixture.
Place on prepared sheet pan. Take any remaining Parmesan panko mixture and sprinkle over tenders. Sprinkle lemon pepper seasoning over the tenders (for example, Mrs. Dash lemon pepper)
Bake in preheated oven for 10 minutes and remove.
Flip the tenders to the other side.
Place the asparagus next to the tenders and drizzle the reserved lemon butter sauce. Sprinkle remaining 1/2 cup Parmesan cheese over the asparagus and toss with tongs.
If desired place lemon slices over the chicken (optional)
Return to the oven and bake for another 10-12 minutes or until the internal temperature of the chicken has reached 165 degrees F.
Meanwhile, whisk remaining 3 tablespoons melted butter, 3 tablespoons lemon juice, 1-2 teaspoons lemon zest, 3 tablespoons olive oil, and 3 tablespoons honey in a small bowl. Add some pepper and parsley if desired.
Remove from the oven and top with the honey lemon mixture and fresh parsley if desired and enjoy immediately.
Do not top chicken breasts with the honey lemon mixture unless eating immediately and aren't planning on having leftovers since it will make it soggy.
Fresh Herbs With Corn, Asparagus, and Chickpeas Recipe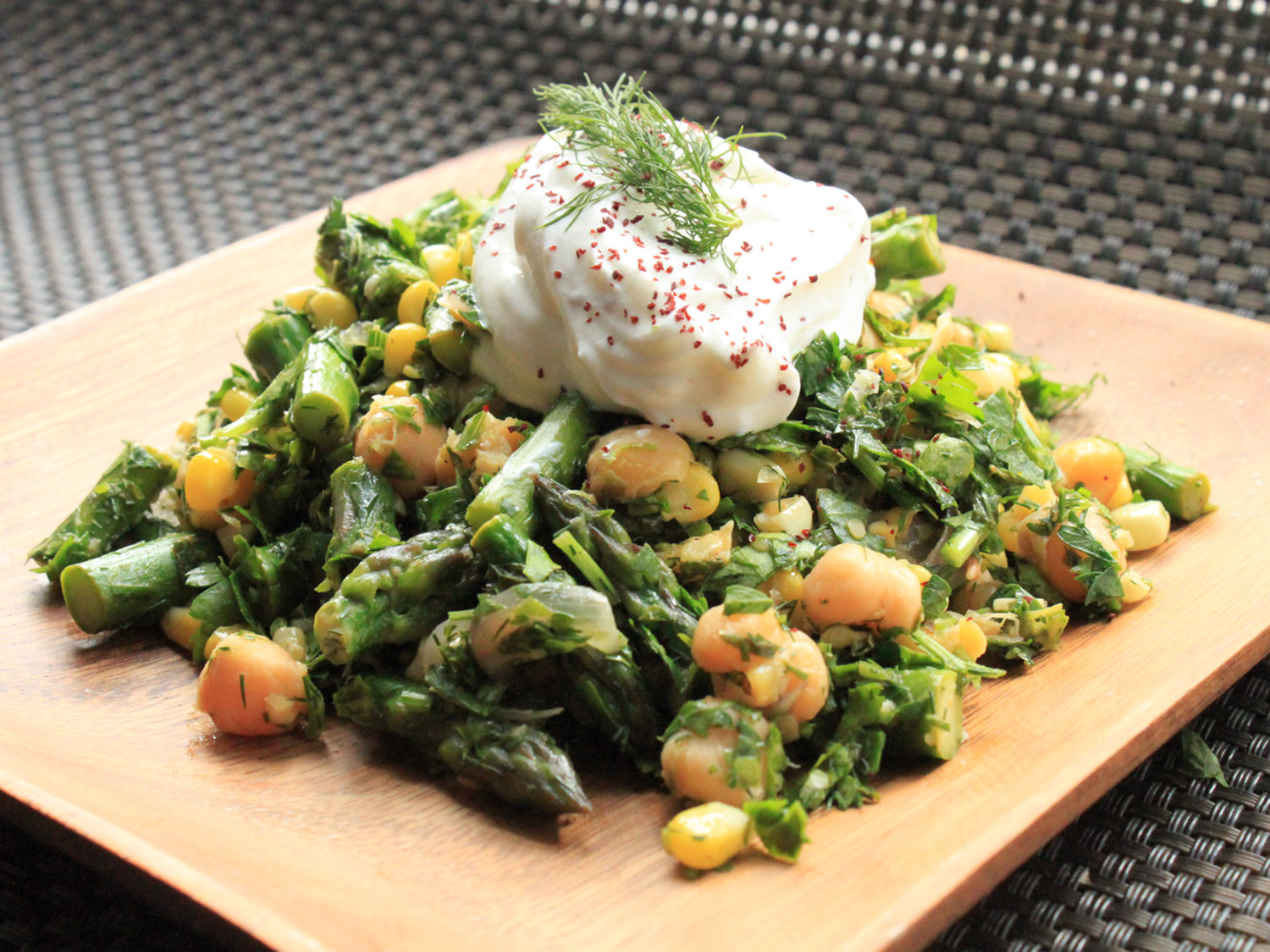 Ingredients
1 bunch fresh parsley, thick stems discarded and roughly chopped
1 bunch fresh cilantro, thick stems discarded and roughly chopped
1 1/2 cups fresh dill, thick stems discarded and roughly chopped
1 1/2 cups fresh mint, thick stems discarded and roughly chopped
4 tablespoons extra-virgin olive oil, divided
4 tablespoons fresh lemon juice from 2 lemons, plus more as needed, divided
Kosher salt and freshly ground black pepper
1 shallot, thinly sliced
1 tablespoon ground cumin
1 teaspoon cayenne
2 ears of corn, kernels sliced off (about 1 1/3 cups)
1 bunch asparagus, woody ends discarded and cut into 2-inch pieces (about 2 cups)
1 (15-ounce) can chickpeas, drained and rinsed
1 (7-ounce) container Greek yogurt, preferably 2%
1 tablespoon sumac
Directions
Combine the parsley, cilantro, dill, and mint in a large serving bowl and stir in 2 tablespoons olive oil and 2 tablespoons lemon juice. Add salt and pepper and set aside.
In a 12-inch skillet, heat remaining 2 tablespoons oil over medium-high heat until shimmering. Add shallots and a pinch of salt, cooking until softened, about 2 minutes. Add cumin and cayenne, stirring, until fragrant, about 30 seconds longer. Add corn, asparagus, and chickpeas. Continue to cook, stirring occasionally, until vegetables are tender, about 7 minutes. Remove from heat and allow to cool slightly.
Stir together yogurt and sumac in a small bowl. In a serving bowl, combine cooked vegetables and chickpeas with herbs. Add more lemon juice, if necessary. Serve with yogurt for dipping.
Warm Couscous Salad With Salmon and Mustard-Dill Dressing Recipe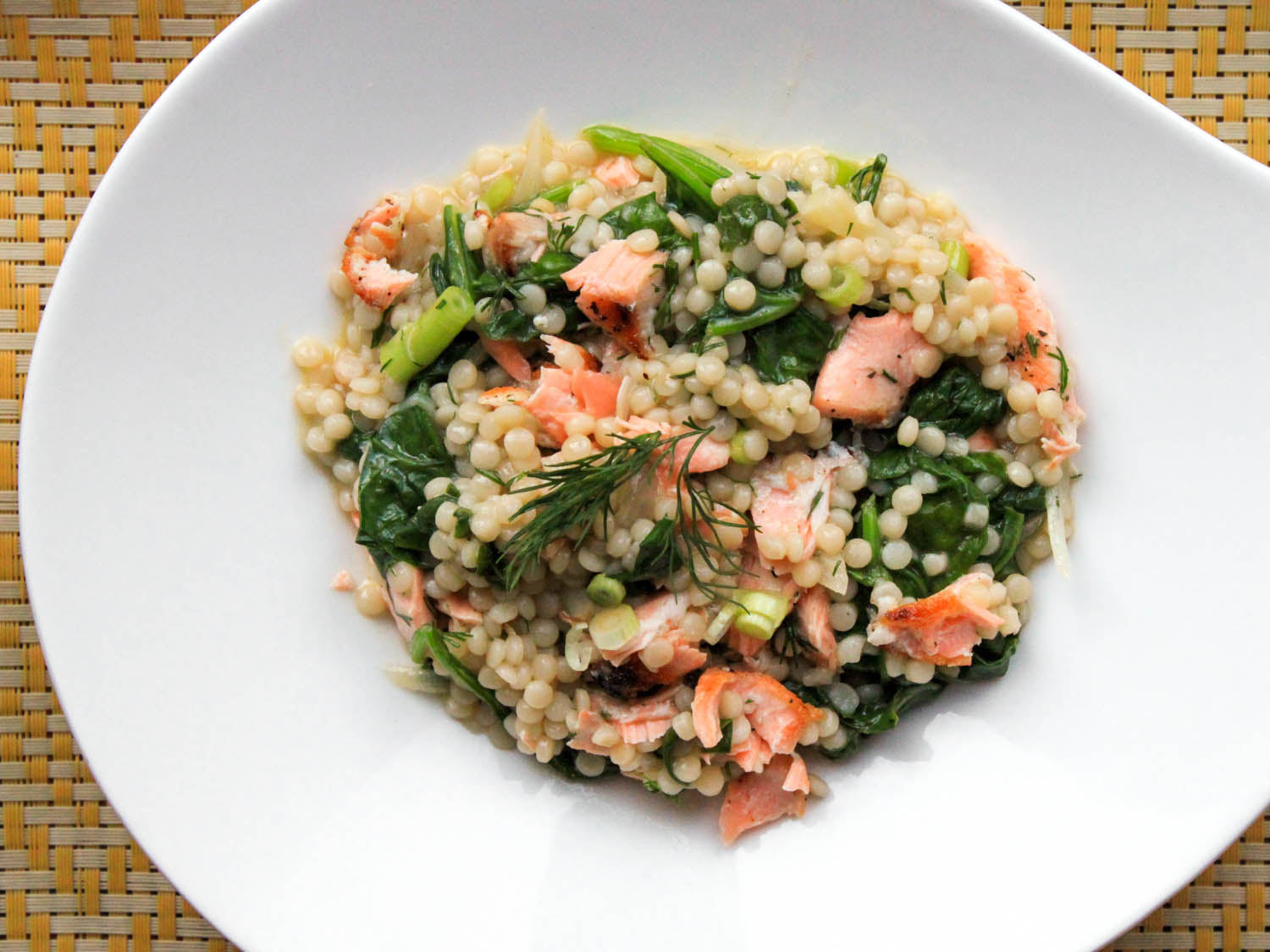 Ingredients
2 (8-ounce) salmon filets
Kosher salt and freshly ground black pepper
1/3 cup plus 2 tablespoons extra-virgin olive oil, divided
1 medium shallot, thinly sliced
6 ounces pearled couscous
3 cups homemade vegetable stock or store-bought low-sodium vegetable broth
2 tablespoons Dijon mustard
2 tablespoons lemon juice
1/2 cup picked dill, roughly chopped, plus more for garnish
1 1/2 cups spinach leaves, chopped in half if large
Directions
Season salmon with salt and pepper. Heat 1/3 cup of oil in a 12-inch stainless steel skillet over medium-high heat until shimmering. Add salmon, skin-side down, and immediately reduce the heat to medium-low. Cook, pressing down gently with a spatula to ensure contact, until the skin is rendered and crisp, about 6 minutes. If skin shows resistance when attempting to lift with a spatula, allow it to continue to cook until it lifts easily.
Flip salmon and cook until an instant-read thermometer inserted into the thickest part registers 120°F for medium rare or 130°F for medium, about 1 minute longer. Transfer salmon to a paper towel-lined plate and allow to cool. Once cooled, flake salmon using your hands; discard skin.
Meanwhile, wipe out the skillet. Add the remaining 2 tablespoons of oil and heat over medium-high heat until shimmering. Add shallot and a pinch of salt and cook until softened, about 2 minutes. Add couscous and cook, stirring, until lightly toasted and fragrant, about 1 minute. Add broth, stirring to combine, and adjust the heat to maintain a simmer. Cook until most of the liquid has been absorbed and the couscous is tender. Strain any excess liquid.
In a large serving bowl, mix together mustard and lemon juice. Stir in couscous, along with dill and spinach, stirring to fluff the couscous and wilt the spinach. Stir in flaked salmon and season with salt and pepper. Garnish with dill and serve right away.
Low-Sodium Herb Roasted Chicken Recipe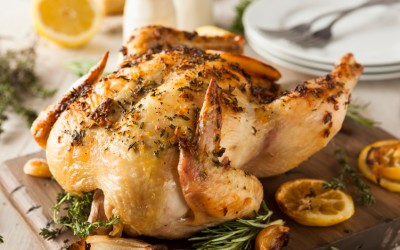 Ingredients
1 six- to seven-pound oven roaster (Note: Kosher chickens and chickens labeled "basted" or "self basted" have sodium added.)
2 tablespoons olive oil
Carrots (optional)
2 teaspoons garlic powder
1 teaspoon black pepper
1 1/2 teaspoons ground thyme
3/4 teaspoon ground sage
3/4 teaspoon marjoram
3/4 teaspoon ground rosemary
1/4 teaspoon nutmeg
1 1/2 teaspoons thyme leaves
1 1/2 teaspoons rosemary leaves
1 lemon
Directions
Remove neck and giblets from, then rinse and pat dry chicken. Rub olive oil on inside and outside of chicken, then place breast-side up in a shallow roasting pan, on a rack or a "bed" of carrots, if desired.
Mix all dry ingredients together in a small bowl and rub on chicken (inside and out). Slice lemon and squeeze juice onto chicken (inside and out). Place lemon rinds inside chicken and around legs and wings.
Roast uncovered at 350°F until a thermometer inserted into the breast meat registers 165°F. Depending on the size of the bird, this will take between 90 minutes and 2 hours, 15 minutes.
---