Workplace Spotlight: SpareFoot
Published: September 6, 2017
Developing a worksite lactation program is a simple and inexpensive way to support employees who chose to breastfeed. Lactation support programs are not only good for your employees, but also good for your business. Implementing a policy can reduce healthcare and insurance costs, reduce sick-time taken, help retain experienced employees, and boost morale and productivity! For more information, please go to our website.
SpareFoot is a self-storage and full-service storage company that makes it simpler to move and store your stuff. Since establishment in 2009, SpareFoot has worked hard to be one of the best places to work in Austin. Most recently, SpareFoot raised the proverbial bar by catering to their nursing employees and attaining the Texas Mother-Friendly Worksite Silver designation from the Texas Department of State Health Services with help from the Texas Mother-Friendly Worksite Technical Assistance and Support Program.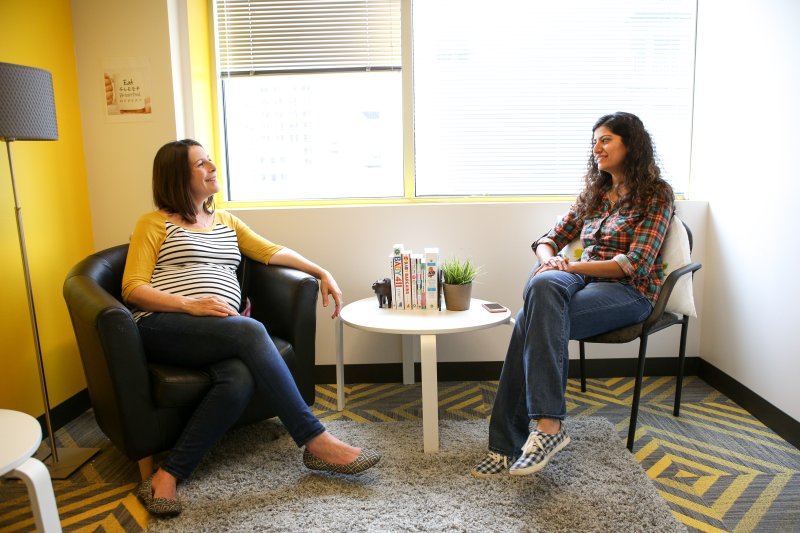 SpareFoot supports nursing employees by providing a number of accommodations such as a private, lockable nursing room stocked with extra breastmilk bags, a tea maker, and a white noise machine. Also, to help mothers returning from maternity leave, SpareFoot has created the 'Ramp Back Program,' where returning employees work out with their specific supervisor how they 'ramp their time up' over the first two weeks back. This program helps mothers get acclimated to the process of pumping at work. They even allow mothers to bring infants into the mother's room if it is convenient and works well for the mom. This way their breastfeeding employees can nurse at work instead of pump.
Megan Oertel, SpareFoot's Business Intelligence Manager and a mother herself, has experience with implementing a lactation support program in her previous workplace. There, she faced challenges in building buy-in with upper executives, not having enough space to accommodate multiple nursing moms, and not having an ideal nursing room set-up.
However, Megan's experience with SpareFoot has been quite positive. Soon after new moms began to bring up the issue of not having a nursing mother's room, SpareFoot rose to the challenge to provide the space. They even gave up one of their conference rooms to serve as a space for nursing moms and paid for the installation of a sink in the room. "For them to dedicate a whole conference room just for this purpose was a huge deal," said Megan. She pointed out that many mothers in the workplace appreciate the effort SpareFoot has made to provide these accommodations, whether they are current nursing moms or not.
Providing a lactation support program in the workplace is also good for business. For example, lactation support programs increase employee retention, which in turn reduces turnover expenses while also making their company more appealing to work for when it comes to future employee recruitment. "SpareFoot has a really strong interest in being a company who cares about this [issue], their women, and diversity and inclusion in the work place," said Megan. "[Since implementing our lactation support program], everybody at the company is well trained on what the nursing room is for and why it's important."
SpareFoot's biggest challenge in providing such a space was choosing the location of the space and the installation of the sink. Megan described to us how they had to drill through concrete, work with a busy plumber, and wait several months for the project to be completed.
While they have no current plans to expand, they have considered the idea of providing a multi-user, hospital-grade pump for their nursing employees, to help provide faster, more efficient pumping.
Megan offered some tips and advice for businesses looking to implement their own lactation support program. "Often times, businesses already have almost everything in place and it's not very difficult to provide what mothers need. Nursing moms are generally motivated to do it and they're going to find a way to [pump] one way or another. It's a matter of [making sure] they are going to be happy pumping at work."
As for getting stakeholders on board, typically, as Megan points out, justifications for implementing a lactation support program stem from a social justice standpoint, though businesses have to be more concerned with their bottom line. She recommends educating executive leadership with facts and using The Business Case section of the Texas Mother-Friendly Worksite Program website (found here). This section provides examples of business benefits to help educate others on the importance of implementing a lactation support program in the workplace.
SpareFoot is a shining example of company that cares about its employees. Creating a lactation support policy can seem like a daunting task, but we are here to make the process a simple one at the Texas Mother-Friendly Worksite Technical Assistance and Support Program.

If you have any questions or are interested in becoming a designated as a Texas Mother-Friendly Worksite, please email us at info@texasmotherfriendly.org.
Written by: Claire Adkins, Graduate Assistant for TMFW-TASP
Photos provided by: SpareFoot
---