Veg Out 2018 Challenge
Published: August 1, 2018
Do you engage in healthy eating but seem to eat the same 4 or 5 vegetables instead of a large variety? If that's the case you are not alone, but it's time to make a change! In an effort to try something new, faculty and staff at the Michael & Susan Dell Center for Healthy Living participated in the VegOut 2018 Challenge created by the Recipe to Success Foundation in the month of July. This challenge was a call to action to eat 30 different vegetables in 30 days to support healthy eating habits by making it an adventure, the same way we entice children to eat healthy foods.
Our staff members downloaded the free VegOut! App where they were able to track the vegetables they ate, how they ate them, and rate them for other users. The app also allowed for some accountability and friendly competition of vegetable tracking with other members of the Center.
The Center currently participates in the Farm To Work program facilitated by the Sustainable Food Center, where staff and students have the opportunity to purchase a basket of fresh produce from a local farm on a weekly basis. In light of the challenge, a few Farm To Work customers used the vegetables in their baskets to try out new recipes and shared their experiences with us.
Kathleen Manual and Allison Marshall decided to split a Farm to Work basket and cooked up Caprese Stuffed Garlic Butter Portabellas using the below recipe:
Ingredients
Garlic butter:
2 tablespoons butter
2 cloves of garlic minced
1 tablespoon of chopped parsley
Mushrooms:
5-6 Portobello mushrooms, stem removed, washed and dried with a paper towel
Shredded mozzarella
1 cup of cherry tomatoes, halved
Arugula shredded (the original recipe called for shredded basil but we decided to use arugula instead since we already had that from our basket)
Balsamic Glaze:
¼ cup of balsamic vinegar (store bought)
Directions
Preheat oven to grill/broil settings on high heat. Arrange oven shelf to the middle of your oven.
Combine all of the Garlic Butter ingredients together in a small saucepan (or microwave safe bowl) and melt until garlic is fragrant. Brush the bottoms of each mushroom and place them buttered side down on a baking tray.
Flip and brush any remaining garlic over the insides of each cap. Fill each mushroom with the mozzarella and tomatoes, and grill/broil until cheese has melted and golden in color (about 8 minutes).
To serve, top with the basil, drizzle with the balsamic glaze and sprinkle with salt to taste.
For the Balsamic Glaze:
(If making from scratch, prepare while mushrooms are in the oven.) Pour vinegar in a small saucepan over high heat and bring to a boil. Reduce heat to low; allow to simmer for 12-15 minutes or until mixture has thickened and reduced to a glaze. (Kathleen and Allison recommend to set the oven to broil instead of bake to get that mozzarella extra crispy)!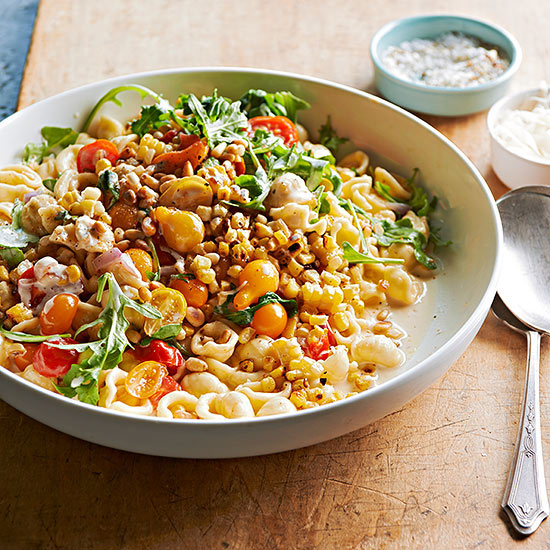 Heather Atteberry used the contents of her basket to make a tasty Orecchiette in Creamed Corn with Wilted Tomatoes and Arugula.
Ingredients
4 ears of fresh sweet corn
8 ounces dried orecchiette pasta
¼ cup pine nuts
1 tablespoon olive oil
1 cup grape tomatoes
1 medium shallot, thinly sliced
1 ½ cups half-and-half or light cream
½ teaspoon sea salt or kosher salt
½ teaspoon freshly cracked black pepper
½ teaspoon freshly grated nutmeg or 1/4 teaspoon ground nutmeg
2 cups torn arugula
Sea salt and freshly cracked black pepper
2 ounces Pecorino Romano or Parmesan cheese, shaved
Directions
Remove husks from ears of corn. Scrub with a stiff brush to remove silks; rinse. Cut kernels from cobs; set kernels aside. Discard cobs. In a 5- to 6-quart Dutch oven cook pasta in lightly salted boiling water for 12 to 15 minutes or until al dente. Remove 1/2 cup of the pasta water; set aside. Drain pasta; return pasta to the Dutch oven.
Meanwhile, in a very large skillet cook pine nuts over medium heat for 2 to 3 minutes or just until toasted. Remove pine nuts from skillet; set aside.
For sauce, heat the olive oil in the skillet over medium heat. Add corn kernels, tomatoes, and shallot. Cook for 5 to 7 minutes or until corn begins to brown and shallot is tender, stirring occasionally. Stir in half-and-half and the reserved pasta water. Bring to boiling. Boil gently, uncovered, for 5 minutes, stirring occasionally. Stir in 1/2 teaspoon sea salt, 1/2 teaspoon pepper, and the nutmeg. Pour sauce over pasta in pot. Add arugula and toss until well combined. Season with additional sea salt and cracked black pepper.
To serve, divide pasta mixture among bowls. Top with cheese and toasted pine nuts.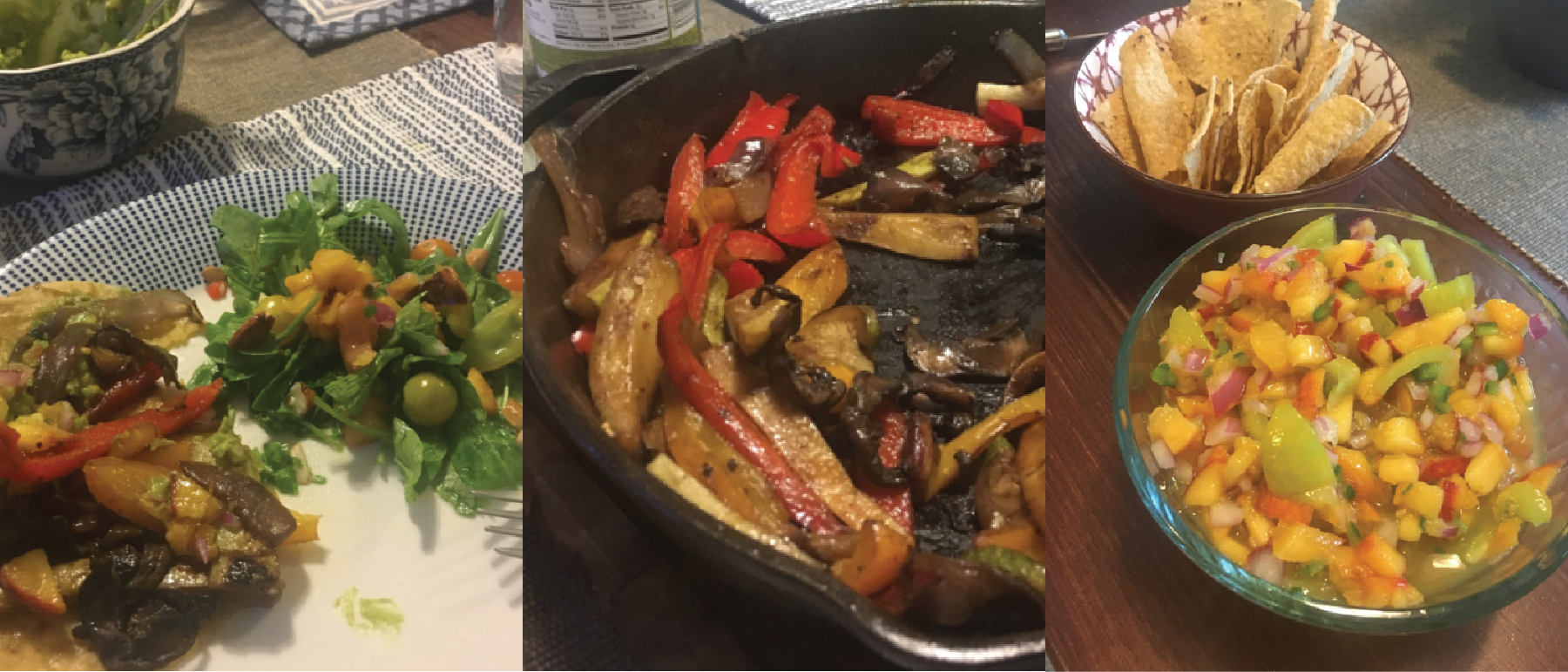 Caroline Smith used all of the vegetables in her basket to make various dishes to feed her family and friends for dinner. She used her own personal easy prep recipes adapted from the Farm To Work Website and shared them with us below:
Ingredients and Directions
Arugula & Almond Salad
1 bag arugula
1 cup chopped almonds
1/2 cup cherry tomatoes
Lemon vinaigrette (1/2 cup fresh lemon juice, 1/4 cup olive oil, fresh garlic, 1 tsp apple cider vinegar)
Veggie Fajitas
Portabella mushrooms (sliced)
Summer squash (sliced)
Red bell peppers (sliced)
Red onion (chopped)
Heat 1 tablespoon of oil in skillet, add veggies and cook until tender.
Spicy Peach Salsa
4 cups peaches, diced
1 jalapeño pepper, minced
1 tomato, diced
2 tablespoons white wine vinegar
1 tablespoon honey
1⁄2 red onion, diced
Juice of 1 lime
Remove pit from peaches, cut fruit into very small cubes and place in medium bowl.
Remove seeds and membranes from jalapeño and mince.
Add jalapeño, tomato, and onion to peaches. Add all liquid ingredients to peaches, stir and add a pinch of salt if desired.
As you can see the VegOut challenge motivated the use of some new and tasty recipes. Great things (and food) can happen when you move out of your comfort zone! If you would like to host a VegOut challenge of your own you still can, it's FREE and is available all year round. Visit the Recipe for Success Foundation website for more information on how you and your friends can get involved.
---