Broccoli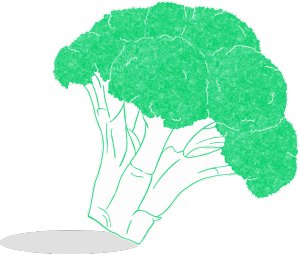 Background
Common types include broccoli, broccolini, broccoli rabe, and Chinese broccoli. Goes well in salads, soups, stir fries, and dips. Can be consumed raw, steamed, roasted, or stir-fried. Florets, leaves, and peeled stalks can be eaten. Found in American, Mediterranean, and Asian cuisines.
Nutritional Value
Broccoli is high in sulfur compounds, which have anti-inflammatory benefits.
Fiber important for digestive health and keeps you feeling full
Vitamin C important for immune system, healthy skin, and wound healing
Vitamin K important for blood clotting
Folate important for preventing neural tube defects and may help prevent cancer
How to Shop
Broccoli can be found in the misted or room temperature storage area of the produce section in most grocery stores. Broccoli is also found in the frozen aisle with other packaged vegetables. When shopping in the produce section, choose broccoli with green florets, instead of yellow, and moist stems that are not browning. Fresh broccoli should be heavy for its size.
How to Grow
Broccoli grows best in the Fall season. Comet Green, Packman, and Premium crop are three varieties of broccoli that grow well in Texas. Seeds should be planted 2-3 inches deep, 14-18 inches apart, and 36 inches between rows. Harvest the heads when they are 6-8 inches in diameter and the very first flower shows the slightest yellow color. One broccoli plant can be harvested several times.
How to Store
Store frozen broccoli in the freezer at home. Fresh broccoli should be stored in an open plastic bag in the refrigerator. Extra fresh broccoli that is likely to be sold at the farmer's market can last up to 10 days.