Back to garden page
Coriander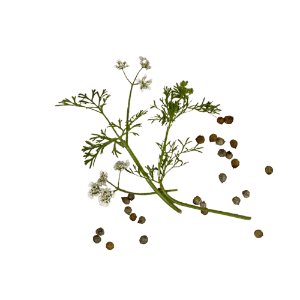 Background
Coriander is now cultivated in herb gardens around the world. Coriander has actually been used to treat anxiety and insomnia in Iranian folk medicine. The coriander flowers should always be used fresh instead of dried. These blossoms can be used in recipes as a substitutions for a milder flavor. These can have a cooling effect on spicier dishes and pair well with ingredients like avocado, carrot, zucchini, tomato, coconut milk, citrus, chili, chicken, lamb, and white fish. Coriander, like cilantro can be adored by some and despised by others, with some tasting a soapy flavor.
Nutritional Value
Cilantro and coriander are different parts of the same plant. Cilantro refers to the leaves of the plant which are then used as an herb, while coriander refers to the seeds of the plant, which are then ground and used as a spice.
Vitamin K

important for blood clotting

Vitamin C

important for the immune system, healthy skin, and wound healing

Vitamin A

important for vision, bone development, and immune function

Iron

important for red blood cell formation

Manganese

contributes to healthy bones
How to Shop
Look for whole coriander at the supermarket. If you don't use it often, buying the whole seeds will help give you the best flavor, as potency can decrease quickly in already ground seeds. Take whole seeds and toast them and then grind them immediately for the best flavor!
How to Grow
When: plant in the spring after the last frost date. Try not to grow in the summer heat.
Where: Plant cilantro in a sunny site that will be shaded in the afternoon, possibly the corner of the garden.
How: Plant in well-drained soil, space 1-2 inches apart at 3 week intervals for continual harvest. Space rows about 12 inches apart. Keep seeds moist during germination.
How to Store
To store coriander seeds, cut off the seed heads when the plant begins to turn brown and put it in a paper bag. hang the bag until the plant dries and seeds fall off. Store the seeds in sealed containers.