Back to recipe page
Garlic and Herb Butter Broccoli
A video of this recipe is available at https://www.youtube.com/watch?v=$recipe.youtubeVideoId.
Ingredients
1 broccoli head, cut into equal size pieces
2 tbsp butter (unsalted) or canola oil
1 tbsp water
2 tsp Italian seasoning, salt free
1 tsp garlic powder
½ tsp kosher salt
¼ tsp black pepper, ground
Equipment
Measuring spoons
Microwave safe bowl
Paper towel or lid
Wooden spoon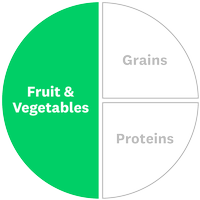 Directions
Step 1: Place cut broccoli, oil (butter), and water in a microwave safe bowl.

Step 2: Add Italian seasoning, garlic powder, salt and pepper.
Step 3: Cover loosely with lid or a damp paper towel.
Step 4: Cook on high in the microwave for 3 minutes, check for desired doneness.

Step 5: Continue cooking in 1-minute intervals until vegetables reached desired texture.

Step 6: Stir well before serving to evenly coat vegetables with seasoning
Helpful Tips
$recipe.helpfulTips