Back to recipe page
Roasted Brussels Sprouts
Ingredients
1 lb Brussels Sprouts, quartered
2 Tbsp Olive oil
1/4 tsp Salt
1/4 tsp Ground pepper
Equipment
Knife and Cutting Board
Baking Sheet with Parchment Paper
Medium Bowl
Serving Plate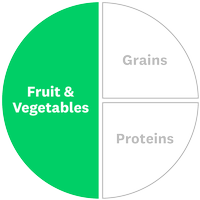 Directions
Step 1: Preheat convection oven to 375 degrees Fahrenheit (or conventional oven to 400 degrees Fahrenheit). Line a baking sheet with parchment paper.
Step 2: In a medium bowl, toss Brussels sprouts with olive oil, salt, and pepper. Spread on baking sheet and roast for 20-30 minutes.
Step 3: Serve immediately.
*If using a conventional oven, turn the Brussels halfway through the cooking time.
Helpful Tips
You can play with flavors by adding garlic, smoked paprika, thyme, and Italian seasoning.
If you want to flavor with a balsamic glaze or lemon juice, add after roasting the vegetables.