Industrial Hygiene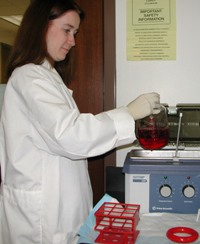 Industrial hygiene is the science devoted to anticipating, recognizing, evaluating, and controlling environmental factors posing risk to workers and the community, which arise from the workplace. The Industrial Hygiene (IH) curriculum offered through UTHealth School of Public Health degrees of Master of Public Health (MPH) and Doctor of Philosophy (PhD). The industrial hygiene curriculum for the MPH is accredited by the Applied Science Accreditation Commission of ABET http://abet.org.
A high level of faculty/student interaction is emphasized and students typically gain practical experience through summer internships. The locations of the Public Health Region VI - Arkansas, Louisiana, New Mexico, Oklahoma, and Texas - offer a wealth of opportunities for training in industrial settings, healthcare, petroleum and petrochemicals, agriculture, and public and private business and government sectors.
Industrial hygiene is a discipline within occupational health and safety (OHS), which is a professionally exciting and rewarding field of public health that includes all other aspects of public health such as epidemiology, health promotion, management, global health and wellness, and other disciplines. Being an OHS practitioner helps to save lives of working people and promotes a grounded quality of life for their families and communities.
Curriculum
The interdisciplinary curriculum is based on a public health model for practice. Graduates are prepared to participate in a multi-disciplinary approach to planning, implementing, managing, and evaluating programs and services for worker health and safety.
The curriculum includes industrial hygiene technical and public health cores, as well as electives offered within the UTHealth School of Public Health.
Learn more, IH Program Outcomes and Objectives and Enrollment Information
Fall 2020 - Summer 2021 MPH EOHS-IH Degree Planner
Stipends, Tuition Support, and Benefits
The Southwest Center for Occupational and Environmental Health at the UTHealth School of Public Health is one of 18 CDC/NIOSH Education and Research Centers in the United States, supported by the National Institute for Occupational Safety and Health (NIOSH). The SWCOEH is comprised of academic degree programs in occupational medicine, industrial hygiene, occupational epidemiology, and total worker health. The SWCOEH also supports active continuing education, outreach and pilot project research training programs.
Traineeships are available (full tuition and fees support and a monthly stipend) are available to full-time students on a competitive basis as part of the SWCOEH (trainees must be U.S. citizens or permanent residents). Requirements for the traineeships include acceptance into the Environmental and Occupational Health Sciences academic program, maintenance of a minimum course workload, and satisfactory academic progress.
How to Apply
How to apply for the programs, admission requirements and application deadlines can be found online.
Students should apply for the appropriate degree within the Department of Epidemiology, Human Genetics and Environmental Sciences.
For More Information
David I. Douphrate, PhD, MPT, MBA, CPE, CSP
Associate Professor and Program Director
Southwest Center for Occupational and Environmental Health
UTHealth School of Public Health
San Antonio Campus
Phone: 210.276.9005
Email: David.I.Douphrate@uth.tmc.edu
Lawrence Whitehead, PhD
Associate Professor
Southwest Center for Occupational and Environmental Health
UTHealth School of Public Health
1200 Pressler, W1016
Houston, TX 77030
Phone: 713.500.9458
Email: Lawrence.Whitehead@uth.tmc.edu