About the Graduate Archer Fellowship program
The Graduate Archer Fellowship Program was established in 2010 by The University of Texas System as a way to bring graduate and medical students interested in policy and politics to our nation's capital to learn about the federal government and public service. Archer Fellows live, learn and work in the heart of Washington, D.C., during the summer.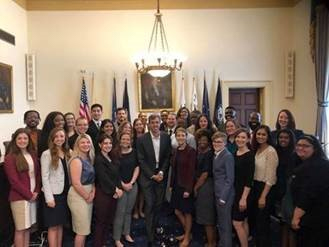 During their summer in D.C., fellows will enroll in two courses and a practicum experience. Additional information on academics can be found on the Archer Center website.
Selection of Archer Fellows is based on a competitive process, and we are pleased to be able to offer this experience to highly motivated graduate students of The University of Texas System, including students at UTHealth School of Public Health.
How to apply
Applications for the 2019-2020 academic year are closed.
Applications for the 2021 cohort will open in the early fall of 2020.
For additional information, including recommended application timelines, please visit the Graduate Archer Fellowship Program website.
On-campus information & office hour sessions
To learn more about The Archer Center, please plan to attend an information session. The "office hour" will give students an opportunity to meet with Dr. Michelle Chin, Academic Director of the Archer Center, to review any application-specific questions they may have and review a draft of their policy proposal.
Information sessions for the 2021 application cycle will be posted in early fall 2020.
Contacts for the Archer Center Fellowship
Robert Hammarberg, MPA
Manager, Academic Affairs
UTHealth School of Public Health
Robert.Hammarberg@uth.tmc.edu
Christine Anderson, MA
Assistant Director of Recruitment and Admissions
The Archer Center
chanderson@utsystem.edu