Hanneman, Springer recognized as preeminent educators by UT System Board of Regents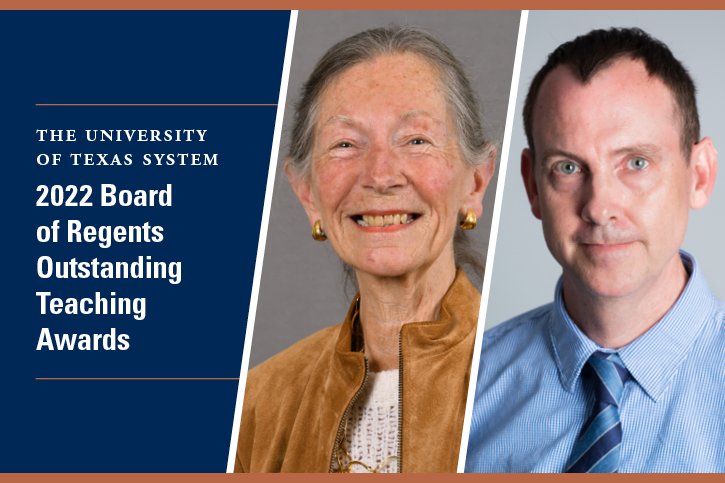 The University of Texas System Board of Regents has selected two UTHealth Houston educators to receive the Regents' Outstanding Teacher Award.
Andrew Springer, DrPH, and Sandra K. Hanneman, PhD, RN, FAAN, were among the 14 recipients of the esteemed award for 2022.
Springer, an associate professor in the Department of Health Promotion and Behavioral Sciences at UTHealth Houston School of Public Health Austin Campus, was nominated for his contributions to the public health graduate education and student professional development missions at UTHealth Houston.
Hanneman is a professor in the Department of Research at the Cizik School of Nursing at UTHealth Houston. She was nominated for what she has done to shape the next generation of nurses and advance nursing school research initiatives.
Annually, the UT System Board of Regents presents the outstanding teaching award to highlight exceptional educators across UT System's academic and health institutions. Students, faculty members, and external reviewers thoroughly evaluate those selected for the distinction. The review panel considers various activities and criteria when assessing a candidate's teaching performance, including classroom expertise, curricula quality, innovative course development, and student learning outcomes.
"The UT System Board of Regents is honored to recognize top educators annually for their extraordinary dedication to the students they are equipping to be our future leaders," said Board of Regents Chair Kevin P. Eltife.
Andrew Springer, DrPH
Springer joined UTHealth Houston in 2006 as a cancer prevention and control postdoctoral fellow in the Center for Health Promotion and Prevention Research at UTHealth Houston School of Public Health Austin Campus. He became an assistant professor in the Department of Health Promotion and Behavioral Sciences at the Michael & Susan Dell Center for Healthy Living and was promoted to associate professor in 2018. He has been nominated for multiple teaching awards throughout his career, including the School of Public Health's annual awards for Excellence in Teaching, Excellence in Service, and Excellence in Academic Advising, an award voted on by students in the school's campuses across the state.
"I am extremely honored to receive a UT System Regents' Outstanding Teaching Award," Springer said. "I have personally benefited from excellent teachers and mentors at UTHealth Houston School of Public Health – both as a student and as a faculty member -- and have aimed to continue to contribute by embracing student-centered and practice-based learning. I find my role as a teacher – both in the formal class setting and outside of class – to be one of the most rewarding roles as a public health professional."
In his nomination letter, Giuseppe N. Colasurdo, MD, UTHealth Houston president and Alkek-Williams Distinguished Chair, said Springer has demonstrated "a passionate commitment and sustained capability to deliver excellence to the learning experience in a variety of settings."
He specifically highlighted Springer's innovative and creative approaches in the classroom, which allow students to build and apply skills by participating in engaging activities. Colasurdo also cited Springer's ability to adapt his teaching methods during the onset of the COVID-19 pandemic, integrating new participatory learning and planning techniques and tools for his community health and health promotion planning courses, which allowed students to engage virtually in active learning discussions.
Springer's accomplishments at the School of Public Health include the evolution of the curriculum for the Department of Health Promotion and Behavioral Sciences. He has also actively created practicum and internships for students utilizing his extensive network of community-based organizations in Texas and Latin America.
Springer has become an active mentor to UTHealth Houston graduate and undergraduate students from historically underrepresented backgrounds.
"Not only did Dr. Springer help me develop tangible skills, such as formulating research questions, conducting statistical analyses, and writing research articles, he also challenged me to think critically about the social world," one mentee said. "I am forever grateful for Dr. Springer's thoughtful mentoring, which has been crucial in my development as a scholar."
Sandra K. Hanneman, PhD, RN
UTHealth Houston recruited Hanneman to join the faculty in 1996 as the associate dean for research to strengthen the new PhD in Nursing program at Cizik School of Nursing. She played an instrumental role in expanding the PhD program across the state to build strong nursing programs. Throughout her tenure, she has held several positions at the school of nursing, including the director of the Center for Nursing Research and the Preclinical Critical Care Laboratory. She is a Fellow of the American Academy of Nursing and a distinguished alum of the University of Florida School of Nursing. In addition, she has been inducted into The University of Texas System Kenneth I. Shine, MD, Academy of Health Science Education.
Named as the Jerold B. Katz Distinguished Professor of Nursing Research, Hanneman has won numerous awards for excellence in teaching. She has received the John P. McGovern Outstanding Teacher of the Year multiple times, selected by undergraduate students.
"I am honored to receive a Regents' Outstanding Teaching Award and believe every student deserves the best education possible," Hanneman said. "I am committed to continuing assurance that our reputation in this regard is legendary. I teach to prepare future generations of nurse clinicians, educators, researchers, scholars, and leaders who excel in their roles and contribute to health care in meaningful ways."
In his nomination letter, Colasurdo said Hanneman "achieves positive student outcomes and consistently mentors junior faculty to do the same. In addition, she ensures that excellent teaching is front and center at UTHealth Houston and beyond through her publications, presentations, and service contributions to institutional, national, and international academic development and mentorship initiatives." He also commended her commitment to students during the COVID-19 pandemic by transitioning her courses online without a blip in student satisfaction or academic performance.
Diane Santa Maria, DrPH, RN, dean of Cizik School of Nursing, described Hanneman as beloved by her students. In her nomination letter, Santa Maria underscored Hanneman's commitment to "high quality
of education, mentoring of students, and elevating all ranks of faculty to achieve outstanding educational outcomes."
"Hanneman exemplifies all that The University of Texas System Regents' Outstanding Teaching Award stands for and has demonstrated her commitment to innovation and excellence in teaching. Her expertise continues to strengthen the preparation of our nurse graduates," Santa Maria said.
"Dr. Hanneman is an unforgettable professor – a rare combination of being brilliant, funny, approachable, and incredibly caring," one student said. "She completely pours everything she has into teaching."
The Regents' Outstanding Teaching Awards reinforce the Board of Regents' commitment to ensuring that UT System institutions are places of intellectual exploration and discovery, educational excellence, and unparalleled opportunity.
"Teaching excellence is at the core of our mission and helps ensure students with degrees from UT institutions are prepared to succeed in an ever-competitive and dynamic workforce," Chancellor James B. Milliken said. "The UT presidents and I express profound gratitude to the Board of Regents for their continued support of honoring exceptional teachers."
Since creating the awards program in 2008, the board has presented more than $20 million to more than 750 outstanding educators. Each recipient receives a monetary prize in appreciation of their impact on their institutions and students, along with a certificate and medallion. Read about this year's awardees on the UT System website.