About the Center for Spatial-Temporal Modeling for Applications in Population Sciences (CSMAPS)
Welcome. CSMAPS aims to uncover hidden patterns and dynamics within public health data, providing crucial insights across a myriad of public health fields - including infectious disease control, cancer research, mental health research, environmental health, health disparities, chronic disease management, and implementation sciences. Through this multidisciplinary lens, we are able to expose intersections and interdependencies typically overlooked by traditional analyses, offering a comprehensive understanding of population health as a complex, multifaceted phenomenon. The incorporation of implementation science further bridges the gap between research findings and practical application, facilitating the translation of these insights into tangible, impactful public health interventions and preventions.
Mission and Vision
Our mission and vision are founded upon three fundamental principles:
Innovation and Interdisciplinary Research: We are committed to pioneering the development and application of cutting-edge spatial-temporal data science, enriching our understanding of population health dynamics. By embracing an interdisciplinary approach, we integrate expertise to drive impactful solutions.
Real-World Impact and Improvement of Health Outcomes: Our ultimate goal is to significantly enhance health outcomes for Texas. We aim to achieve this by transforming our innovative research findings into actionable policies and practices, and by forging strategic collaborations with community organizations, healthcare providers, policymakers, and other stakeholders.
Dissemination and Support for Public Health Policy-making: We prioritize the broad dissemination of our research insights and the development of user-friendly software tools and visualizations. This approach not only makes complex data and analyses accessible to a wider audience but also supports informed public health policy-making. Furthermore, we are dedicated to bolstering the understanding and use of spatial-temporal modeling techniques among researchers, practitioners, and decision-makers through targeted capacity-building initiatives.
Current Projects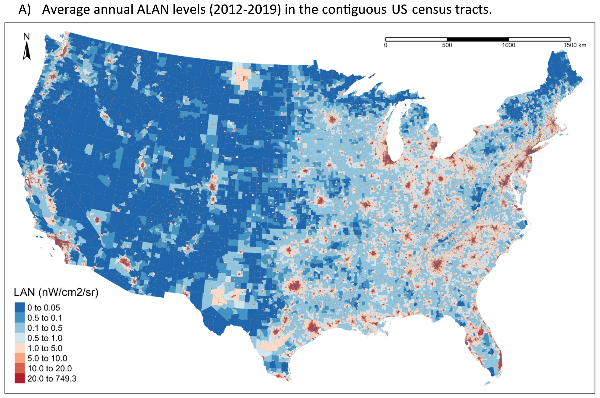 This project aims to characterize average Artificial Light at Night (ALAN) levels and temporal trends in ALAN between 2012 and 2019 in all U.S. continental counties to identify areas with the highest and lowest ALAN exposures, and with the largest increase and decrease in ALAN during this period.
Geospatial Approaches to Melanoma Early Detection (GAMED):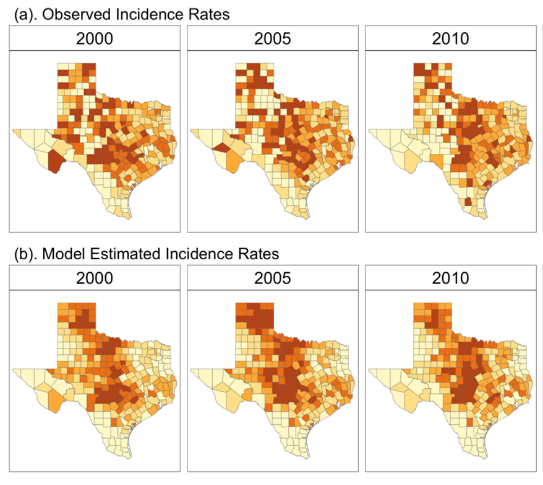 This project aims to use a data-driven approach to create statistical models that predict which areas may have the most late-stage melanomas in the future, and to identify the multi-level factors associated with late-stage diagnosis in Texas. We plan to identify PCPs in high melanoma burden areas who are interested in learning about skin cancer and deploy our multimodal educational intervention program – tailored to the social and community patient context – to clinical sites in those communities."
Faculty
Cici Bauer, PhD
Associate Professor, Center Director
Department of Biostatistics and Data Science
Cici.X.Bauer@uth.tmc.edu
Guanyu Hu, PhD
Assistant Professor
Department of Biostatistics and Data Science
Guanyu.Hu@uth.tmc.edu
Yiping Dou, PhD
Assistant Professor Non-Tenure Research
Department of Biostatistics and Data Science
Yiping.Dou@uth.tmc.edu
Qian Xiao, PhD, MPH
Associate Professor
Department of Epidemiology, Human Genetics and Environmental Sciences
Qian.Xiao@uth.tmc.edu
Staff
Porsha V. Day, MPA
Center Administrator
Porsha.Vallo@uth.tmc.edu
Kehe Zhang, MS
Biostatistician
Kehe.Zhang@uth.tmc.edu
Jocelyn Hunyadi, MPH
Biostatistician
Jocelyn.V.Hunyadi@uth.tmc.edu
Hieu Nguyen, MS
Biostatistician
Hieu.T.Nguyen@uth.tmc.edu
Ghada Hassan, PhD
Postdoctoral Research Fellow
Ghada.H.Hassan@uth.tmc.edu
Symposium on Spatial-Temporal Data Science for Population Health
Date: March 1, 2024
Time: 9:00am - 4:00pm
Location: Cooley Center, 7440 Cambridge St, Houston, TX 77054
Learn about cutting-edge research and innovative approaches offered by CSMAPS.
More details coming soon
Contact
Porsha V. Day, MPA
Center Administrator
713-500-9452