A Brief History and Observance of Juneteenth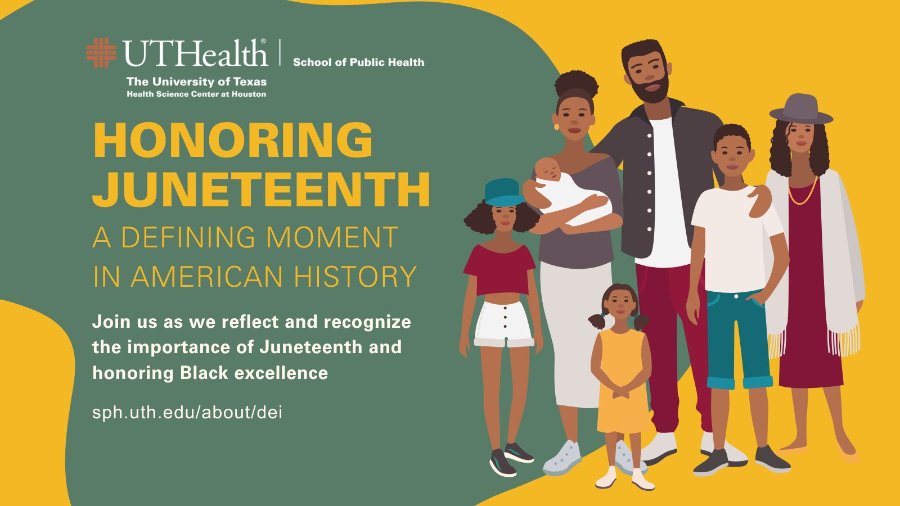 History
In 1862 President Abraham Lincoln signed the Emancipation Proclamation, to be effective on January 1, 1863. Union troops arrived in Galveston, Texas and informed enslaved people of their freedom on June 19, 1865 – more than two years after the Emancipation Proclamation was effective. Some historians theorize that Texan slave owners intentionally suppressed the news until after their final cotton harvest.
In 1872, a group of African Americans led by Reverend Jack Yates (a former enslaved person) purchased land in Houston and so created Emancipation Park to commemorate the end of slavery in America. In 1980 Texas was the first state to make Juneteenth a state holiday and on June 17, 2021 it became a federal holiday.
Public Health Lens
Juneteenth is celebrated in many ways, including parades, cookouts, and dancing. However, Juneteenth is also a time to reflect and to further the conversation on the legacy of slavery in the United States. At the UTHealth School of Public Health, we have the obligation to understand inequities caused by structural racism. We will explore this further through two frameworks: John Henryism and Sojourner Syndrome.
John Henryism is a theory developed by Sherman James, PhD, a social epidemiologist, which posits that repeated high-effort coping over the course of a lifetime can cause damage to the cardiovascular system, leading to high blood pressure, heart attack, and stroke. This framework borrows from the legend of John Henry, who was a "steel-driving man" who dropped dead of mental and physical exhaustion after his victory against a steam engine. While slavery in the United States has ended, today many African Americans experience adverse life circumstances, like structural racism, economic hardship, loss of jobs, and lack of health insurance – each which can lead to adverse health outcomes. Black men age more quickly, become sicker, and die younger from some health issues compared to their non-Black counterparts. This can be epitomized by the disparate effects of the COVID-19 pandemic on African Americans.
Sojourner Syndrome, proposed by Leith Mullings, PhD, distinguished professor of anthropology at the CUNY Graduate Center, acknowledges the harm of structural racism. The syndrome is named for Sojourner Truth, a former slave (before escaping to freedom in 1826), abolitionist, and suffragist. Truth represents resistance and resilience in the face of persistent oppressions. Sojourner Syndrome recognizes the fact that Black women are subject to chronic toxic stress and participate in habitual active coping, which leads to "weathering," a term that illustrates these inequitable health outcomes such as increased risk for heart disease, diabetes, and certain types of cancer.
Call to action
Public health practitioners, instructors, and researchers must shift from talking about racial differences to developing strategies to correct the ongoing effects of racism. Juneteenth is an opportunity for us to reflect and remember how we got to where we are today. We would be remiss if we did not acknowledge the resilience in the Black community. The UTHealth School of Public Health Inclusion, Diversity, and Equity (IDEA) committee implores our community to take time to understand the history of Juneteenth and to engage in the ongoing work required to create a more equitable space for higher learning.
The UTHealth School of Public Health IDEA Committee conducts ongoing assessments, makes recommendations to the school's administration, and advocates for the implementation of effective diversity change efforts on the UTHSPH. Recommendations could include but are not limited to efforts to improve the inclusion of diversity and cultural competencies in curricula; recruitment, advancement, and retention of diverse students, faculty, and staff; and proposed revisions to existing policies to better support a climate of equity and inclusion.
The committee continually seeks out opportunities to participate in and influence university-wide diversity efforts. If you are interested in becoming involved in the IDEA committee, please email sph.idea@uth.tmc.edu.
Watch how UTHealth celebrates Juneteenth.