Alumni Benedicta Anikputa appointed by Governor Abbott to the Chronic Kidney Disease Task Force
MPH Alumni, Benedicta Anikputa, RN helps steer the State of Texas Chronic Kidney Disease Task Force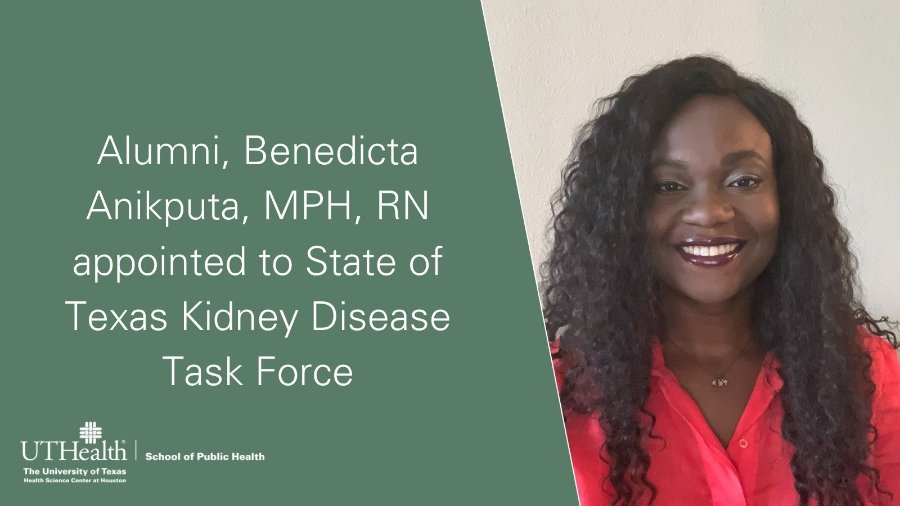 UTHealth School of Public Health Alumni, Benedicta Anikputa, MPH, RN has recently been appointed by State Texas Governor Greg Abbott, to be a part of the Chronic Kidney Disease Task Force. Alongside other task force members, Anikputa will coordinate the design and implementation of the state's plan for the prevention, early screening, diagnosis, and management of chronic kidney disease (CKD). The responsibilities will also include educating and disseminating the latest prevention and treatment methods to health care professionals in Texas.
Anikputa currently lives in Austin and works as a nurse with the Texas Health and Human Services Commission. Following her undergraduate education at The University of Texas at Austin, she pursued her master's degree in public health from UTHealth School of Public Health.
"While in graduate school, I had the opportunity to participate in the Archer Fellowship Program, which spurred my interest in working as a civil servant," said Anikputa. "I also was a member of a case competition and took classes with knowledgeable professors, all of which has helped me in my various professional roles following graduation.
CKD is recognized as a major public health threat in Texas. Addressing the prevention, diagnosis, treatment, and care of CKD residents involves major oversite. While working as a policy nurse for the kidney healthcare program, Anikputa recognized the impact and importance of government involvement in the health of Texans.
"Government appointments allow you to participate in discussions from a new perspective. This task force pulls together experts from all different areas that work in the world of kidney health and are invested in the health of Texans. Government appointments assure that there are groups of passionate experts working to tackle problems that affect Texans." she said.
Having served in different roles and capacities since graduating from UTHealth School of Public Health, Anikputa shares her advice to current students and recent graduates:
"Be open to different opportunities. Public health means a lot of things, from infection control to maternal health, chronic diseases, and environmental justice. You never know where life is going to lead you. It's okay to have a niche or a passion but don't let that desire make you turn away opportunities that might lead you to wonderful things you could have never dreamed of."
Anikputa received a bachelor's degree in Human Biology and Public Health from The University of Texas at Austin, her master's degree in Public Health from The University of Texas Health Science Center at Houston and is currently pursuing her Ph.D. in Nursing at The University of Texas at Austin.