Alumni Feature: Madison Wisdom, MPH
From the Desk Alumni Feature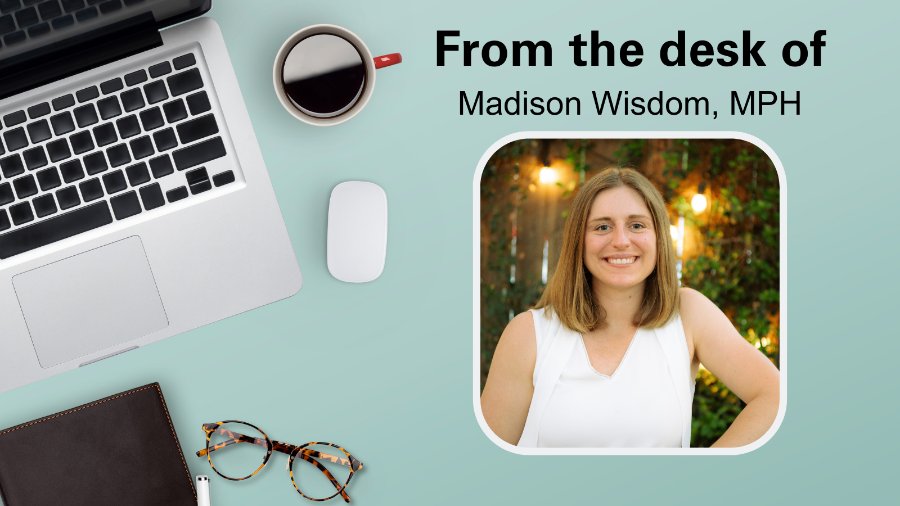 The SPH Career and Alumni Services is featuring alumni in the series called "From the Desks of SPH Alumni!" Alumni are invited to share 3 items, ideas, or elements that define their workspace and daily life as a public health professional.
Featuring: Madison Wisdom, MPH.
Degree Received from UTHealth School of Public Health: MPH in Health Promotion and Behavioral Sciences with a graduate certificate in Healthcare Administration
Current Position: Strategy and Operations Analyst at Texas DSHS in Austin, Texas
From the Desk:
Item 1: Big white coffee mug
My dad passed away unexpectedly in 2016. After his death, I thought deeply about the factors that led to it which motivated me to pursue a degree in public health. My dad loved morning coffee time and always used a big white coffee mug. Today, you will find that same mug full of coffee on my desk. A memory to him and a reminder of why I do what I do.
Item 2: Creating Your Strategic Plan for Public and Nonprofit Organizations Workbook
This workbook helps guide public and nonprofit organizations in the creation and implementation of their strategic plan. It is a very handy book that gives a solid foundation and advice on the strategic planning process. Texas state agencies are mandated to publish a strategic plan that pushes our future vision forward and achieve our long-term goals. I help lead the strategic planning process at DSHS so I definitely utilize this workbook when needed!
Item 3: ReMarkable Tablet
As an avid and meticulous notetaker, I'm obsessed with my ReMarkable which is an e-ink tablet that is used for writing, drawing, or brainstorming. I take it everywhere with me and it helps keep me organized, thoughtful, and prepared for whatever tasks I have for the day! I promise I'm not getting kickbacks to help promote the product. I just love it! Connect with Madison on LinkedIn!