Ann Barnes (MPH 2009) named President & CEO of Episcopal Health Foundation
SPH Alumni Spotlight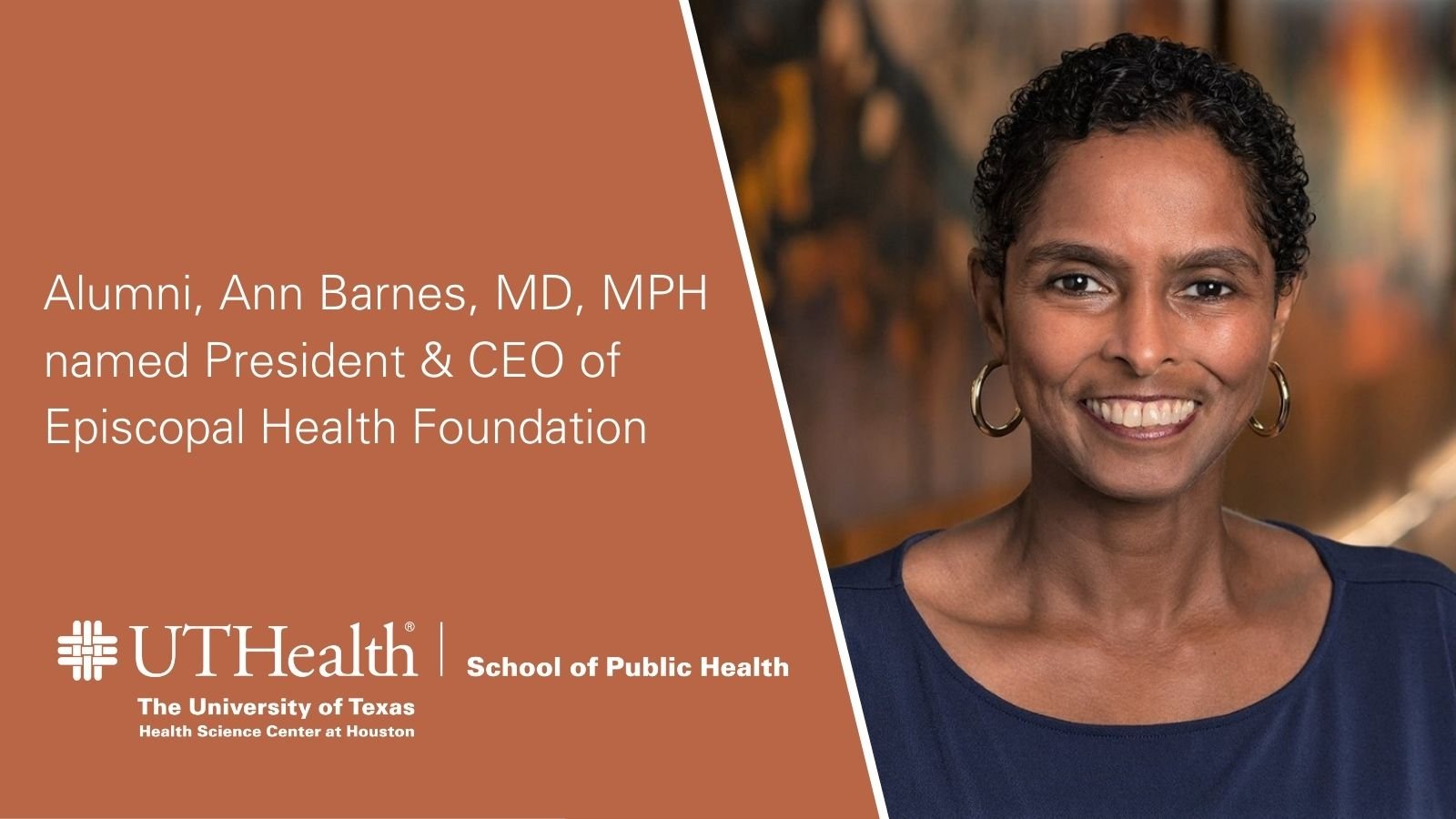 Ann Barnes, MD, MPH, a 2009 MPH graduate from the UTHealth Houston School of Public Health, was recently named president and CEO of Episcopal Health Foundation (EHF), a Texas-based philanthropic organization committed to addressing "health, not just healthcare," within a region of 57 counties and 11 million people across East, Central, and North Texas – the bounds of the Episcopal Diocese of Texas. Since 2015 Episcopal Health Foundation has awarded more than 500 grants totaling more than $140 million to clinics and organizations working across Texas.
Throughout her career, Barnes has focused on addressing health inequities for communities in Houston, Texas. Her work with EHF expands that focus, as it works towards taking on the underlying, non-medical factors that impact health. The foundation is dedicated to "changing the conversation to focus on health, not just health care," and adheres to the belief that all Texans deserve to live a healthy life, especially those with the least resources – low-income populations and communities of color. "I am excited to lead a team of innovators who will explore new approaches to healthcare, population health, and public health," says Barnes.
Many of those new approaches address the root causes of poor health; poverty, housing, food security, social connectedness, employment, and education. "The most challenging aspects of this work are the consistent and disproportionate focus on funding responses to sickness," said Barnes in response to a question on the challenges posed by a career in public health. "If health is the goal, preventing illness is the priority, which happens long before a patient presents to a hospital. It involves all sectors in creating the condition for health in all communities."
"Serving as a primary care physician for the uninsured profoundly impacted my career… It didn't take long for me to recognize patterns of chronic diseases and patterns of social, behavioral, and economic factors that made them vulnerable to those conditions. My desire to help all of my patients and to be a part of creating communities that promote health and well-being compelled me to get my MPH and work outside the clinic's walls to make a change."
Barnes is a native of Houston, a product of the historically Black Fifth Ward neighborhood. In the early 2000s, after graduating from Yale and Harvard Medical School, she returned to Houston to work with at-risk communities. In 2007 she served as the principal investigator for a National Institute of Health project that established a tailored registry to understand factors that lead to successful weight loss maintenance in African Americans. She followed that with a nearly-six-year stint leading weight-management activities within Harris Health System, the health system for Harris County, Texas which includes Houston and is the third most populace county in the United States.
From 2014 through 2019, Barnes was Chief Medical Officer at Legacy Community Health, a large federally qualified health center system in Houston that serves more than 170,000 patients. In 2019, Barnes returned to Harris Health to serve as Chief Medical Executive and later, Chief Health Officer, responsible for developing the system's health equity strategy. She also led the system's efforts to improve population health, prevent disease, and address chronic conditions by integrating community resources that impact underlying, non-medical conditions like food security, safe places to exercise, poverty, and more.
Barnes' combined training in medicine and public health and her community experience provides her with the skills to understand the root causes of health inequity that are diverse, complex, evolving, and interdependent. Her MPH program at UTHealth Houston SPH provided her with the tools to work with communities to develop and evaluate equally complex and effective interventions to promote health equity.