Bhalerao accepted into Summer Internship Program at Harvard T. H. Chan School of Public Health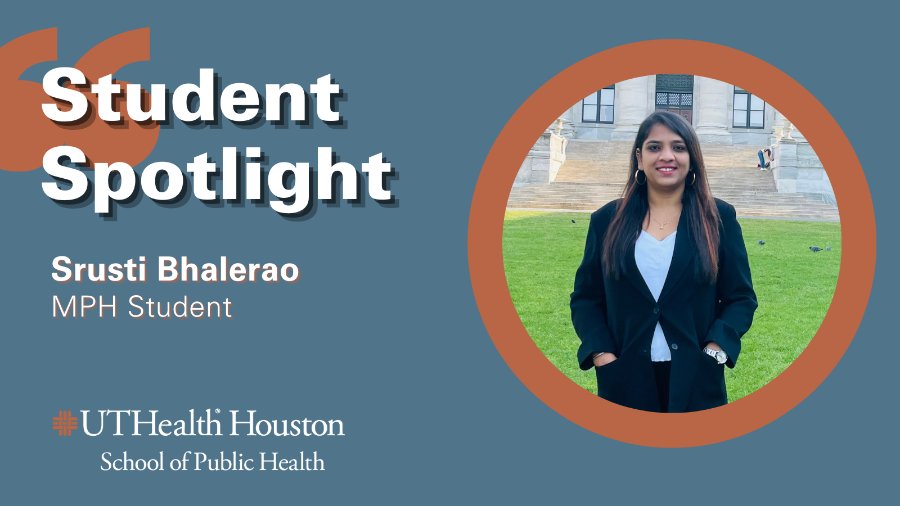 Srusti Ganesh Bhalerao, a second-year MPH student, was accepted into the Lee Kum Sheung Center for Health and Happiness Summer Internship Program at Harvard T. H. Chan School of Public Health. This internship opportunity provides hands-on experience in discovering the linkage between mental well-being and physical health outcomes. Results from the opportunity will guide policy and strategic planning to address challenges in mental and physical health.
During this internship, Bhalerao will work alongside Harvard and Massachusetts General Hospital on "The Smokefree Support Study 2.0" project, which will investigate the effect of virtual tobacco cessation programs in oncology settings.
Bhalerao's interest in public health began as a dental surgeon in India, desiring to learn more about preventative measures to address the issues that affected the population she worked alongside. This region, one of the world's largest tobacco producers, gave her insight into oral cancers and their relationship to smoking.
Bhalerao progressed in India, from earning her bachelor's to starting a career as a dental surgeon. These experiences opened Bhalerao's eyes to the disproportionate amount of access to care. "I grew up as part of a historically underprivileged and underrepresented section of society in India. Being born into a family that encouraged my individuality growing up enforced my desire to use every opportunity to help disadvantaged communities," said Bhalerao. Her aspirations of joining organizations like the World Health Organization and Center for Disease Control have pushed her to excel in life and academia to help disadvantaged communities. She stays active and involved both in and outside of school, refining her skills and developing her future career pursuits.
As an international student, "Harvard University always seemed like a far-fetched reality, and today, being able to be a small part of it gives me immense joy and a sense of achievement," expressed Bhalerao. The chance to gain new learning skills and work alongside a diverse set of scientists and doctors encouraged her to apply.
Bhalerao says she looks forward to a summer in Boston. "I plan to visit all the Harvard Museums and libraries as I have free access to them with my ID card!"
"I'm incredibly grateful and excited about this opportunity and look forward to gaining practical research experience and implementing data analysis tools under the guidance of the center's leadership," said Bhalerao.
Bhalerao has recently been awarded the "President James T. Willerson/Nancy Beamer Willerson Scholarship in the School of Public Health" for the 2023-2024 academic year, and currently serves as the Deputy Director of Community Involvement for the School of Public Health Student Association. She has previously served as Logistics Head for the Houston Global Health Collaborative Conference and worked as a Graduate Teaching Assistant at the school. After completing her master's, she hopes to research tobacco cessation strategies, mental health, and chronic diseases and is currently looking for further opportunities at the school.