Dual-degree students meet their Match
Asokan and Keyho begin their residency journey this summer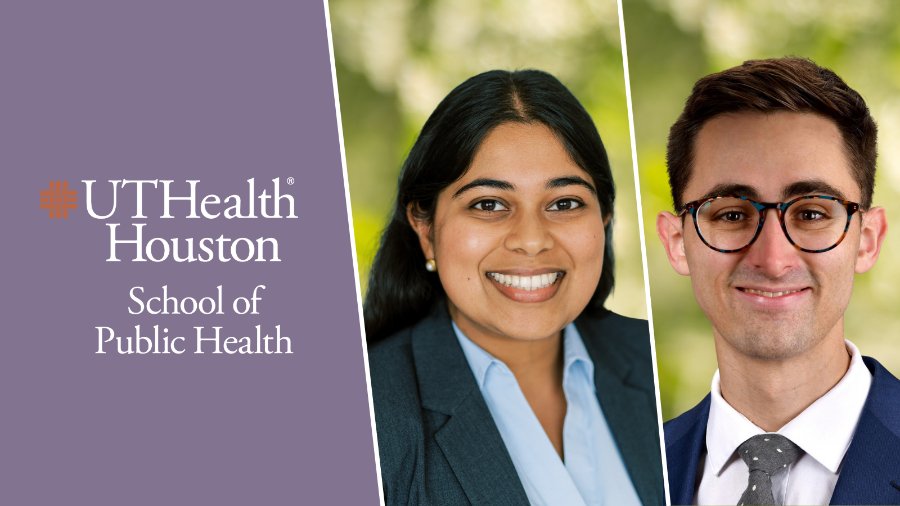 UTHealth Houston School of Public Health continues to better the population's health by training future public health professionals and advancing research in the field. Within the school's student body of those pursuing a graduate degree in public health, there are a select few who leverage the opportunity to understand the relationship between the population's needs and the delivery of healthcare in a clinical setting. Through a vast network of academic partnerships within the state of Texas, and even Puerto Rico, students have the chance to pursue an MD (Medical Doctorate) and MPH (Master of Public Health). These programs serve as an essential connector between individualized patient care with a population-based approach. Students can study concurrently, and customarily complete the program to earn both degrees within 4-5 years.
Ryan Keyho, a recent MD/ MPH graduate, was first drawn to public health to "work on health equity efforts in the future for global surgery...Pursuing an MPH would give me a more diverse and well-rounded perspective on medicine from a population health perspective," he said. Keyho studied concurrently with UTHealth Houston School of Public Health and the John P. and Katherine G. McGovern Medical School at UTHealth Houston.
As students near the end of their final year of medical school and pending their completion of a series of standardized tests, graduate candidates are entered into what is known as the Match Program, a methodology used to decipher a student's next steps in their clinical training.
For Keyho, higher education was the bridge to leaving a positive impact on patients and communities through medicine. After the tireless work of balancing medical school, rotations, and completing his MPH, Keyho matched to the University of California San Francisco into their Preliminary General Surgery Program.
Thousands of medical students every year wait anxiously for their match which will determine their next step in becoming a certified physician. The process is governed by the National Resident Matching Program, which aids in eligible students with residency programs throughout the country.
Academic achievements, transcripts, and letters of recommendation all contribute to the likelihood of students being matched with a residency program. Keyho's accolades aided his process as a student and newly accepted surgery resident. "I would say I'm most proud of completing my MD/MPH concurrently and getting the 2022 Public Health Excellence Award for my research and public health efforts," Keyho said.
Another dual-degree student, Annapoorani Asokan, completed her MD/MPH with UT Southwestern and UTHealth Houston, respectively. Asokan sought a dual degree program to "interact with patients daily; At the same time, I wanted to understand and address the socioeconomic constraints on their health. By doing a MD/MPH, I can help patients directly with their health and advocate for them within the larger system," she said.
Asokan recently matched with the University of Southern California in their Internal Medicine Residency program. Through her educational experience, she looks back with pride on completing her practicum and Integrative Learning Experience where she was able to lead a research project along with her mentor at UTHealth Houston School of Public Health. "Those opportunities pushed me out of my comfort zone – I learned to be as independent as possible, plan my projects thoroughly, and prepare for obstacles," Asokan said.
Each student brings their education, background, and experience to aid in discovering and addressing the patient and/or population's health. We congratulate our dual-degree graduates who will continue to advocate and represent the school's mission in their respective journeys as they enter their residencies.