Emery designated as a 'legend' by national campus safety organization
Robert Emery, DrPH, was awarded Legendary status by the Campus Safety, Health, and Environmental Management Association.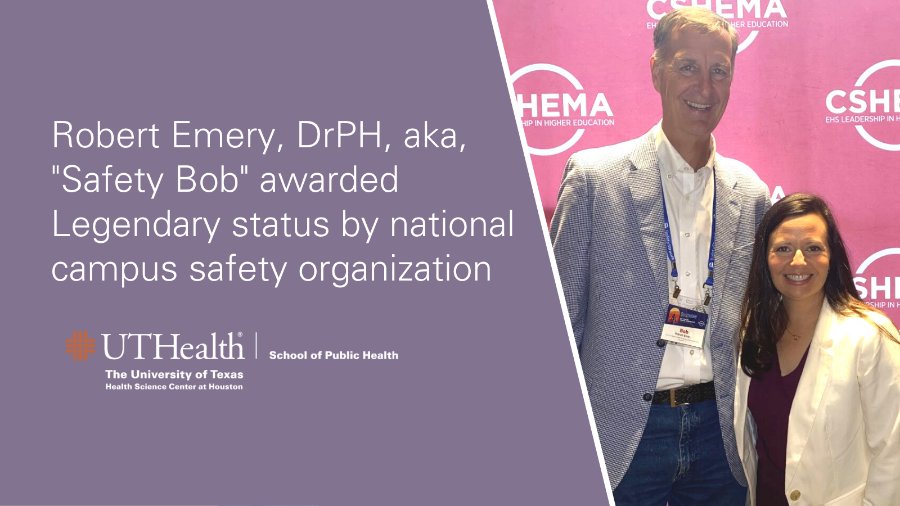 Robert Emery, DrPH, was awarded Legendary status by the Campus Safety, Health, and Environmental Management Association (CSHEMA), an organization focused on serving health and safety professionals in higher education.
Emery, known on campus and by his peers as "Safety Bob," serves as the vice president for Safety, Health, Environment and Risk Management (SHERM) at UTHealth Houston. He is also a professor of occupational health at UTHealth School of Public Health as well as an integral figure within the school's Southwest Center for Occupational and Environmental Health. Emery holds two master's degrees in health physics and environmental health, a doctorate degree in public health, seven board certifications, and has more than 100 peer-reviewed publications.
"Dr. Emery has been a long-time active member of CSHEMA and has contributed to the profession is so many ways," said Amy Orders, CSHEMA past president. "In addition to the various innovative projects he has worked on, such as evidence-based benchmarking, he has always taken the time to develop and cultivate the next generation of safety leaders."
To achieve Legendary status, CSHEMA members must have more than 25 years of experience in their field, and they must share their insights on leadership, management, safety policy, and career path with others.
Emery was honored by his peers at the group's annual conference in July.
"It's very nice to be recognized by your peers, and when you've been in the field long enough, there are a lot of people who worked for you or you get to know so it's a real honor," Emery said.
Safety is heavily focused on prevention and maintaining compliance with federal and state requirements. Last year, the SHERM team represented UTHealth Houston during 16 routine compliance inspections by various regulatory agencies, all with very positive outcomes.
During his three-decade tenure at UTHealth Houston, Emery and his team have created innovative reporting systems to show how safety affects the overall mission of the university.
"In the safety field, a good day is one where nothing happens," Emery said. "It's all about prevention and education. The problem for many is that they aren't very good at capturing data and telling the stories about the amount of resources and effort that are necessary to "make nothing happen."
UTHealth Houston has been particularly innovative in using data to show successes of the safety team. Emery said he gets weekly calls from other institutions looking for ways to replicate the university's systems, to the point that SHERM created a video outlining its efforts to send to inquirers.
"We collect a lot of data so that we can tell our story," Emery said. "The team collects data on the various activities we carry out. For example, we perform routine lab assessments. If we find something that need correcting, we record that data. Some things our team can simply fix on-site, and others are outside of our purview. For example, if a fume hood isn't working property, we create a work order with Facilities, Planning, and Engineering to get it fixed. Other items fall to the principal investigators, but we are sure to work with them to get the situation resolved and keep good records of those activities."
The safety team's association with UTHealth School of Public Health is another component that makes it special.
"Within the six health-related UT System institutions, a majority of the safety directors were trained at our school of public health," Emery said. "SHERM's success is due to our collaboration with the School of Public Health."