From Medicine to Epidemiology: A Journey of Academic Discovery
Graduate and Post-Doc Fellow, Shinhye Chung, PhD reflects on her time at UTHealth Houston School of Public Health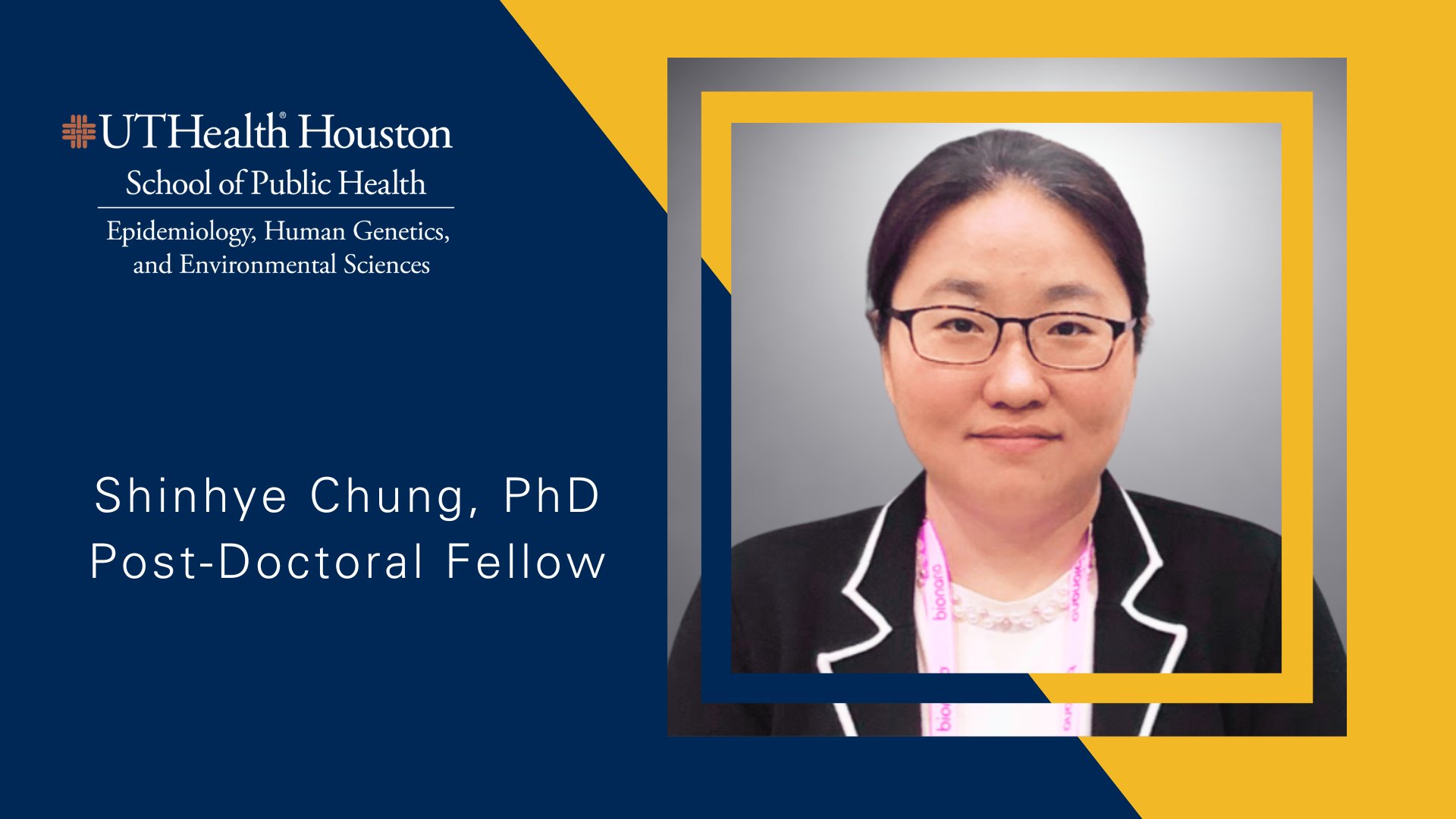 As an OBGYN specialist in Korea, Shinhye Chung, PhD, wanted to continue her studies in maternal health and enrolled the MPH program at UTHealth Houston School of Public Health in Dallas in 2015.
Chung found the expanse course options and certificate programs available gave her a chance to try different subjects of interest. "I thoroughly enjoyed the School of Public Health curriculum," said Chung. "The interconnection between the six different school locations through the state was particularly fascinating, and I found the wide range of topics and certificate courses among my favorite aspects of our School. As a trained and former OB-GYN physician specialist in Korea, my initial concern revolved around maternal health. The School of Public Health offers an excellent maternal and child health certificate program, which I found engaging and comprehensive."
After taking classes in statistics in the MPH degree program, Chung realized she was ready to switch her research focus.
Chung said, "As my interests evolved towards genetics, I pursued another certificate program during my PhD - one focused on genomics and bioinformatics. I've come to appreciate that our School's curriculum provides a valuable opportunity to continue learning whenever I'm eager to explore a new subject."
Following graduation with her MPH in health promotion and behavioral science, Chung decided to change her area of focus to epidemiology. She was accepted in the PhD program with the Department of Epidemiology at the School which provided varying career and research avenues to explore.
"The main reason I changed my major was a shift in my life goals. While I was initially interested in volunteer activities like free medical camps and serving the community, I discovered a strong passion for research and statistical analysis during my MPH studies," said Chung. "This prompted me to switch my major to epidemiology in my PhD program. Despite this change, I'm grateful to the professors I met during my graduate academic journey.
Chung knew she was at the right school to earn her PhD in epidemiology. The main reason was the faculty.
"The biggest advantage of our School is that we have many excellent professors. All the professors I have met have been enthusiastic about teaching students and are always willing to help when there are difficulties in studying," said Chung, "and there are plenty of opportunities to collaborate with other nearby schools like Rice University and Baylor College of Medicine. I also consider the various social networking opportunities offered by different departments at the School to be an advantage."
Chung's research focus is genetic epidemiology combined with metabolomics. "My PhD thesis involved investigating the plasma metabolites associated with glycemic and lipid traits related to prediabetes, macronutrient intake, and genetic variants with untargeted metabolomics data among Mexican Americans in Starr County, Texas. Eight metabolites showed significant associations with macronutrient intake and prediabetes-related traits simultaneously, and 28 metabolites were associated with genetic variants among identified metabolites," explained Chung. "There are also significant interaction signals on genetic variants by macronutrient intake."
After earning her PhD, Chung accepted a post-doctoral fellowship position with Associate Professor of Epidemiology, Bing Yu, PhD, to work in her research lab.
"I am so glad to keep working as a postdoc fellowship with Dr. Yu at UTHealth Houston. Looking forward, I hope to continue working in the academic research field."
Thinking back to when she first started applying for the Epidemiology PhD program, she openly shared advice for students taking that first step. "The most important part of the PhD application process is to be able to explain what topic you want to study and explain it well. You will meet with an advisor, and it will determine what areas you can further study at the School," she said. "If you can explain the motivation for your particular topic with your previous experience, that could be the key to taking the next step in your academic journey."