Khoei, MD/MPH student, is the recipient of the 2022 U.S. Public Health Service Excellence in Public Health Award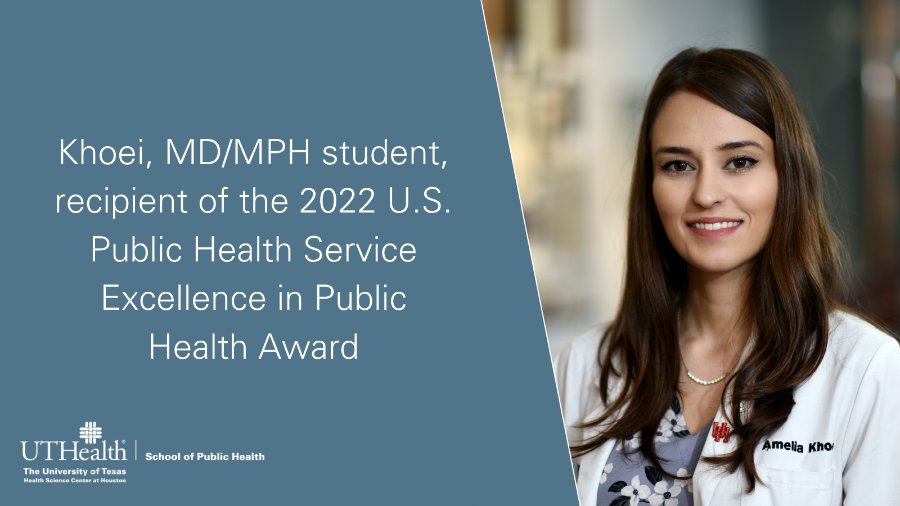 Amelia Khoei, MD/MPH student with Baylor College of Medicine (BCM), is the recipient of the 2022 United States Public Health Service (USPHS) Excellence in Public Health Award. This national award is given to students who advance the USPHS' mission of delivering health promotion and disease prevention programs to all Americans.
"Receiving this award inspires me to mentor and encourage future medical trainees like myself to also pursue their passions within public health," said Khoei, "With an MD, MPH and a certificate in global health, I am excited to innovate within the field and to introduce public health conversations into our discourse, while also learning more about these topics and our communities."
"Amelia's absolute commitment to public health has been a constant throughout her MD, MPH education," said Khoei's faculty advisor Linda Piller, MD, MPH, associate professor of epidemiology at UTHealth School of Public Health. "She has never wavered in her determination to incorporate public health principles and practice into her own education and upcoming medical residency training and practice. She has also shared her passion for public health with fellow medical students and has devoted enormous time and effort toward her goal of augmenting the Medical School curriculum with a greater focus on social determinants of health and advocacy training."
"Amelia is an inspiration and role model for students and faculty alike," said mentor to Khoei, Andrea Stolar, MD, senior associate dean of student affairs at BCM. "To have the capacity to positively impact so many people, and systems, and communities, while performing superbly throughout the MD, MPH curriculum, is a truly remarkable accomplishment. She is a leader and a doer and does it all with grace and compassion. We are grateful for Amelia's contributions to Baylor and Houston and know she made our communities better through her efforts."
Khoei co-founded and served as director of research of the Action Research Coalition for Social Determinants of Health at Baylor College of Medicine; conducted global health research; and participated in efforts to improve health literacy among low-income families during the COVID-19 pandemic, among other accomplishments and efforts. Upon graduation, Khoei plans to begin her surgical residency training at the University of Michigan to become a urologic surgeon.