Newman, MD, MPH, receives 2023 U.S. Public Health Service Excellence in Public Health Award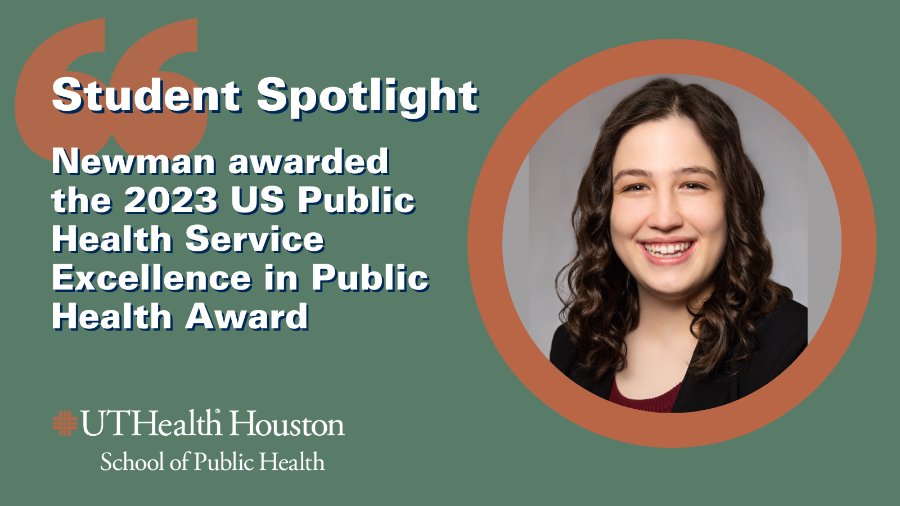 Courtney Newman, a dual-degree MD/MPH graduate with UT Southwestern Medical Center, and UTHealth Houston School of Public Health was selected to receive the 2023 United States Public Health Service (USPHS) Excellence in Public Health Award. The award recognizes medical students across the U.S. who advance public health and who exemplify the USPHS Commissioned Corps' mission to protect, promote and advance the health and safety of the nation.
Newman received her MPH degree from UTHealth Houston School of Public Health on May 12, 2023 while simultaneously completing her medical degree curriculum at UT Southwestern Medical School, May 11, 2023. During her graduate school training, Newman took on two public health research projects, both of which she credits for facilitating her recognition for the USPHS Award.
"I'm very honored to be the recipient of this award, and it means so much because initially, public health wasn't something I considered. My focus was obstetrics and gynecology just getting through medical school, with an initial interest in Obstetrics and Gynecology," she said. Through the academic partnership with UT Southwestern Medical, Newman's advisor, Sarah E. Messiah, PhD, professor of Epidemiology, Human Genetics, and Environmental Sciences, introduced her to culinary medicine research, and connected her to Jaclyn Albin, MD, associate professor of Internal Medicine and Pediatrics, and director of the Culinary Medicine Program at UT Southwestern Medical Center.
"I saw the overlap of OB/GYN with culinary medicine and used what I learned from that project in my next project on contraceptive counseling. I think my research in these areas and their emphasis on educating and empowering patients is why I am proud to receive the award," Newman said.
Newman engaged in two major areas of research; postpartum contraception counseling and culinary medicine.
Newman's research in postpartum contraception focused on the ability of medical students to provide postpartum contraceptive counseling, [FCR3] an initiative designed to fill the gap where there is limited counseling for this particular area.
Her research in culinary medicine evaluated programs across medical schools in the U.S., addressing lifestyle-related diseases affecting public health, and how medical students can impart this knowledge in patient nutrition counseling.
Newman is the first author of "Culinary Medicine as Innovative Nutrition Education for Medical Students: A Scoping Review", a study published in the February 2022 issue of Academic Medicine.
"It has been such a privilege to be Courtney's academic advisor, mentor, and colleague throughout her time with us at the School of Public Health. There is no doubt that she will continue to be a force of positive change as she blends her clinical and public health expertise to serve her patients," said Messiah. "Her novel application of culinary medicine and nutrition therapy to obstetrics and gynecology is a perfect example of this."
Newman merged her coursework with her passion for advocacy and action. Throughout her time as a student, Newman presented on breast cancer screening in transgender populations, developed an educational activity for psychiatric complications in pregnancy, and created a resource for pregnant women struggling with food insecurity in Dallas County.
"I have known Courtney throughout her time as a graduate student, and had the great joy of supervising her scholarly project," said Albin. "She is the kind of student who reminds me why I love to teach, and I would sign up to work with her a hundred times over. She is the definition of flexible and adaptable, particularly in the face of frustration and unexpected adversity."
In addition to Newman's performance as a student and researcher, she also holds positions in several community service projects in Dallas Communities.
Angela Peterman Mihalic, MD, dean of medical students, associate dean for student affairs, and professor of pediatrics, nominated Newman for the award. "Through her various projects, Courtney has shown a passion and dedication to identifying healthcare education gaps and improving the health of her community. I have no doubt that she will continue to contribute to public health efforts," Mihalic said.
Courtney Newman will begin her Obstetrics and Gynecology residency training in July 2023 at Houston Methodist, focusing on complicated pregnancies.