Student Spotlight: Garza's journey in public health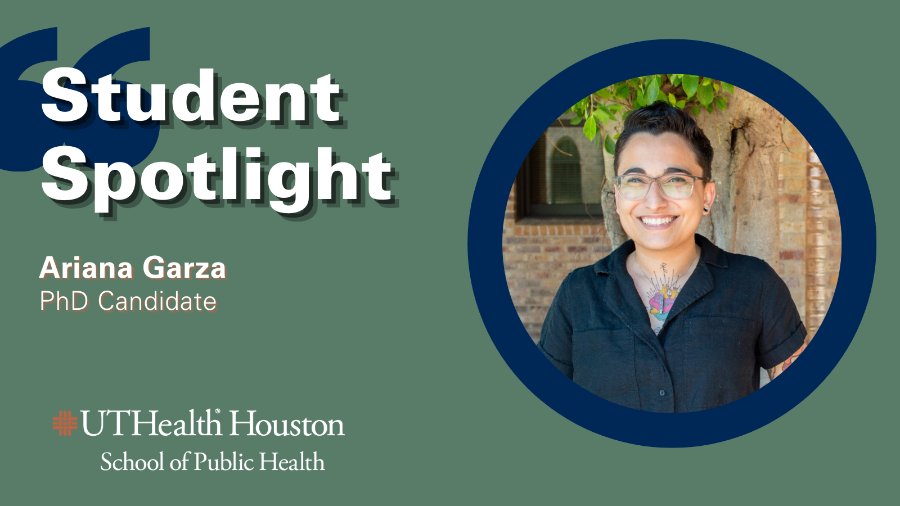 Ariana Garza, MPH, a current PhD student at UTHealth Houston School of Public Health in Brownsville brings a unique perspective to the public health field. Her diverse background as a Hispanic mother and member of the LGBTQ+ community allows her to bring a new lens into understanding health issues, challenges, and disparities affecting underrepresented populations.
While holding professional positions at the State of Texas, Centers for Disease Control, and the Cameron County Public Health Department, Garza recognized the critical need for inclusion in the field of public health. Noticing this need for access and representation has remained one of her main motivators in continuing her doctoral degree in this field.
In 2022, she was selected as a pre-doctoral fellow with the Cancer Prevention Research Institute of Texas (CPRIT), a highly competitive program devoted to researching cancer genomics and treatment areas and integrating new sciences to understand this invasive disease further. "While at CPRIT, I gained valuable networking opportunities that fostered innovative thinking and creativity," said Garza. "Most importantly, I gained the needed peer support, and I've come to value my career as a researcher and epidemiologist."
Her roles as a student, full-time epidemiologist, and mother of two have shaped Garza's character and allowed her to understand the full breadth of research and experience while pursuing higher education. Through these circumstances, she has developed organizational skills and learned to be more self-compassionate. "I have come to understand that everyone's journey in graduate school is unique and valid," Garza said.
Throughout her academic career, Garza has worked alongside her mentor Audrey C. Choh, PhD, assistant professor, with the Department of Epidemiology, Human Genetics and Environmental Sciences, in the development and execution of her dissertation. Garza emphasizes the importance of building connections with mentors.
Garza believes a vital part of improving public health is to support the next generation's ability to build prosperity, strength, and resilience to face the current and upcoming public health issues. In the future, Garza plans to expand her research in genetic methodologies to improve cancer risk assessment in diverse populations.