Student Spotlight - Maribel Dominguez
PhD Candidate, Maribel Dominguez, reflects on how outreach and team work contribute to her student-experience and academic pursuits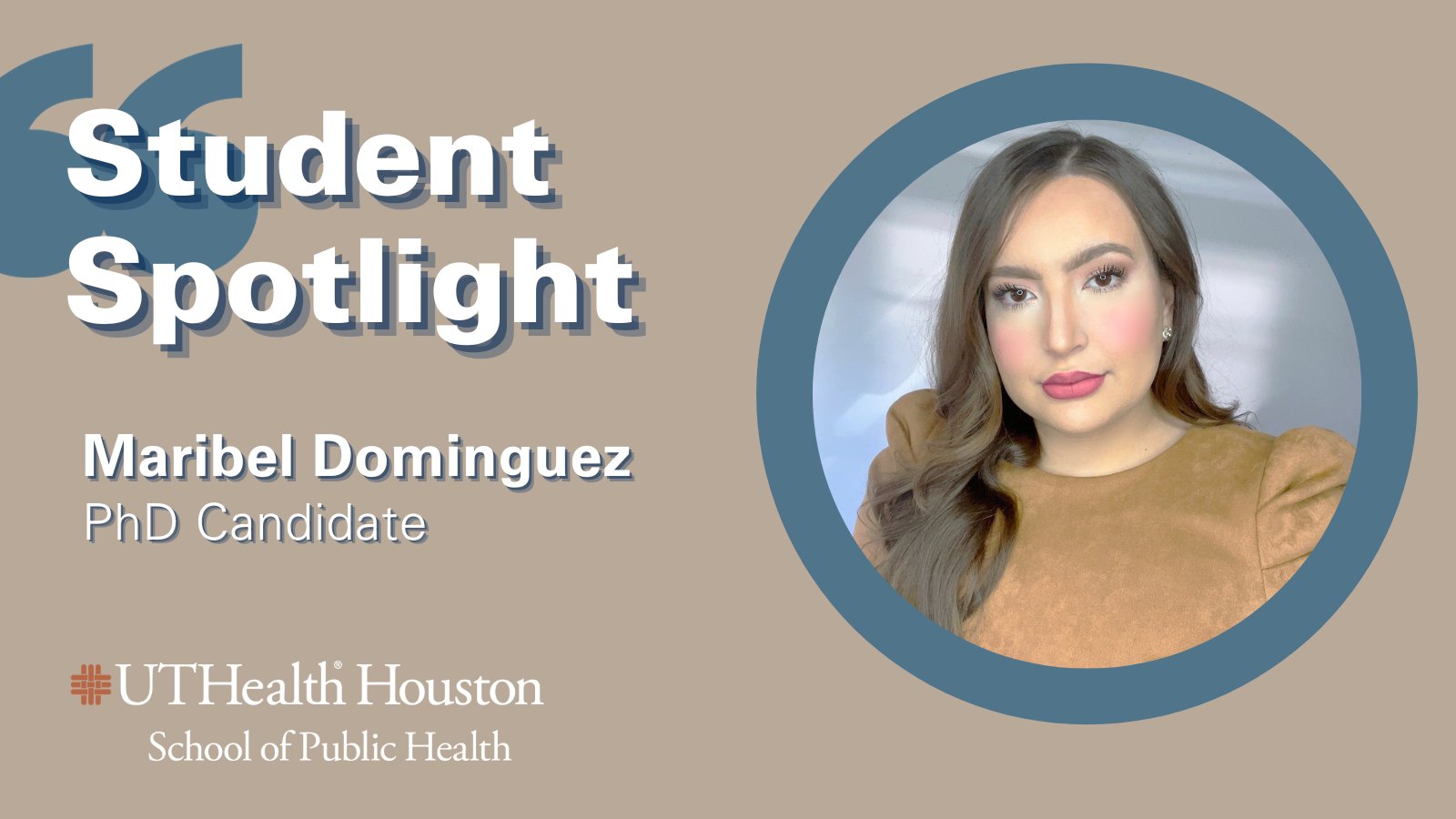 Maribel Dominguez has been a helper since her youth, but pursuing a career in public health renewed her passion for fulfilling others' needs.
"Try to help someone," Maribel said. "Make sure you're making a positive impact regardless of what you're going through. You'll see a shift in your emotions."
Maribel, a doctoral candidate at UTHealth Houston School of Public Health in Austin, served as an emergency preparedness planner (EPP) — and later epidemiologist — during the early part of the COVID-19 pandemic. She supervised and led El Paso's school contact tracing team, a significant undertaking that ensured individuals at all levels of the school system were alerted to possible exposures to the coronavirus. In an unsteady time, she found joy and stability in helping the public access data and resources.
While in undergrad at The University of Texas at El Paso (UTEP), Maribel learned about how adult health is impacted by Adverse Childhood Experiences (ACEs), defined by the Centers for Disease Prevention and Control as "potentially traumatic events that occur during childhood." She realized this relationship, which is particularly influential in border populations due to health inequality and disparities among children and adolescents in the region, was something she wanted to study further as a graduate student. She found UTEP's doctoral programs shared her goal of protecting children.
"UTEP was truly one of the best (master's programs)," Maribel said. "I could continue my research and focus it on the border populations."
Her exploration of ACEs culminated in a master's thesis entitled "Adverse Childhood Experiences, Resilience, and Mental Health in the Border Population" and a realization that research would be central to her career path. She hopes to continue learning about factors that encourage healing and promote strong mental health and well-being in people who have experienced trauma.
Now in the second year of her doctoral program in the Department of Health Promotion & Behavioral Sciences, Maribel is still driven by an intrinsic desire to understand and help others. She regularly seeks out opportunities for improving population health through evidence-based solutions.
To Maribel, her scholarly achievements are not solely due to her hard work; she believes success results from collaboration among those who are there for us. In Maribel's case, she credits her mom, brother, and advisor Louis D. Brown, PhD, associate professor at UTHealth Houston School of Public Health in El Paso for supporting her on her journey in academia. Specifically, her brother took action to help her at the beginning of her doctoral program.
"The first semester of my doctoral program was really tough," Maribel said. "My brother saw I was stressed out, and so he fixed the patio room as an office so I could do some work and get sunlight."
Alongside her brother's considerate actions were her mom's unconditional love and Brown's professional mentorship. Their support motivates her as she continues to study ACEs and resilience among child and adolescent populations.
Maribel Dominguez is a PhD candidate in the Department of Health Promotion & Behavioral Sciences at UTHealth Houston School of Public Health in Austin and the president of the Austin Student Association Board. She received her Master of Public Health (Concentration: Border Populations) from UTEP.