Study finds easy access to produce, resources boosts healthy eating for central Texas kids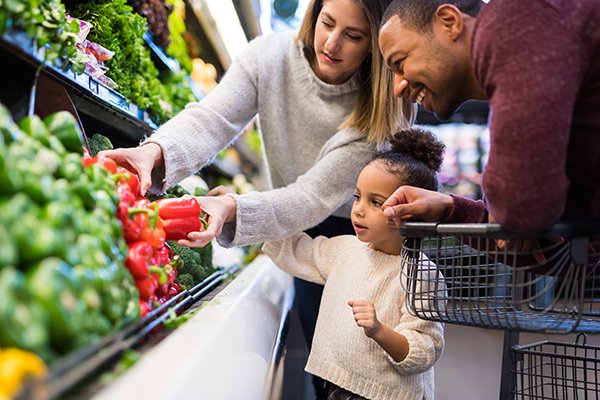 Providing caregivers easy access to produce and flexible resources can lead to improvements in kids' diets in a short time, according to a new study co-authored by researchers with UTHealth School of Public Health together with researchers from Dell Medical School at The University of Texas at Austin.
The study was published in JAMA Network Open.
The research team set out to assess what impact providing caregivers with four weeks of free tastings of produce and grocery gift cards would have on their ability to adjust their children's diets.
"The goal of this pilot project was to test different ways of providing foods to families who have limited access to healthy foods," said Deanna Hoelscher, PhD, senior author on the study, John P. McGovern Professor in Health Promotion, dean of UTHealth School of Public Health Austin campus, and director of the Michael & Susan Dell Center for Healthy Living. "It's difficult for families to follow dietary guidelines and healthy eating programs without making it easier to obtain foods like fresh fruits and vegetables."
Researchers began by offering food and grocery store gift cards to caregivers enrolled in an existing curbside program managed by the Boys & Girls Clubs of the Austin Area (BGCAA). Every week for four weeks, caregivers were given 10-pound boxes of fruits and vegetables at BGCAA sites and $10 gift cards for the grocery store H-E-B.
Caregivers were given an additional $10 gift card during the last three weeks of the program if they completed short reinforcement surveys that reminded them of the healthy eating goal of the program. They were also given a one-time choice of a $25 food preparation tool, including options of a kids' kitchen set, a food blender, knives, or spice kits.
"In total, caregivers received an average of $42 in H-E-B gift cards and 27 pounds of produce over four weeks. We also provided support with each produce box, including bilingual, culturally relevant recipes customized to the box's contents and helpful advice, like how to store produce," Hoelscher said.
At four- and eight-week intervals, researchers assessed child and caregiver diets using the Texas School Physical Activity and Nutrition (TX SPAN) tool, which was developed by the Michael & Susan Dell Center for Healthy Living at UTHealth School of Public Health. They observed that, on average, children ate healthier foods two additional times per day, compared with the control group, and healthy eating behaviors continued after the program ended. The two-group randomized clinical trial was conducted from May to July 2021.
The study was led by Dell Medical School's Factor Health initiative and funded by a grant from the Michael & Susan Dell Foundation.
"We know that people in general, including kids, do not consume the daily recommended amount of fruits and veggies," said Maninder "Mini" Kahlon, PhD, director and founder of Factor Health. "We wanted to see if we could support caregivers in improving their child's diet through easy access to fresh produce as well as flexible resources they could use as they wanted, based on their priorities."
"We found that we did not have to constrain caregivers to healthy purchases for them to make healthy choices for their children, with quite rapid results," said Kahlon. "As we move ahead, we're excited to see how much more we can improve children's diets with longer-term programs that provide resources for caregivers to experiment and craft their own strategies that work in the context of their lives."
Additional authors included Allison Marshall, PhD, with UTHealth School of Public Health Austin campus; Nazan Aksan, PhD; Rhonda Aubrey, MHI; Nicole Clark, MBA; Maria Cowley-Morillo, BS; Lindsey Engelman, MA, MSCRP; Julia Guerra, MSc; and Alejandro Guevara, with Dell Medical School; and Jenn Barnes, MA, with the Boys & Girls Clubs of Austin.
Press release adapted from The University of Texas Dell Medical School.
Media Inquires: 713-500-3030