Two UTHealth Houston School of Public Health faculty named 2023 inductees into Kenneth I. Shine, MD, Academy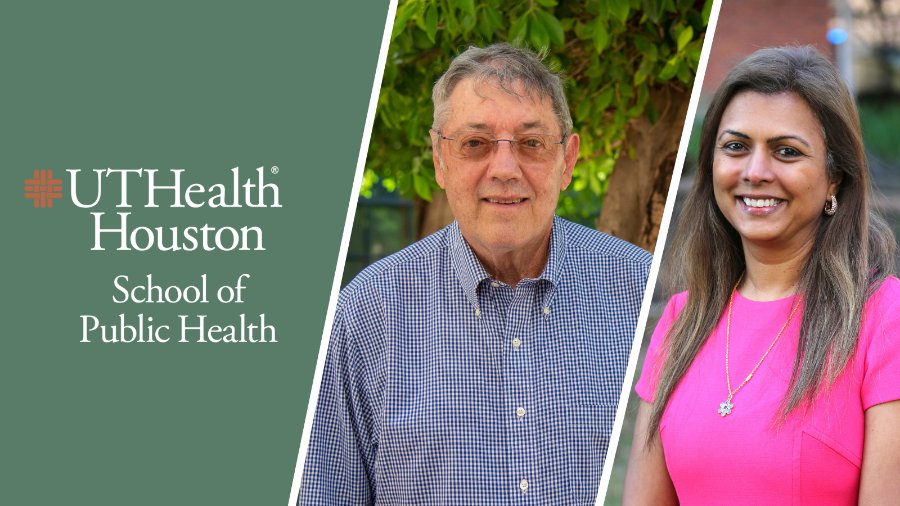 Four UTHealth Houston faculty have been recognized by The University of Texas System for their teaching excellence and commitment to the enhancement of health science education.
Two UTHealth Houston School of Public Health faculty, Joseph McCormick, MD, MPH, and Shreela Sharma, PhD, are among the inductees into the 2023 class of The University of Texas Kenneth I. Shine, MD, Academy of Health Science Education.
The honor is bestowed annually to outstanding faculty from across UT System's academic health institutions. They will be formally inducted with a ceremony on March 4.
Joseph McCormick, MD, MPH
McCormick is professor and James H. Steele, DVM, Professor in the Department of Epidemiology, Human Genetics, and Environmental Sciences at UTHealth Houston School of Public Health.
"Dr. McCormick is a visionary," said Belinda Reininger, DrPh, professor and campus dean of the School of Public Health in Brownsville. "He anticipates the learning and scientific needs to address complex health problems. Dr. McCormick is a man of action, and as such, he has a strong track record for designing and implementing high-impact teaching opportunities that serve the learners in the state of Texas to be prepared to meet the complex public health problems that face our state — including but not limited to, the rising rates of diabetes and other chronic diseases and the COVID-19 pandemic."
He began building the Brownsville campus in 2000. McCormick tailored and designed educational programs to meet the growing interest in public health, and later in bioinformatics, in a way that attracted students while they were in their undergraduate educational experiences, to better meet the needs of the underserved community.
McCormick became the founding campus dean of the School of Public Health in Brownsville in 2001 as part of the Regional Academic Health Center of the Rio Grande Valley, and held that responsibility for 18 years.
Known across the country for his leadership in developing educational epidemiologic research initiatives focused on Hispanic health, McCormick led the Cameron County Cohort, a study that characterized the health issues of more than 5,000 Hispanic Texans.
McCormick initiated the first accelerated master's program that allowed senior undergraduates to undertake courses for the Master of Public Health or the master's degree program in biomedical informatics, obtain certificates, and then go on to complete their master's degree in one or the other discipline. Those programs with UTHealth Houston School of Public Health and UTHealth Houston School of Biomedical Informatics have now expanded beyond Brownsville into other undergraduate programs. McCormick also started programs for training community health workers to assist in telemedicine consultations in the home and to assist families with members with dementia.
"I am extremely gratified by the selection to the Shine Academy," McCormick said. "I worked with Dr. Shine many years ago as a Chancellor's Fellow in public health. During that time, I also began new programs that provide opportunities for medical students to obtain a Master of Public Health in addition to their MD degree over the four years of medical school. That dual MD/MPH program, begun in collaboration with what is now the Long School of Medicine at UT Health San Antonio, is now in eight different medical schools across Texas and beyond. The selection to the Shine Academy recognizes some of these accomplishments and for that, I am honored to be a member of the academy."
McCormick earned his medical degree from Duke Medical School in 1971 and obtained a master's degree from Harvard School of Public Health in 1970. McCormick performed his clinical residency in pediatrics at Children's Hospital of Philadelphia, University of Pennsylvania. McCormick obtained a scholarship to Florida Southern College and graduated in 1964 with a double major in chemistry and mathematics.
Shreela Sharma, PhD
Sharma currently serves as professor and vice chair of epidemiology, human genetics, and environmental sciences at UTHealth Houston School of Public Health. She has served as the lead instructor for the Epidemiology I course, one of the largest courses at the school. Since 2007 she has instructed more than 900 master's and doctoral students.
The McGovern Outstanding Teaching Award honoree in 2020 and the awardee for the Excellence in Advising honor in 2022, Sharma has been a member of the Epidemiology Curriculum Committee from 2007 through 2021 and chaired the committee from 2016 through 2021.
"Shreela is a bright, passionate, energetic instructor who relates abstract concepts to real world examples, thus making the material feel more relatable and concrete," said Deanna M. Hoelscher, PhD, RDN, campus dean of the School of Public Health in Austin and one of Dr. Sharma's nominators. "She communicates well with students, colleagues, and community partners, and she is always available to her students even while maintaining an extremely busy research, publications, and presentations portfolio."
Sharma has educated beyond the classrooms at UTHealth Houston. Sharma led the development of CATCH Early Childhood, an innovative preschool program proven to improve dietary behaviors and reduce obesity among children from low-income families. Her program has been disseminated across more than 1,000 preschools across six states in the United States, impacting more than 50,000 children since its inception in 2009.
Sharma is also the cofounder of Brighter Bites, a program that increases access to fresh fruits and vegetables plus nutrition education for low-income children and their families. In addition, Sharma serves as co-lead of the Health Equity Collective, a systems coalition focused on care coordination between health care and social services to mitigate social determinants of health needs among Greater Houston area residents.
"I am grateful for this honor," Sharma said. "One of my reasons for coming into academia was my passion for teaching and mentoring. I would not be here without some incredible teachers and mentors who taught me everything I know and supported me along the way. I am thankful for the opportunity to pay it forward."
The University of Texas Academy of Health Science Education was founded in 2005 and was renamed in honor of former UT System Executive Vice Chancellor for Health Affairs Kenneth I. Shine, MD, when he retired. Members of the Shine Academy are recognized as outstanding scholars and leaders in education from across all the system's science institutions.
The Shine Academy fosters excellence in education in the health sciences by recognition of outstanding educators and advancement of knowledge and innovation in the field of education.