UTHealth researchers discover boys born with hypospadias were 5.8 times more likely to have a congenital heart defect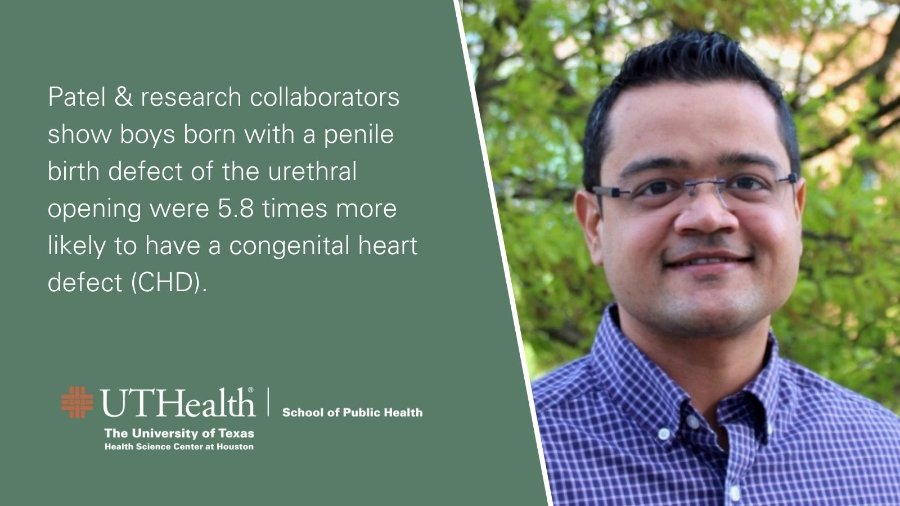 UTHealth School of Public Health researchers and their collaborators published a new study finding that boys born with hypospadias, a penile birth defect of the urethral opening, were 5.8 times more likely to have a congenital heart defect (CHD) than boys born without hypospadias. The Department of Epidemiology, Human Genetics & Environmental Sciences, assistant professor and co-first author on the paper, Jenil Patel, PhD, and associate professor and co-author, A.J. Agopian, PhD worked on this project leading to the August 2022 publication of their work in JAMA Network Open.

The lead investigators of this study were Wendy Nembhard, PhD, MPH, from University of Arkansas for Medical Sciences (UAMS) and Dr. Philip Lupo from Baylor College of Medicine (BCM). The other co-first author on the study was Dr. Melissa Richard from BCM.
An estimated 7.0% of boys with hypospadias in Texas and 5.5% of boys with hypospadias in Arkansas had a co-occurring CHD. CHDs are a leading cause of death in infants, with 1 in every 4 CHDs being classified as critical and likely requiring surgery in the first year of life.
This collaboration between researchers from UTHealth School of Public Health, along with the UAMS, BCM, and Texas Department of State Health Services, determined that hypospadias, which affects 1 out of 200 boys born in the U.S., co-occurs with CHDs. Reviewing data from two states, Texas from 1999-2014 and Arkansas from 1995-2013, using information from the Texas Birth Defects Registry and the Arkansas Reproductive Health Monitoring System, researchers analyzed over 3.7 million pregnancies, of which 1,485 were identified as having hypospadias and a cooccurring heart defect, according to the paper. The associations were confirmed using data from nine other states participating in the National Birth Defects Prevention Network.

This study also found that "boys with hypospadias born to Hispanic mothers in Texas were 1.5 times more likely to have a co-occurring CHD than boys with hypospadias born to non-Hispanic white mothers."

The data collected from the registries in Texas and Arkansas showed that boys born with the defect had a higher prevalence of critical CHDs. Key findings included that, compared to boys without hypospadias, boys with hypospadias were:
7.5 times more likely to be born with coarctation (narrowing) of the body's largest artery, the aorta
9.3 times more likely to be born with tetralogy of Fallot (structural heart defect)
6.3 times more likely to be born with transposition of the great vessels, a mismatch of the main arteries leading away from the heart
This study suggests that that some boys diagnosed with hypospadias may benefit from additional screening for CHDs. "Screenings for additional tests may be warranted in boys identified with hypospadias, along with benefits associated with clinical sequencing." said Patel. "The findings show how enacting more advanced screening protocols may help lead to targeted treatment strategies for preventing CHD outcomes and improved counseling for these significant birth defects," stated Patel.