CHPPR Partners with Chambers Health to Implement Healthy Heart Ambassador Blood Pressure Self-Monitoring Program
Published: August 10, 2023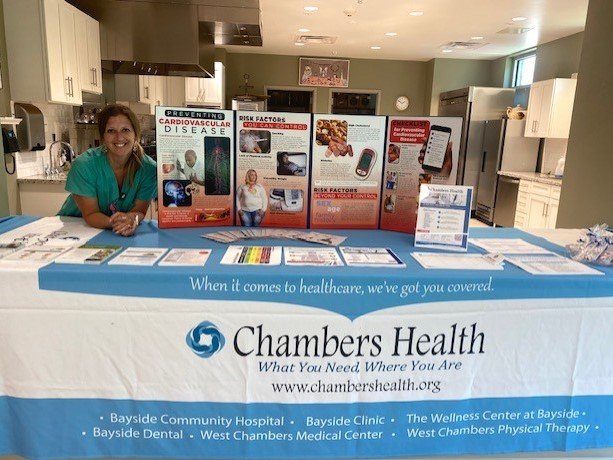 Chambers Health is an HRSA-funded Federally Qualified Health Center (FQHC) that provides primary care, mental health, dental, and other services in Anahuac, Dayton, and Mont Belvieu, Texas. CHPPR's Chronic Disease Prevention Team has partnered with Chambers Health to implement the Healthy Heart Ambassador Blood Pressure Self-Monitoring (HHA-BPSM) Program to help patients identify, treat and manage high blood pressure and hypertension.
Chambers Health primarily serves medically underserved areas and populations, offering medical services on a sliding scale fee based on the patient's ability to pay. They also provide outreach and eligibility services to help patients better understand third-party primary care health insurance coverage options and help patients with enrollment through various assistance programs.
"As an FQHC, our Health Center helps bridge gaps and overcome barriers that prevent underserved patients from accessing healthcare services," said Blanca Puga, Director of Grants Management and Community Programs. "We partnered with UTHealth Houston to build upon and improve our current processes in working with our patient population to improve their health through prevention and management of diabetes, heart disease, and stroke."
Since 2021, CHPPR has partnered with the Texas Department of State Health Services (DSHS) to train eleven community-based health centers across Texas, including Chambers Health, on how to better serve patients with hypertension. These enhancements included electronic health record (EHR) optimization (e.g., integrating patient alerts and other clinical support tools) to help identify patients with hypertension and integrate self-measured blood pressure results, integration of non-physician team members into hypertension workflows including education and management, webinars to educate team members on HHA-BPSM, and workflows redesign.
"One of the most rewarding aspects of my role was collaborating with the exceptional team from Chambers Health to guide EHR users toward harnessing the power of available tools," said Alexa Poole, UTHealth Quality Improvement Consultant. "Chambers Health understands the challenges healthcare providers often face with EHR systems. Together, we transform these challenges into opportunities and empowered providers to seamlessly identify patients with hypertension, utilizing demographic-based screening reminders and alerts. It's truly inspiring to witness how our collective efforts enhance patient care and streamline their clinical workflows"
The team also helped Chambers Health implement the HHA-BPSM program, a unique and effective strategy designed to help participants improve their blood pressure management, into their existing Self-Measured Blood Pressure Program (SMBP). The HHA-BPSM is an evidence-based four-month program, created by the CDC and YMCA that focuses on blood pressure management, identification and control of blood pressure triggers, and adopting healthier eating habits with clinical support. The program empowers participants to take charge of their cardiovascular well-being through a comprehensive approach. It supports patients through routine office hours (10 minutes) and weekly check-ins by phone, email, or text with the HHA, who teaches patients how to accurately measure their blood pressure, and make healthy lifestyle changes via monthly nutrition education seminars.
Chambers Health is also working with the American Heart Association's National Hypertension Control Initiative (NHCI) and has implemented a remote patient monitoring program and provides self-blood pressure monitoring devices to hypertension patients. Clinic staff are able to remotely communicate with patients, track their blood pressures to better identify trends or issues, and provide education remotely.
"The remote aspect is the most important," said Tonya Pagel, Clinic Director of Nursing. "Patients don't have to make frequent visits to adjust medications resulting in increased cost or co-pays, and they don't have to take time off work or retirement fun to improve their health. Patients can communicate with us, transmit relevant information and readings regarding their blood pressures, all remotely, and we are able to make changes accordingly."
Since implementing these programs and changes, Chambers Health has already started to see improvements in patients' ability to control their blood pressure and an eagerness to continue learning and participating in the programs.
"Our staff are not only committed but invested, and the patients can see and feel that investment," said Pagel. "We have received lots of positive feedback and participation continues to increase."
Learn more about Chambers Health on their website.