Alumnus Alan Tita Receives National Recognition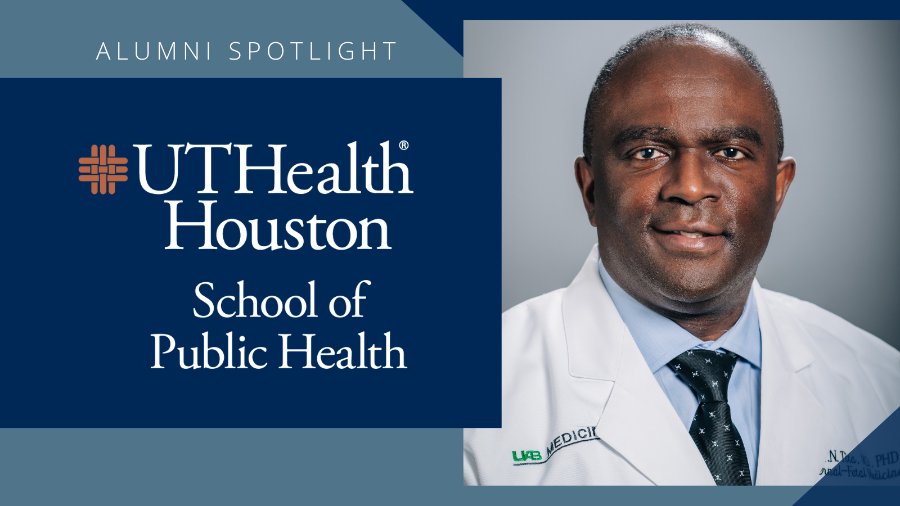 Alan Tita, MD, PhD, who received his PhD in public health with a focus on epidemiology from UTHealth Houston School of Public Health in 2007, led the groundbreaking Chronic Hypertension and Pregnancy (CHAP) trial, which was recently awarded the prestigious David Sackett Trial of the Year Award from the Society for Clinical Trials.
Tita is currently the Mary Heersink Endowed Chair of Global Health and associate dean for Global and Women's Health at the University of Alabama at Birmingham (UAB).
The CHAP trial evaluated the effects of prescribing blood pressure medication to pregnant women with mild chronic hypertension. Results published in the New England Journal of Medicine in April 2022 showed treatment improved pregnancy outcomes without compromising the baby's growth and overall health.
These results led to reevaluation of current recommendations and updates to practice guidelines to ensure that pregnant women with chronic hypertension are treated appropriately.
"Chronic hypertension causes serious and life-threatening complications for pregnant women and their babies," said Tita, lead author of the paper. "Between 70% and 80% of pregnant women with chronic hypertension fall into the 'mild' category where there was not a medical consensus for treatment."
The CHAP consortium included over 60 collaborating clinical sites across the United States, with clinical and data coordinating centers in the UAB Center for Women's Reproductive Health and the Department of Obstetrics and Gynecology in the Heersink School of Medicine, and the Department of Biostatistics in the UAB School of Public Health, respectively. The CHAP program was launched in 2014 with funding from the National Institutes of Health's Heart, Lung and Blood Institute.
Educational Foundation at UTHealth Houston
Tita praised his experience at UTHealth Houston School of Public Health. "My experience as a student, graduate assistant, and research associate with Kim Waller provided a firm foundation in research design and analysis that has been crucial to my growth and work as a clinician scientist and teacher," he said.
While at UTHealth Houston, Tita collaborated with Kim Waller, PhD, MPH, associate professor in the Department of Epidemiology, Human Genetics, and Environmental Sciences, on three publications. Since graduating from UTHealth Houston, Tita has authored many publications. Notably, in a 2009 article in the New England Journal of Medicine, he reported that elective repeat cesarean delivery before 39 weeks of gestation is common and is associated with respiratory and other adverse neonatal outcomes. In a 2023 article in the same journal, he reported that among women planning a vaginal delivery, a single oral dose of azithromycin resulted in a significantly lower risk of maternal sepsis or death.
Waller described Tita as a "star student who was destined to make outstanding contributions to research in perinatal health."
Tita described the connections made at UTHealth Houston as "invaluable in securing a training spot in obstetrics and gynecology and setting me down this path. I am immensely thankful for my time at UTHealth Houston and the many teachers who inspired and encouraged me, including Drs. Fred Annegers, Asha Kapadia, BB Selwyn, Lem Moye, Jon Tyson, and, of course, Kim Waller."
Tita appreciated Selwyn, chair of his PhD committee, for being "incredibly inspiring and encouraging. She taught the research implementation course and drove home the importance of having a rigorous protocol to be successful in any research undertaking."
Commitment to improve health outcomes for women and mothers
"I moved to the U.S. at the end of 1998 and enrolled in the PhD program in epidemiology at UTHealth Houston in the fall of 1999, following an MPH (international health) in 1998 from the University of Leeds, United Kingdom," he said. "Pursuing a major in epidemiology with minors in biostatistics and reproductive science seemed like the best way to stay on track toward my career goals to improve health outcomes for women and mothers."
Tita received his medical degree from the University of Yaoundé I, Cameroon, and completed his residency at Baylor College of Medicine in obstetrics and gynecology. After receiving his PhD in public health at UTHealth Houston, he completed a fellowship in maternal-fetal medicine at UAB in 2008.
Inducted into National Academy of Medicine
In 2022, Tita was elected to the National Academy of Medicine, considered one of the highest honors in health and medicine. Membership within the Academy recognizes those who have made major contributions to advance health care, medical sciences, and public health and have demonstrated a dedication to service. At the time, Tita said "I'm thankful to the Academy and the members who nominated me for this recognition. This is the result of the support of our department and institution and extensive collaborations."
The Academy praised Tita specifically as "an innovative and impactful perinatal epidemiologist and clinical trialist." The Academy noted his leadership of "large, collaborative, multicenter national and international trials and observational studies that have shifted practice and policy and improved the quality of national and global obstetric care."
Since 2009, Tita has served as the principal investigator of the Eunice Kennedy Shriver National Institute of Child Health and Human Development Maternal-Fetal Medicine Units Network center at UAB. Tita currently co-leads the Cameroon Health Initiative at UAB. A native of Cameroon, Tita began this project to improve health care in collaboration with Cameroon partners.
Additional Milestones
Tita also served on the National Institutes of Health National Institute of Child Health and Human Development National Advisory Council and the Maternal-Fetal Medicine Division of the American Board of Obstetrics and Gynecology.
In 2022 he was also selected to lead the Coordinating Center of the P3 (Pregnancy and Postpartum/Postnatal) EQUATE (Enhancing Access and QUAlity to Achieve Equitable Maternal and Infant Health) Network – an American Heart Association Health Equity Research Network.
Regarding his many accolades, Tita said, "Besides my family and friends who keep me grounded, I'm thankful to my colleagues, mentors, and my own mentees from whom I have learned a lot. I look forward to more collaborations to improve health care and to continue to mentor others."