UTHealth Houston School of Public Health meets Obesity Week in Dallas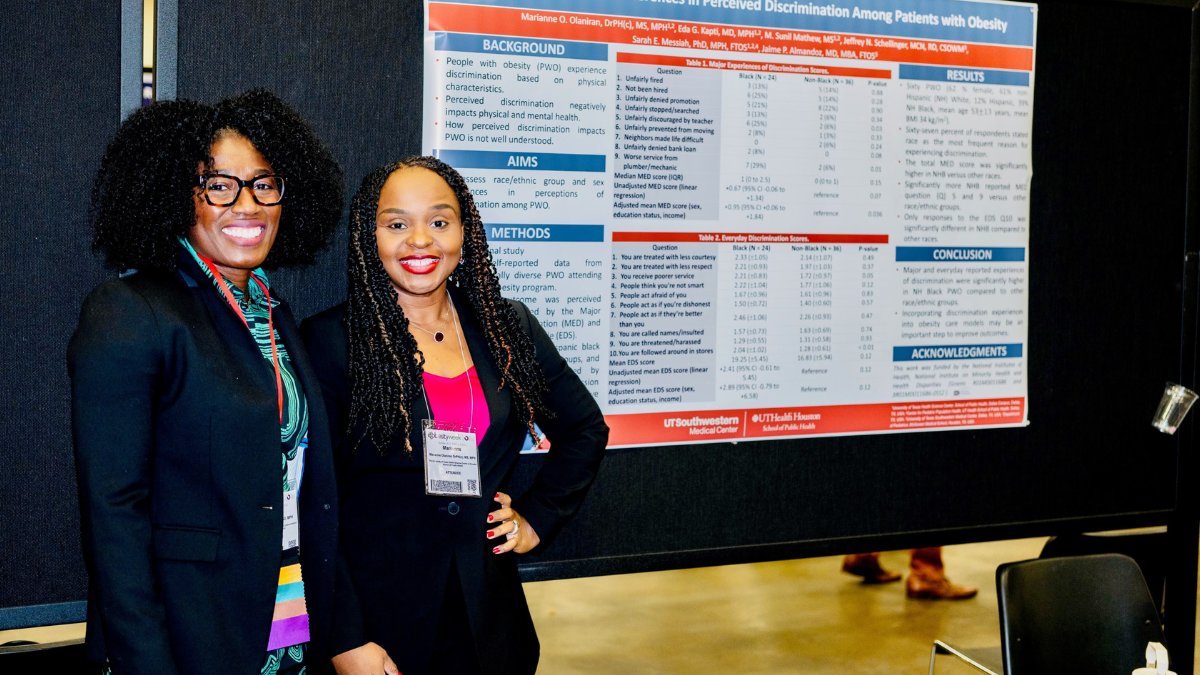 Each year the Obesity Society and its partners present Obesity Week, where global experts come together to share the latest science in the field of obesity science, prevention, and treatment.
UTHealth Houston's School of Public Health Sarah Messiah, PhD, MPH, FTOS, and Director of the Center for Pediatric Population Health was this year's co-chair of the Obesity Week planning committee.
"This year's conference highlighted cutting-edge research and exciting developments in anti-obesity medications, as well as addressing crucial issues, such as the recognition that body mass index as a measure of obesity can perpetuate disparities and must be thoughtfully reevaluated," says Messiah. "The convergence of groundbreaking science and a commitment to equity makes this conference a great experience for public health and medical students and trainees."
Obesity Week is the most notable international conference on obesity and brings revolutionary policy, unmatched research, and information on the most relevant obesity treatments available. Marlyn Allicock, PhD, MPH, and Associate Professor of Health Promotion and Behavioral Science at UTHealth Houston School of Public Health, presented at this year's conference. Her presentation was part of a symposium, titled "From Surviving to Thriving - Key Considerations for Weight Control Across Diverse Cancer Survivorship Population", which highlights the state of the science for black cancer survivors.
"Black women have the highest rates of being overweight and obese, are more likely to be obese at cancer diagnosis, and gain more weight after cancer treatment, which sets the stage for poor outcomes. However, few interventions exist for black cancer survivors to improve their health behaviors and manage their weight. It was essential to be part of this conversation to highlight the health impact for this population," said Allicock.
In addition to healthcare policy and public health policy, global experts share information in other areas as well; metabolism and integrative physiology, neuroscience, intervention and clinical studies, population health, and clinical and professional practice, and more.
UTHealth Houston School of Public Health Luyu Amber Xie MPH, PhD received the 2023 Rolls-Simons Travel Award and doctoral candidate Marianne Olaniran, MS, MPH, received the Obesity Society's 2023 WW Diversity Travel Award.
Olaniran says, "It was an honor to be the recipient of this prestigious award. I also felt honored to be here to present two posters at Obesity Week, where I was able to share information on our projects which focused on race, ethnic, and sex differences in perceived discrimination, and weight bias internalization among people with obesity. I also enjoyed listening to and discussing with various health experts working together to improve the health outcomes and quality of life of people living with obesity. It was an enlightening experience."
Other members of Messiah's team presenting posters were:
Three PhD students at UTHealth Houston School of Public Health
Deepali Earnest, MPH, Olivia Kapera, MPH, Aparajita Chandrasekhar, MPH.
UTHealth Houston School of Public Health Sophia Ngenge, MPH, Jackson Francis, MPH.
UTSouthwestern's Post-doctoral student, Maral Misseria, MPH, and Matthew Cali, MD student.
Sixteen of the presentations during Obesity Week were represented by UTHealth School of Public Health faculty and students. Additionally, three NIH-funded projects supported 11 presentations.