About the Coordinating Center for Clinical Trials
Welcome
The Coordinating Center for Clinical Trials (CCCT) provides full-service trial coordination for research studies. We handle the logistical and statistical challenges of coordinating small and large multicenter studies and research projects, allowing Investigators to focus on their patient-participants. Our expert team collaborates with investigators every step of the way – from study design and execution to the dissemination of trial findings. We invite you to learn more about our services, our team, and who we can expand your research, streamline your data collection, and manage the operations integral to your project.
Who we are
The UTHealth Coordinating Center for Clinical Trials (CCCT) has an established history of advancing science through coordinating clinical trials. Established in 1971, the CCCT has served as a full-service coordinating center for numerous nationwide multicenter clinical trials, both large and small. Our expertise spans research areas including biostatistics, epidemiology, clinical trials, data management, trial design, data science, computer science, bioinformatics, and genomics. The mission of the CCCT is to improve a broad spectrum of public health interests through the coordination of clinical trials, collaboration with clinical investigators, and the development of statistical and trial methodology.
Clinical trials are undergoing a revolution in the era of big data. Here at the CCCT, we have the capacity to undertake multifaceted clinical trials using complex and high-dimensional data gathered from sources including wearable devices and electronic medical records. Leveraging data that's collected automatically or as part of the patient standard of care, allows for clinical trials that are more efficient and less costly to design.
Research interests
The CCCT has the capability and expertise to work on many topics of medical and public health interests.
Our focus is in leading and conducting multicenter clinical trials and research studies. We provide academic expertise and leadership coupled with full-service clinical trial management capabilities, data and adverse event monitoring, and statistical analysis support for publications.
Our ultimate goal is in developing and sharing knowledge to improve patient care and public health. We accomplish this through the seamless integration of disease area expertise, innovative interventions, and sound clinical trial methodology.
Areas of expertise
Cardiovascular

Diabetes

Kidney disease

Stroke

Sickle cell

Ophthalmology

Cell Therapy

Trauma

Rheumatology

Neurology

Dental

Psychiatry

Gastroenterology

Pulmonary

Pharmacokinetics
Innovative interventions
Diet-drug trials
Community-based clinics
Dissemination of trial results
Wearable device trials
Smartphone-based intervention to reduce recidivism
Strategies for recruitment of racial and ethnic diverse groups in clinical trials
Randomized trial for an intervention to decrease sedentary behavior
Clinical trial methodology
Factorial design
Bayesian adaptive design
Adaptive randomization, seamless trial
Group sequential monitoring
Services offered by the CCCT
50 years of successfully providing comprehensive services and coordinating large multi-center clinical trials
Although our primary goal is to design and assist with large multicenter clinical trials, we also work with smaller and single-site trials. Regardless of trial size and complexity, we provide high-quality study design, monitoring, management, reporting, and interpretation of study findings.
Our model (below) highlights our capabilities and can be scaled to fit the needs of a given research project. Take a look at what we can do for you.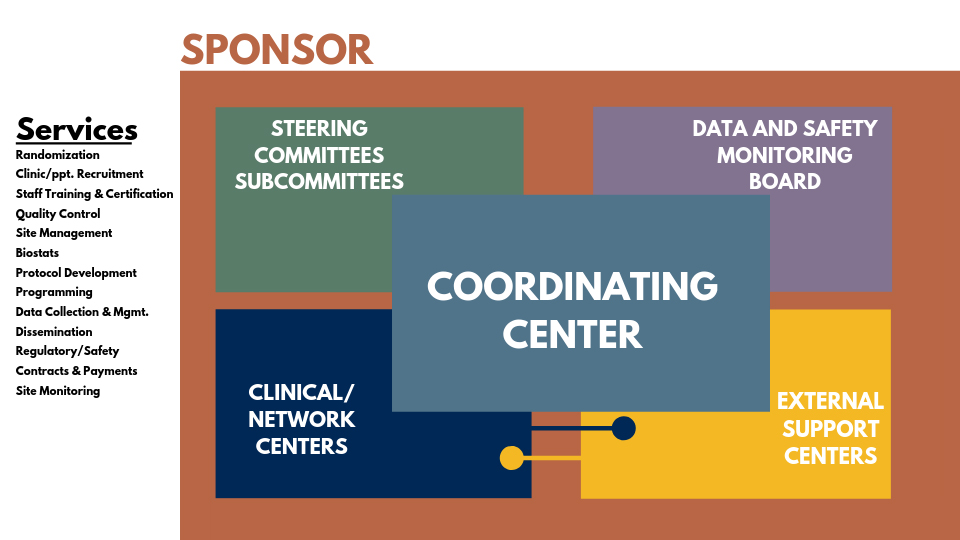 Consulting
First hour: free of charge
Collaborations
Free for collaboration on the grant application, but the service provider and his/her associates' effort and other needs for the proposed project should be appropriately budgeted in the grant application. We are happy to arrange a meeting with you to discuss the project and provide a quote for services that meet the needs of the trial.
Trials and projects
Antihypertensive and Lipid Lowering Treatment to Prevent Heart Attack Trial (ALLHAT)
Read about ALLHAT here.
Ancillary Study. Long-term Benefits & Harms of Antihypertensive Drugs in the Elderly: Up to 22-year Follow-Up of ALLHAT Trial Participants. Xainglin Du, PI. NIA. 2018-2022 ($1,324,000).
E

valuation of

L

omecel-B™ Injection in

P

at

i

ents with Hypoplastic Left Heart

S

yndrome: A Phase

II

b Clinical Trial (ELPIS II)

The ELPIS II trial is being conducted by a consortium of clinical centers in the US who routinely direct surgical and follow up care for children with hypoplastic left heart syndrome (HLHS). The trial is testing whether Lomecel-B (containing human mesenchymal stem cells) is safe and effective in treating patients with HLHS when administered during the child's second staged palliative surgery.

Sponsored by the National Heart, Lung and Blood Institute (NHLBI); 2020-2025 ($1,862,493).
A Phase IIB Randomized, Placebo-Controlled, Multicenter Study of the Comparative Efficacy and Safety of Transendocardial Injection of Allogeneic-MSC versus Placebo in Patients with Non-Ischemic Dilated Cardiomyopathy (DCM II)
The purpose of the DCM II study is to determine whether giving allogeneic mesenchymal stem cells to patients with heart muscle damage is safe and whether this improves heart function. Additionally, this study will examine whether an individual's genetics plays a role in determining his/her response to the cell therapy. Four US clinical centers are participating.
Sponsored by the US Department of Defense; 2020-2024 ($4,778,129).
Autologous Cardiac Stem Cell Injection in Patients with Hypoplastic Left Heart Syndrome (CHILD
)
The CHILD study is assessing the safety, feasibility, and efficacy of intramyocardial delivery of c-kit+ cells in patients with hypoplastic left heart syndrome under 6 months of age.
Sponsored by the Marcus Foundation Inc.; 2019-2023 ($761,772).
The Benefits of Stroke Treatment Delivered by a Mobile Stroke Unit Compared with Standard Management by Emergency Medical Services (BEST-MSU) Trial
This is an observational, prospective, multicenter, alternating-week trial comparing Mobile Stroke Units with Emergency Medical Services management. The study enrolled 1,515 patients, of which the primary analysis focused on the 1,047 that were tPA-eligible. The overall goal of the study is to determine whether Mobile Stroke Units lead to lower disability after 90 days of stroke as well as fewer healthcare utilizations, and whether they are cost-effective.
Sponsored by Patient-Centered Outcomes Research Institute (PCORI), 2015-2022 ($7,997,773).
CATCH Healthy Smiles: An Elementary School Oral Health Intervention Trial
This is a cluster-randomized trial conducted in 26 schools. The purpose of this study is to clinically evaluate the effects of a school-based behavioral intervention, CATCH Healthy Smiles, to reduce the risk of dental caries in a cohort of kindergarten through 2nd grade (K-2) children serving low-income, ethnically-diverse children, to determine the impact of CATCH Healthy Smiles on child behavioral, psychosocial, and environmental outcomes beginning in K through 2nd grade, compared to children in the control schools and to examine the extent to which the child behavioral, psychosocial, and environmental factors mediate the improvements in child caries risk.
Sponsored by National Institute of Dental and Craniofacial Research (NIDCR), 2019-2025 ($2,257,769)
Trauma Resuscitation with Low-Titer Group O Whole Blood or Products (TROOP Trial)
TROOP is a pragmatic, multicenter, Bayesian, group-sequential, combined non-inferiority/ superiority, randomized clinical trial. The trial will enroll approximately 1100 injured patients with hemorrhagic shock anticipated to require massive blood transfusions. The overall goal of the study is to determine whether patients who are critically injured and need a large transfusion of blood should be given whole blood, or blood that has been separated into its individual components (red cells, platelets, plasma, etc.). Participants will be randomized to receive either whole blood (at least 8 units) or only component therapy and will be followed for 30 days to assess outcomes.
Sponsored by National Heart, Lung, and Blood Institute (NHLBI), 2022-2027 ($653,807 in Y1).
Gap-Based Milieu Biomarkers for Traumatic Brain Injury (GAMBIT-TBI)
GAMBIT-TBI is a multi-center and multi-project diagnostic clinical study.?The goal of GAMBIT-TBI is to discover new blood- and imaging-based biomarkers to identify traumatic brain injury subphenotypes based on their recovery trajectories. Sponsored by Department of Defense US Army Medical Research Acquisition Activity, 2022-2026 ($865,872).
Contact us
Interested in collaborating?
The University of Texas Health Science Center
School of Public Health
1200 Pressler St., 8th and 9th Floor
Houston, Texas 77030
Phone: 713-500-9529
Email: shelly.l.sayre@uth.tmc.edu