Bijal Balasubramanian, PhD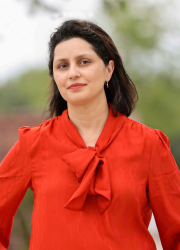 Professor
Regional Campus Dean and Rockwell Distinguished Chair in Society and Health
Bijal.Balasubramanian@UTSouthwestern.edu
Department
Campus Dean, The University of Texas Health Science Center at Houston (UTHealth Houston) School of Public Health, Dallas Campus
MD/MPH Program Director, School of Public Health in Dallas
Epidemiology, Human Genetics and Environmental Sciences
Research Interests
Cancer
Cardiovascular and Chronic Diseases
Epidemiology
Program Evaluation
Health Services/Outcomes Research
Biography
I am a physician, epidemiologist, and health services researcher with expertise in cancer prevention and control, primary care, and implementation science. I am dedicated to improving primary care. My research program focuses on better understanding the challenges patients face in receiving comprehensive care for all their health conditions and primary care clinicians face in delivering high-value, coordinated care. I believe pursuing this area of research is an effective and sustainable way to equitably improve population health outcomes. I approach my research with an implementation science lens that helps me work towards "bridging the research to practice gap." My ultimate goal is to enhance care quality and outcomes for patients suffering from common chronic conditions such as diabetes, hypertension, cardiovascular disease, depression, and cancer. I am also an academic leader serving as the Dallas Campus Dean and Inaugural co-Director of the UTHealth Houston Institute for Implementation Science. In my role as Dallas Campus Dean, I am dedicated to nurturing a supportive and competitive environment for faculty, staff, and students to successfully pursue their calling in public health. The Dallas campus is a thriving campus with over 200 Master's and Doctoral students and 13 faculty from three departments supported by a stellar administrative and student affairs team. As co-Director of the Institute for Implementation Science, I am committed to enhancing implementation research capacity in Texas to bridge the "research to practice gap."
Contact
Email: Bijal.Balasubramanian@UTSouthwestern.edu
Phone: +1 (214) 648-1080
Fax: +1 (214) 648-1081

Current Projects

CHPPR, in collaboration with the GCREC at the UTHealth SBMI, will assist the Texas Department of State Health Services (DSHS) in carrying out the proposed activities for the project.

The goal of this program is to increase Colorectal Cancer Screening through evidence-based interventions in Federally Qualified Health Centers to ultimately reduce Colorectal Cancer and related health disparities among African Americans and Hispanics.

The project involves implementing care coordination strategies shown to be effective for primary care conditions among complex cancer survivors at Parkland Health & Hospital System.