Deanna Hoelscher, PhD, RDN, LD, CNS, FISBNPA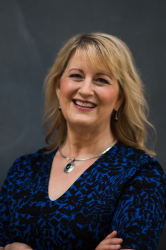 Campus Dean, UTHealth School of Public Health in Austin
Director, Michael & Susan Dell Center for Healthy Living, Distinguished Teaching Professor at The University of Texas System
Deanna.M.Hoelscher@uth.tmc.edu
Dr. Hoelscher's research interests include teaching children and their families to engage in healthier dietary and physical activity behaviors to avoid chronic diseases, with an emphasis on addressing health disparities. Her recent work has focused on implementing interventions and evaluations on policy, systems, and environmental changes. Dr. Hoelscher has received multiple federal and foundation grants, and has over 200 peer-reviewed publications, as well as numerous awards for research, teaching, and mentoring. She is principal investigator of the Texas School Physical Activity and Nutrition (Texas SPAN) survey funded by the Texas Department of State Health Services to monitor the prevalence of obesity in school-aged children in the state, and the STREETS project, a NIH-funded natural experiment to determine the effects of Safe Routes to School policies on child physical activity. She is also Director of the Michael & Susan Dell Center for Healthy Living, where she oversees the Texas Research-to-Policy Collaboration project.
In 2018, Dr. Hoelscher became Dean of the UTHealth School of Public Health in Austin, which is the largest of the five regional campuses for the UTHealth School of Public Health. Dr. Hoelscher was President of the International Society of Behavioral Nutrition and Physical Activity (ISBNPA) from 2012 to 2013 and elected a Fellow of ISBNPA in 2015. She served as a Member-at-Large for The Obesity Society, and has held leadership positions at the Academy of Nutrition and Dietetics and the Society for Nutrition Education and Behavior.
She has won numerous awards for teaching and research, including the Regents' Outstanding Teaching Award in 2017, and has been designated as a Distinguished Teaching Professor at The University of Texas System.
The Gerry Sue and Norman J. Arnold 2019 Childhood Obesity Lecture Series
Arnold School of Public Health at The University of South Carolina
Keynote Speaker: Dr. Deanna Hoelscher
Keynote: "Combating Child Obesity from Population to Policy"
Current Projects

ENRICH stands for Encouraging Nurturing Responsiveness to Improve Child Health. This research project works to help parents establish healthy eating, activity, bedtime, and screen time routines.

The purpose of this intervention is to encourage parents to increase the availability of fruits, vegetables, and whole grains in sack lunches for their preschool children in childcare centers. The goal for this research is the development of new strategies for the promotion of healthy eating practices in children through childcare centers.

The STREETS Study (Safe TRavel Environment Evaluation in Texas Schools) is a five-year (2018 – 2023) natural experiment that is evaluating the City of Austin Safe Routes to School program.

CATCH is a research-based program designed to guide schools, families and children in healthy eating and physical activity.

Texas SNAP-Ed Evaluation, is a two-year project to evaluate, on a statewide basis, the effectiveness of SNAP-Ed nutrition education and obesity prevention programming activities delivered by Implementing Agencies throughout the state of Texas.

This project is a clinic-community based intervention to implement an early life-cycle approach to obesity prevention among pregnant women and women with infants from low-income families.

The Texas SPAN survey was established to track the prevalence of overweight and obese school-aged children in Texas.

This project will connect the dots between families, pediatricians, schools and local youth organizations to develop community capacity for early detection and effective management of obesity using evidence-based programs like CATCH and MEND.

This project is a collaborative effort that will study the impact of two recent policies: the Safe Routes to School program and an important rule revision to the federal food allocation package administered by the Texas Women, Infants and Children program.
Recent Publications
Robbins, R. N., Serra, M., Ranjit, N., Hoelscher, D. M., Sweitzer, S. J., & Briley, M. E. (2022). Public health nutrition, 25(1), 82–89.
Burford, K.; Ganzar, L.A.; Lanza, K.; Kohl, H.W., III; Hoelscher, D.M. Int. J. Environ. Res. Public Health 2021, 18, 10885. https://doi.org/10.3390/ijerph182010885) PMCID: PMC8535774
(Sanchez, R., Ranjit, N., Kelder, S. H., Gill, M., & Hoelscher, D. M. (2021). Preventive Medicine Reports, 101406.)
(Szeszulski, J., Walker, T. J., McCurdy, S. A., & Hoelscher, D. M. (2021). Journal of School Health.)
(Lanza, K., Alcazar, M., Hoelscher, D.M. et al. BMC Public Health 21, 98 (2021).)