2022 Doctoral Graduate, Sitara Weerakoon, PhD named a 2022 College on Problems of Drug Dependence Primm-Singleton Minority Travel Award recipient
CPDD is the longest standing group in the U.S. addressing problems of drug dependence and abuse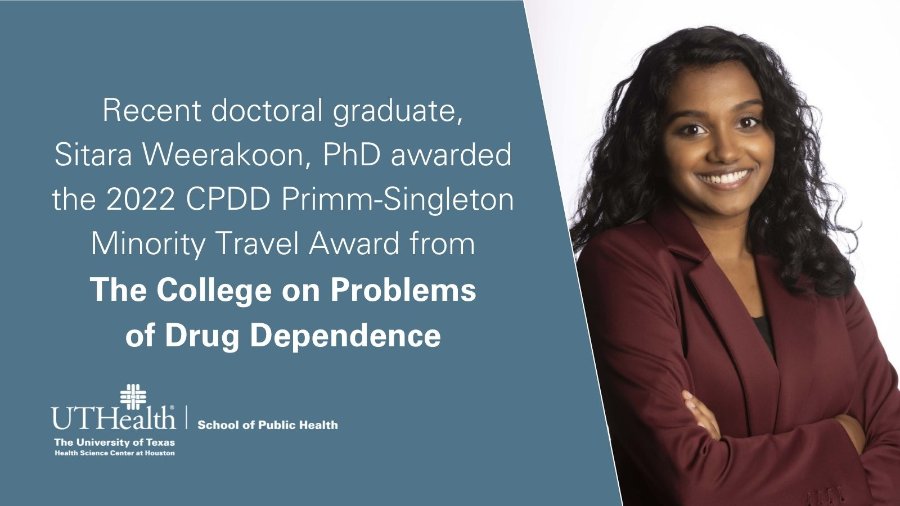 Recent doctoral graduate at the UTHealth School of Public Health, Sitara Weerakoon, PhD, has been named a national 2022 College on Problems of Drug Dependence (CPDD) Primm-Singleton Minority Travel Award recipient. CPDD is the longest standing group in the U.S. addressing problems of drug dependence and abuse.
Weerakoon is a 2022 graduating doctoral student in the Department of Epidemiology, Human Genetics and Environmental Sciences, with a minor in biostatistics and a concentration in maternal and child health. Her dissertation research has focused on the effect of perinatal substance use on child and adolescent anthropometric growth and cardiovascular outcomes. Her first dissertation paper was accepted for publication in Child Health Care, her second paper was accepted in Progress in Pediatric Cardiology, and her third paper is currently under peer review. Her findings have identified evidence that adolescents born normal and low birthweight and exposed to a variety of combinations of substances in utero have elevated systolic blood pressure att age 16 and may be at increased risk of developing cardiovascular disease in adulthood.
Weerakoon has been an active student leader during her time at UTHealth School of Public Health. She was the '20-'21 president of the Dallas Campus student association, and led the organization of the 2022 Research Beyond Boundaries student research forum. She has also been an active teaching assistant (TA) in biostatistics and pediatric epidemiology and epidemiology III, spending many hours assisting students in and out-of-the classroom..
Her strong character shines through as described by Jenil Patel, PhD, assistant professor with the Department of Epidemiology, Human Genetics and Environmental Sciences, "Sitara has been an amazing TA to work with. Seeing her learning and applying advanced epidemiological concepts, along with her skills of sharing knowledge with other students at the same time, makes her an exceptional graduate student. Wishing her the best in her next career steps."
Weerakoon will be starting her postdoctoral program at Yale University with the National Institute on Drug Abuse funded T32 Postdoctoral Research Training Program in Substance Abuse Prevention led by Jacob Tebes, PhD, professor of Epidemiology at Yale School of Public Health, and a leader in the field of substance use.
"I could not be prouder of Sitara. She has worked so hard throughout her PhD program and her dissertation papers are significant contributions to the field, especially as substance use remains a public health challenge" said Weerakoon's advisor and dissertation chair, Sarah Messia, PhD, professor of the Department of Epidemiology, Human Genetics and Environmental Sciences, and director of the Center for Pediatric Population Health.