"How Good Food Works from Seed to Plate," Earns Distinction with Multiple Awards
"How Good Food Works from Seed to Plate," showcasing UTHealth School of Public Health's Nourish Program, earns distinction with multiple awards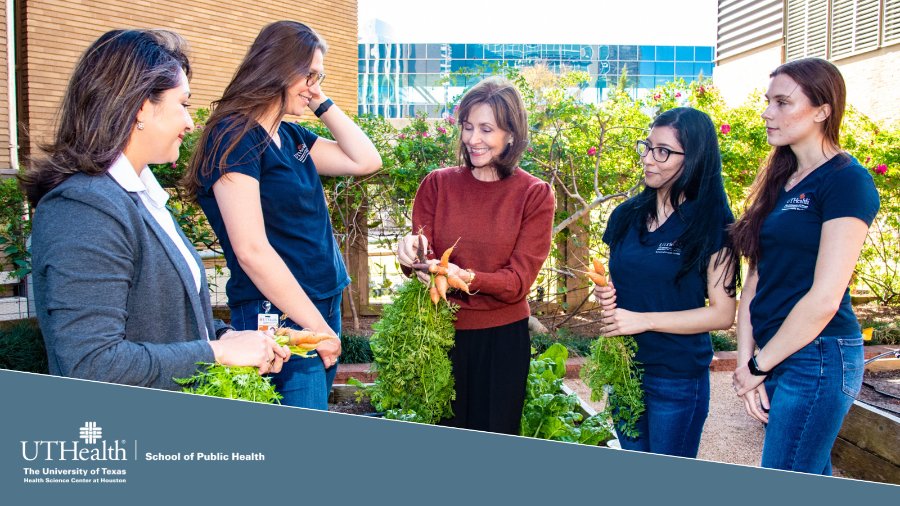 "How Good Food Works from Seed to Plate," a unique coffee-table style cookbook spearheaded and authored by faculty from the UTHealth School of Public Health, has received multiple prestigious honors, both domestically and internationally.
The award-winning cookbook is a hardcover 282-page book that tells the remarkable story of the UTHealth School of Public Health's Nourish Program. The book is a journey that starts with a 5,000-square foot garden and offers dozens of beautifully illustrated recipes grouped by fruit, flowers, seeds, tubers, spices, stems, and shoots.
The cookbook won the Eric Hoffer First Horizon Award, as well as the da Vinci Eye honor for best cover artwork. The book also was the top winner in the category of Home.
These awards honor the memory of the American philosopher Eric Hoffer by highlighting excellent writing, as well as the independent spirit of small publishers. The competition, with 18 categories, represents one of the largest international book awards for small academic and independent presses. The newest honors recognize the cookbook as superior work by debut authors.
The cookbook also received recognition as a 2022 silver winner of the Independent Book Publishers Association (IBPA) Benjamin Franklin award. These awards are considered one of the highest national honors in independent publishing.
The cookbook features more than 100 easy-to-prepare, healthy, delicious, and nutritious recipes written for the home kitchen. Readers learn preparation techniques, entertaining ideas, and facts on spices and herbs, as well as tips on how to grow their own fruits and vegetables at home.
The Nourish Program is founded on a basic belief, explains one of the authors Laura S. Moore MEd, RD, LD, director, Nourish Program, Michael & Susan Dell Center for Healthy Living at the UTHealth School of Public Health. "We show how easy it is to eat healthy and live a healthier lifestyle by improving people's understanding of food – how it's grown, harvested, prepared and seasoned."
The cookbook took more than a year to develop. "My goal was to have a fundraising cookbook for our amazing program which would generate funding for our community nutrition education and culinary skills training to those in underserved areas," explains Moore. "Our Nourish Program broadens the understanding and appreciation of food and strengthens the connection between who people are and what they consume. We transform eating from a daily act to a lifelong experience."
Other authors include J. Wesley McWhorter, DrPH, MS, RDN, LD, CSCS, assistant professor, chef-dietitian, and Nourish Program researcher in culinary nutrition; Joseph Novak, PhD, renowned horticulturist; and Don Sanders, Houston community leader and philanthropist.
Proceeds from the sale of the cookbook support the Nourish Program, its community outreach efforts, and the state-of-the-art teaching facilities. With a vision of 'seed to plate to prevention', the Nourish Program allows public health and dietetic students to learn about every aspect of food, including organic gardening, culinary nutrition, and medical nutrition therapy.
The project was completed with the leadership support and advocacy of Eric Boerwinkle, Ph.D., Dean of the UTHealth School of Public Health. "Our Nourish program is the focal point for nutrition education in the Texas Medical Center and is a success in making communities and their members healthier and stronger. We are the only School of Public Health and dietetic internship in the country with this kind of program."
In addition to the previously listed awards, "How Good Food Works from Seed to Plate" won the 2021 Gourmand World Cookbook Awards in the Best of the Best cookbook category.
Moore is a member of the nutrition faculty at UTHealth School of Public Health and the Michael & Susan Dell Center for Healthy Living. Her passion for food began with her training at Le Cordon Bleu, and her expertise is in nutrition and culinary arts with an emphasis on nutritional science, culinary training, and community garden education. She is a registered dietitian nutritionist trained in weight management for children and adolescents, with a focus on obesity prevention.
McWhorter is an Assistant Professor and member of the nutrition faculty at UTHealth School of Public Health and the Michael & Susan Dell Center for Healthy Living. A professionally trained chef, registered dietitian, and certified strength and conditioning specialist, his experience includes corporate wellness, sports dietetics, school and hospital food service, fine dining, and stints as a private chef. He has degrees in culinary nutrition, dietetics, and nutrition and metabolism and has a doctorate in public health, with an emphasis on health promotion and behavioral sciences.
Sanders, the founder of Sanders Morris Harris, LLC, a leading financial management firm, is a respected community leader and long-time philanthropist who appreciates "the impact of donations." His contributions to sports, specifically baseball, are legendary, and he provided invaluable seed money for the project.
Novak is a noted horticulturist who earned his PhD in vegetable crops with a minor in plant pathology and international agriculture at Cornell University. He created the unique 5,000-square-foot holistic garden that is a major component of the Nourish Program.
The cookbook features stunning photography by award-winning photographer Debora Smail.
Home to diverse communities that reflect the future population of the U.S., students at the UTHealth School of Public Health are uniquely positioned to gain hands-on experience on local projects with national significance. Our faculty are pioneering radical solutions for imminent public health problems and provide the tools and resources that will push students to think critically and creatively both in and out of the classroom. This is where academic rigor meets real-world application.
Founded in 1967, UTHealth School of Public Health is home to students and faculty from over 54 countries, who bring new perspectives, experiences, and opportunities to our classrooms. The school has built relationships with city governments, new communities, academic institutions, and industries to better support the needs of culturally complex and diverse areas in which we live work, and play.