Student Spotlight: Behind Quiera Booker, MPH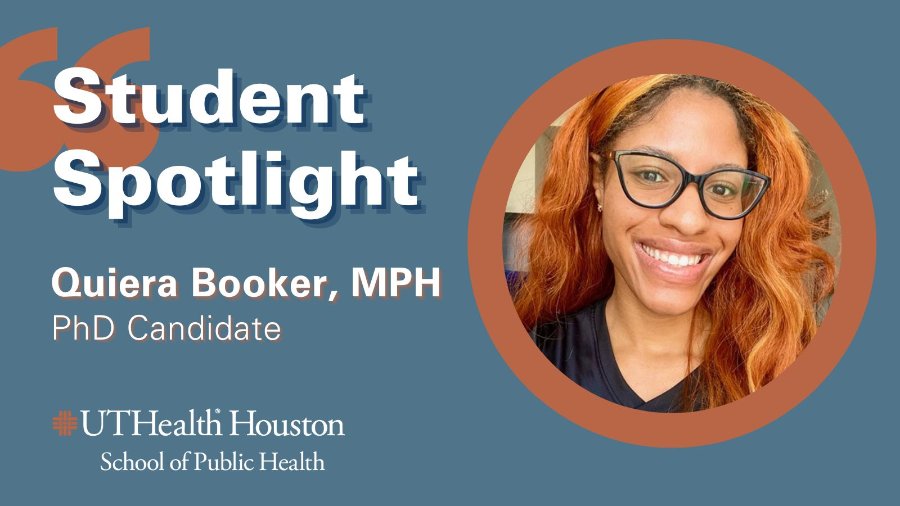 Doctoral candidate Quiera Booker, MPH, relocated from Virginia to Texas to begin her graduate studies at UTHealth Houston School of Public Health in Dallas. Booker is currently majoring in epidemiology with a minor in biostatistics, studying cancer prevention and control, and pursuing a data analysis certificate. At the School of Public Health, she currently serves as the Academic Excellence Chair, a teaching assistant, and a graduate research assistant in the Department of Epidemiology, Human Genetics, and Environmental Sciences.
Q. Why did you choose to attend the School of Public Health?
A. I was accepted into three public health programs, but UTHealth Houston was at the top [of my list] for several reasons. First, I resonated with the diverse community in Dallas and was captivated by the school's reputation in public health and research. With smaller class and cohort sizes, I knew I could obtain a one-on-one mentorship, which is essential for developing a deeper understanding of public health knowledge in the classroom and real-world settings.
Q. What impact have the relationships you created with faculty and mentors had on your education?
A. Former faculty member Katelyn Jetelina, PhD, was my first faculty advisor at the school, and provided me with exceptional research and educational opportunities. I was able to first-author manuscripts and lead analyses for grant-funded studies under the guidance of Dr. Jetelina.
Sarah Messiah, PhD, was my second mentor and continues to serve a vital role in my doctoral development. I was initially her graduate assistant, aiding in the opening of the Center for Pediatric Population Health, and later became her graduate research assistant. She has a very diverse, multidisciplinary staff that prompts differing perspectives on research, allowing me to obtain these vantages.
Our Dallas location dean, Bijal Balasubramanian, PhD, is my current faculty advisor and mentor. Dr. Bala also serves as the principal investigator for my work. She has helped me grow as an independent researcher by challenging the depth of my knowledge and emphasizing the importance of the implications of research. She encourages me to understand how research questions and outcomes will benefit a target population, and how those research questions contribute to the literature. This mindset transformed how I view the beauty of epidemiology and its nuances.
The relationships I have built since I came to the school have brought my epidemiology understanding and methodology thought process to a new level. While traveling abroad for my practicum, I collected primary data for my thesis and curated an innovative idea for my dissertation. I attribute this accomplishment to the guidance and support of my mentors.
Q. What would be your advice for incoming students?
A. Get involved with faculty and research experience as soon as possible because the MPH program is only two years, and it can go fast. Research is a long process; the sooner one begins and solidifies one's research and academic interests, the better one's educational and career development can be. With real-world applications of research, there becomes a different level of understanding than in the classroom, and I am very grateful for my opportunities.
Q. Where do you see yourself in 10 years?
A. In ten years, I see myself as the director and CEO of a research facility that focuses on racial and ethnic disparities in breast and other female-specific cancers in low-income communities. Eventually, I'd like to see that work expand, and build a multidisciplinary team to include other cancer sites and public health and clinical expertise to assess cancer outcomes in the Black community.