UTHealth School of Public Health Austin Campus Dean Authors Academy of Nutrition and Dietetics Position Paper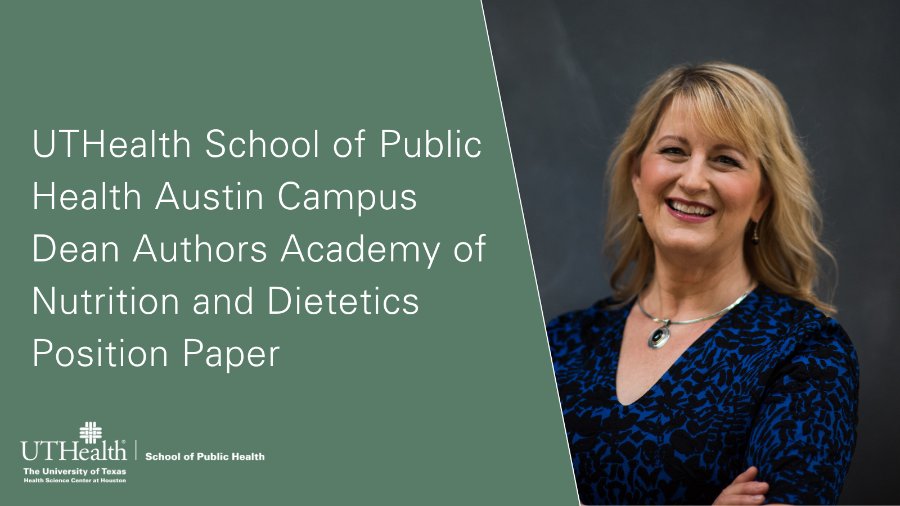 Deanna Hoelscher, PhD, regional dean of the UTHealth School of Public Health Austin Campus, served as the lead author on the Academy of Nutrition and Dietetics' position paper on the prevention of pediatric overweight and obesity, published in February 2022. This position paper supersedes the academy's previous paper written in 2013, in which Hoelscher also served as lead author.
Hoelscher and the team of registered dietitian scientists use an umbrella review of systematic reviews to conclude that prevention of childhood obesity requires a multi-pronged approach. "It is the position of the Academy of Nutrition and Dietetics that prevention of pediatric overweight and obesity requires multilevel, multicomponent, and culturally appropriate interventions with family involvement to improve and sustain intake of healthy dietary patterns and physical activity in a developmentally appropriate manner throughout childhood and adolescence," the paper states.
The paper provides methods and recommendations for Registered Dietetian Nutritionists (RDNs) to implement interventions to reduce pediatric obesity, including programs in various settings such as schools, in the home, and in healthcare settings. In addition, the paper focuses on the importance of taking cultural norms and eating patterns into consideration when developing these programs.
"Although we break down the paper by individual contexts, it is better to implement an intervention that is more holistic," says Hoelscher. "Ideally, you would want programs in all these settings working together in a coordinated fashion, but often times there can be differences in the goals or efforts of these programs." It is important for RDNs to focus on delivering consistent, positive health messages, that are tailored to the developmental level of the child.
According to the paper, for children aged 2 to 5 years, interventions in the home with the family, healthcare programs, and community settings were found to be most effective in prevention of obesity. In contrast, intervention programs that focused on reducing screen time or that were implemented in schools were more effective in children between 6 to 12 years of age.
"One of the theories behind why these interventions work so well in these age ranges has to do with external behavioral factors," explains Hoelscher, "In the youngest group, we see an authority figure such as a parent act as the primary gatekeeper for what the child does or eats, while in the elementary school group the school environment has a significant effect on their behaviors."
Although the paper recommends interventions such as nutrition education coupled with physical activity and nutrition-related policies to improve access to healthy foods for middle and high school kids, Hoelscher cites that there is still plenty of room for innovative obesity prevention research in this population.
As director of the Michael & Susan Dell Center for Healthy Living (Dell Center), Hoelscher knows the value of following these recommended guidelines and sees their effectiveness in the programs developed by the Dell Center. "The CATCH program is a school-based intervention that plugs-in at various settings and envrionments and addresses eating and activity behaviors using several theory-based strategies," explains Hoeslcher. "We've been doing this work since the 1990s and it exemplifies how the strategies cited in this position paper lead to reductions in the prevalence of pediatric obesity. "
The Academy of Nutrition and Dietetics is the world's largest organization of nutrition and dietetics practitioners, founded in 1917. Click here to read the full position paper.