UTHealth School of Public Health launches MPH Healthcare Management Program in El Paso Starting Fall 2022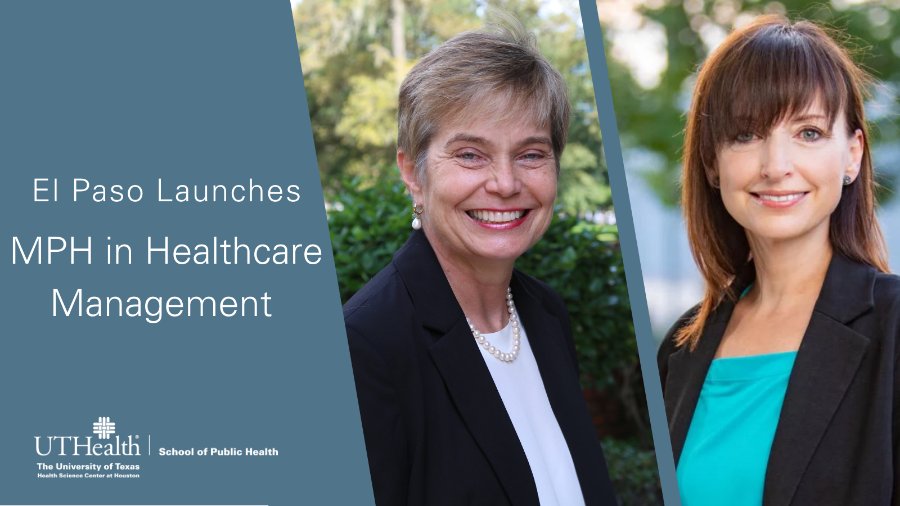 In response to the Paso del Norte region's population growth and economic expansion, UTHealth School of Public Health – El Paso is pleased to offer the graduate level program, Master of Public Health (MPH) in Healthcare Management. El Paso sits on the borders of two states, and two nations. As a region with continued trans-national and cross-border growth, the need for individuals with this specialized training are needed to further support the region's development.
The Master of Public Health in Healthcare Management is one of five MPH healthcare management programs in the country accredited by the Commission on Accreditation Healthcare Management Education (CAHME). "CAHME accreditation is an indication of the quality of the program's curriculum, and allows students access to scholarships and administrative fellowships," said the program's director, Gretchen Gemeinhardt, PhD, MBA, FACHE.
The creation of this program comes at a time where the local healthcare industry is needing to scale in order to meet the needs of the region. "One aspect that is unique to the border region is the diverse population and growing demographics," said Kristi Mena, PhD, MSPH, Associate Professor and UTHealth El Paso Campus Dean. "There is a border with three cities and two countries, so providing care can be complex, especially when it comes to administrative responsibilities such as strategic growth, payments, insurance, and recruitment of providers."
"One major benefit of offering the program in the region, is that we can develop executives who are local to the area," Gemeinhardt said. "These individuals who are from here know the population and the region's needs."
In a proactive response to the region's growth and increasing complexity, the program will focus on all aspects of healthcare management, including organizational behavior, finance, operations, law and strategy, all of which will help improve organizational and community decision-making.
Another unique component of the program is that it is designed to accommodate the schedule and demands of working professionals. "The courses will be offered Friday evenings and Saturdays" said Mena. This format will not only help students on an individual level, but will also support the local work force's contribution to the local economy. "This design will administer the necessary competencies for the degree, while also addressing the needs of the U.S./Mexico border region," she said.
In preparation for the program's launch in the fall semester of 2022, the program is actively accepting student applications, and finalizing faculty appointments. Applications may be accessed through the UTHealth School of Public Health website at https://sph.uth.edu/application. Available faculty listings are accessible at: https://www.uth.edu/careers.