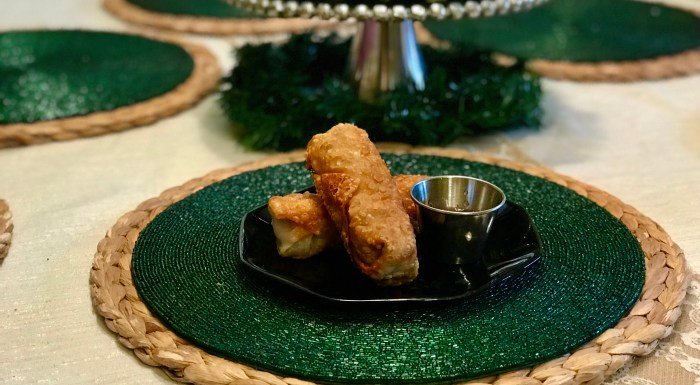 Power Rolls
Ingredients:
1- pound boneless, skinless chicken breast, diced
3- cups fresh spinach, chopped (can use frozen, just reduce by 1/2)
1- 16 oz. box sliced mushrooms, diced
1- can sliced water chestnuts, drained and chopped
2- cups fresh bean sprouts, chopped (optional)
1/2- cup cashews, chopped (optional)
1/2- onion, diced
1- tablespoon garlic, minced
1- tablespoon rice wine vinegar
1/2- cup low sodium soy sauce
1- package egg roll wraps
Non-stick cooking spray
Canola oil if flash frying (optional) or
Olive oil for stir frying, and if baking
Sweet chili sauce or sweet & sour sauce for dipping
Instructions:
Spray large wok or pan with non-stick cooking spray, and stir fry chicken and onion with rice wine vinegar, over medium heat until cooked through, 6-7 minutes. Add garlic and mushrooms, saute 3-4 minutes until mushrooms are tender and garlic is fragrant. Add rice wine vinegar, water chestnuts, bean sprouts and cashews, cook 5 minutes. Add in spinach, stir well, and cook until spinach is wilted. Stir in soy sauce. Let mixture cool.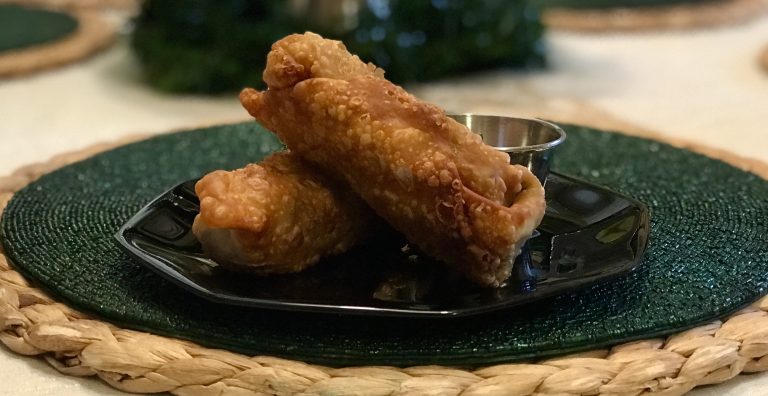 Use 2-3 tablespoons filling for each roll. Fold bottom corner over filling, then fold in side corners. Brush top corner with water and roll up wrap tightly to enclose filling, sealing roll with top flap.
Frying option: In a large skillet, heat canola oil over medium heat to 350F (drops of water should sizzle and evaporate when dropped in). Place rolls flap down, a few at a time, turning occasionally, until golden, 2-3 minutes. Drain on paper towels.
Baking option: Heat oven to 400F. Place rolls on a baking sheet coated with non-stick cooking spray. Lightly brush the tops with olive oil and bake until golden brown, about 10-12 minutes.

Serve with sweet chili sauce, sweet & sour sauce or low-sodium soy sauce