Feed your kids nutritious meals for free this summer

This article was first published in El Paso Inc. on April 25, 2019.
http://www.elpasoinc.com/special_sections/el_paso_kids_inc/feed-your-kids-nutritious-meals-for-free-this-summer/article_4ca5fa0a-67a2-11e9-b816-5f1d4b90bfb4.html
As the school year winds down and parents are making plans for their kids this summer, remember to plan for keeping them nourished.
During the school year, parents can rest assured that their kids will get a healthy, nutritious meal for breakfast and lunch (and sometime dinner) while they are at school, but what happens during the summer?
In our community, we have many resources to fill this gap.
The child nutrition programs within the school districts throughout our region continue to provide meals during the summer.
Locations include many schools, community centers and sites in partnership with the city of El Paso Women's Infants and Children office. There are more than 75 locations where kids, and in some cases adults, can get meals this summer. These sites include schools in Anthony, Canutillo, El Paso, San Elizario, Socorro, Tornillo and Ysleta independent school districts.
These programs are funded through the U.S. Department of Agriculture, so the meals are free or low cost. They also meet the same high nutrition standards as the National School Lunch Program. This means kids will receive a balanced meal with fruits and vegetables, whole grain, protein, low fat and moderate sugar.
And because 1 in 4 kids in El Paso County live in a food insecure home, this resource is essential for our community.
Help the kids in your life access these healthy meals this summer. The Paso del Norte Institute for Healthy Living at UTEP has partnered with these feeding programs to compile a list. Click the links for a map of the organizations hosting feeding programs: Breakfast & Lunch, Lunch, Dinner.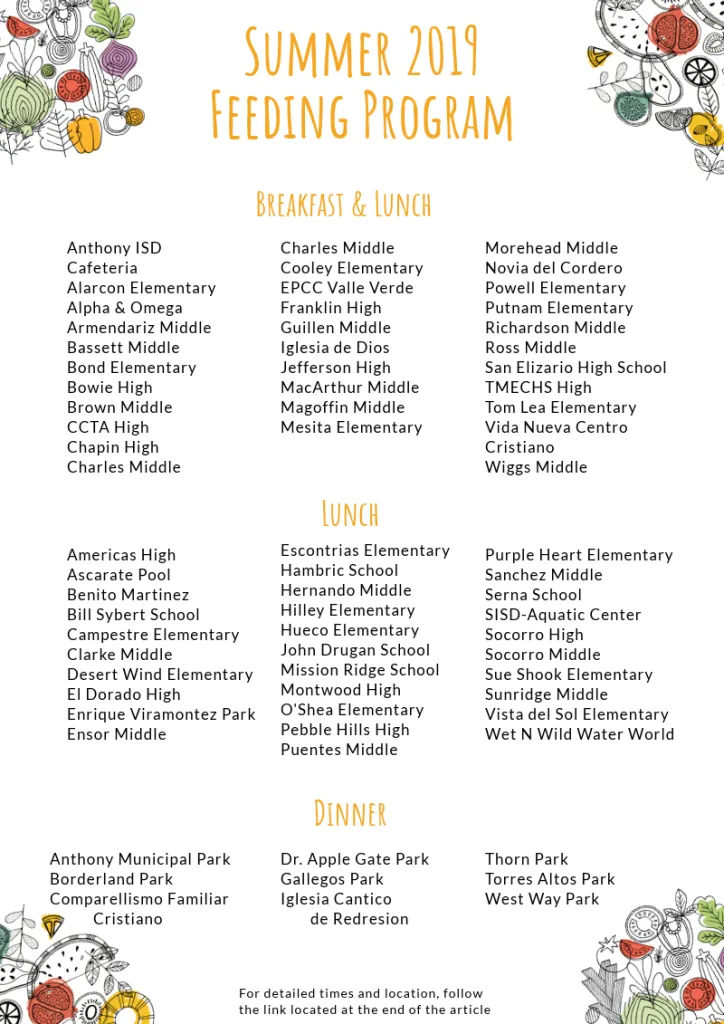 Leah Whigham is a nutrition and obesity scientist and executive director of the Paso del Norte Institute for Healthy Living at UTEP. For more information, visit www.pdnihl.org.